360-Degree Viewer
Offer a deeply engaging viewing experience to your customers with our 360-degree product viewer, allowing them to view the product from every angle, and explore its details.
3D Product Configurator
Let your customers view, customize and personalize the components of a product per their preferences. Give them a fully interactive and immersive user-experience with our 3D product configurator.
Web-Enabled AR
Allow customers to engage in immersive 3D and interactive AR experiences into their environment directly through their smartphones by scanning QR codes through our web-enabled AR solutions and in turn reduce product return and get higher customer satisfaction.
3D Walkthrough Animations
Advertise your real estate property with engaging 3D walkthroughs where the potential buyers can virtually walk around the property, relishing all the amenities. Our prolific walkthrough animators create high-end architectural designs allowing prospects to take a sneak-peak of the real estate and make informed choices.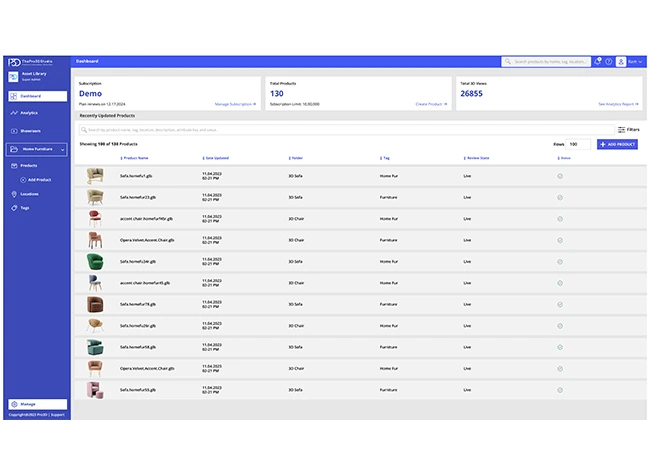 CMS
An end-to-end, comprehensive CMS platform to create, manage, and modify your 3D content, as well as organize, review, and provide feedback on all the 3D assets produced for your business.
Product Analytics
Track your ROI and customer behavior, analyze the insights, take data-driven decisions and develop robust marketing and digital transformation strategies that take your business one notch-up.