ThePro3DStudio is one of the foremost 3D visualization outsourcing companies offering high-quality 3D architectural rendering services to architects, home builders, property developers, real estate agents, and interior designers for their various commercial and residential properties.
With the help of our 3D designers, clients will be able to visualize the complete 3D architectural designs of their desired properties before its construction. We provide end to end 3D rendering support for home, apartment, buildings, villas, or other site plan architectural images according to the client's need. Our fast and cost-effective architectural visualization helps in the following ways:
Create photorealistic imagery of the project to be executed
Effectively fix the cost of the project
Provide the best option that offers maximum value for the client's money
Make all the required corrections before the project implementation
Different Architectural Visualization Services We Provide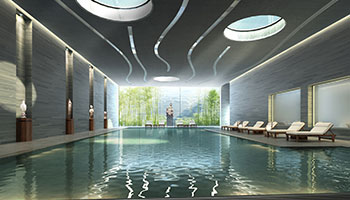 Our skilled designers offer exceptional and value-adding interior 3D designs and renderings by comprehending the customer requirements that express their ideas and personality.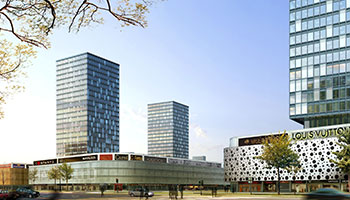 We use the best CGI rendering techniques and provide comprehensive, realistic, and appealing concept design visuals of building design plans, thereby giving an exact idea of the property exteriors.
We comprehend our clients' ideas to produce captivating architectural animation and detailed 3D walkthrough videos to showcase their future dream homes or offices while highlighting every detail in appealing ways.
Types of 3D Architectural Renderings We Provide
Being a proficient architectural rendering service provider, we portray the client's property in the best way to attract more potential buyers or investors. In addition to this, we make sure that we enhance their marketing campaigns while effectively conveying their vision or ideas to their targeted viewers through these rendered commercial and residential images. We mainly provide our architectural rendering services for the following building projects of clients such as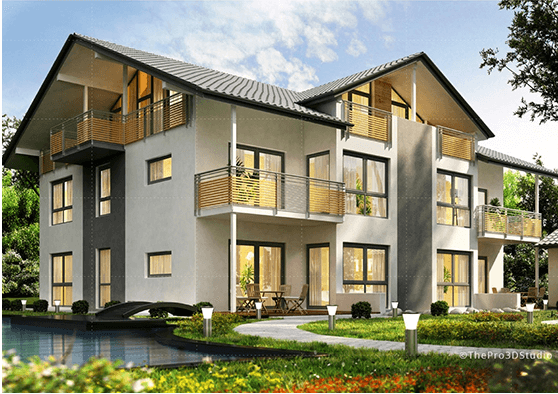 Residential Building 3D Designs
Improving the visibility of residential projects.
Highly-detailed designs for building exteriors and interiors, including the house front, bedrooms, kitchen, bathroom, living room, landscapes, parking lots etc.
Ex- flats, family residences, modular homes, town houses, villas, bungalows, etc.
Commercial Building 3D Designs
Enable customers to better understand the property
Flexible 3D photorealistic commercial visualization to detect and rectify errors.
Save time and extra expenditure of clients.
Ex- offices, shopping malls, business parks, community centers, salons, restaurants, skyscrapers, hospitals, banks, medical stores, industrial warehouses, etc.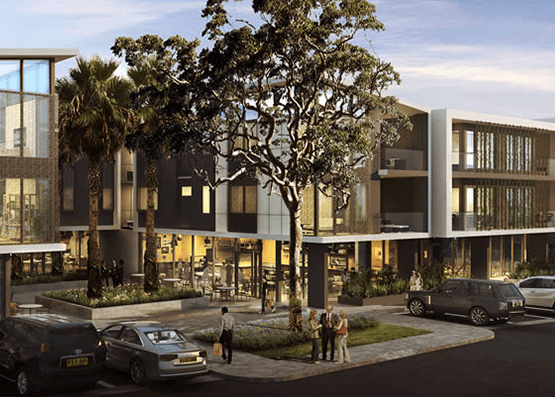 Architectural Rendering Services at ThePro3DStudio
As a premier 3D rendering outsourcing company, we offer interior and exterior architectural rendered views of the commercial and residential buildings and the 3D floor plan designing, furniture 3D designing, virtual tour, and other architectural animation services to our clients. Apart from the photorealistic rendered image views, we also provide visually appealing walkthrough, flythrough, aerial view, and bird's eye view animations to different architects, interior designers, and real estate property agents.
Our architectural rendering company has the expertise to design various properties including Townships, Bungalows, Shopping malls, Stadiums, Hospitals, Apartments, High-rise Buildings, Business Parks, Offices & Commercial spaces, Villas, Hotels, swimming pool, and more conceptual designs.
With our architectural 3D designs, you can graphically visualize and demonstrate the different types of architecture render styles for your planned constructions. We use advanced 3D rendering software to showcase design intricacies with detail. After the building rendering is completed, you can view the architectural 3D modeling design in the highest resolution and optimize the final design by eliminating its design flaws.
We can generate photorealistic renderings for your company 3D model,house model design and other architectural projects soon after the plan is finalized on paper. The rendered plan will help you to easily understand the budgetary requirements.
Architectural Visualization Support for Industry Verticals


E-Commerce
Firms


Education


Real Estate


Medical &
Health Care


Manufacturing


Furniture
Designer


Gaming


Fashion
"The team at ThePro3DStudio meticulously had rendered my 2D architectural design plans in 3D without compromising on quality. The end results are immaculate which speaks volumes about their professionalism and commitment."

"I had reached out to ThePro3DStudio for an important residential apartment rendering project that had to be delivered urgently. They were really prompt in their response and delivery."
3D Rendering Services for an Architectural Company

Need highly Attractive Architectural Designs?
We offer the best and most comprehensive architectural 3D visualization services at affordable costs in the industry.
Contact Us