Offered Virtual Staging Support to Renowned Australian Real Estate Client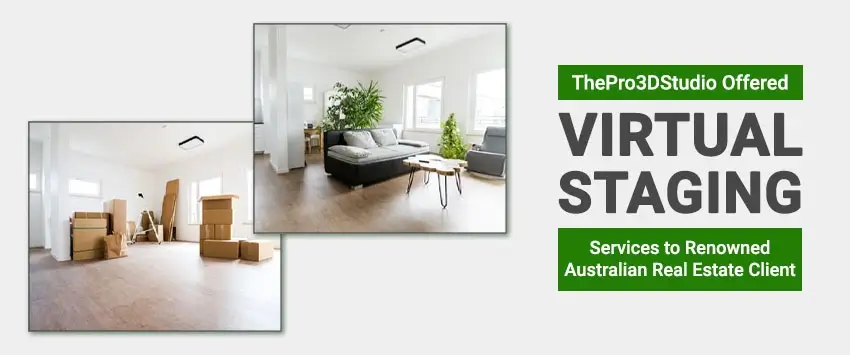 The Client
ThePro3DStudio has been successfully catering to the custom 3D modeling and rendering needs of clients from various industry verticals. With our virtual staging services, we help real estate agents and developers to portray the architectural interiors in a visually stimulating and aesthetical manner.
The present client's reputation lies in the fact that they offer interactive virtual-reality driven floor plans along with realistic aerial views, 360 degree tours, etc. Therefore, they were interested in integrating the 3D floor depictions of real estate plans with various perspectives wherein furniture, window treatments, decorations, and atmospheric fine tunings would motivate potential buyers to invest in the real estate products of its customers.
Needs and Challenges
ThePro3DStudio was required to offer virtual staging solutions to the client to present the interiors and open spaces of real estate offerings in a well-appropriate manner. This would help the prospective buyers in better visualizing the utility of space from their standpoints.
The client expected us to render virtual replicas of vacant residential or commercial spaces in 3D along with furniture and other interior elements to help customers judge the suitability of real estate offerings according to their expectations.
ThePro3DStudio came across a number of challenges.
The photographs had been captured by professionals of the client in angles they had found proper. However, our creative artists had to work with these photos as they could not be re-shot.
The light exposures of images, as well as the visual clarity, were other concerns.
Despite these constraints, the client expected us to showcase by including other interior elements in the 3D rendered images within a strict deadline of 2-3 days for each batch. Any delay would result in losing customers
Solution Offered
We immediately assigned an experienced Project Manager and delegated a team of 3D designers under him. The photos were rendered realistically in 3D by creative artists who technically analyzed each image and placed furniture as well as other visual elements aesthetically within the interior spaces to accentuate appeal.
Our team informed the client about the lighting exposure and resolution requirements for future image batches to enable virtual staging of furniture in a tasteful manner. Based on the markups offered by the client, our team started virtual staging for different rooms at the rate of 30 images per day with furniture models from pre-fabricated or custom created libraries to meet the exact specifications. Advanced furniture 3D design software was used for creating the impeccable and accurate models.
The client was extremely happy with our virtual staging service. An exponential leap in sales was reported by the client and as a natural consequence of this phenomenal success, the client committed to entrusting us with all their future 3D rendering and virtual staging needs.
The experienced 3D artists at ThePro3DStudio also deliver immaculate 3D renderings for residential, commercial, industrial, real estate and other sectors using low and high polygon based modeling as well as virtual staging. We also excel in 3D furniture modeling, 3D walkthroughs, and other renditions to meet the specific requirements of clients from various backdrops.
Looking for attractive and appealing virtual staging services?