Provided Architectural 3D Design Assistance for a UK-based Client.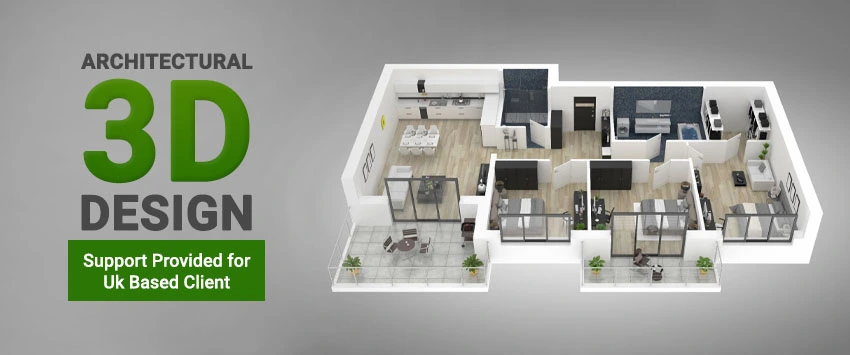 This case study involves creation of 3D modeling of various properties for a real estate client based in the UK. ThePro3DStudio is presently working on a long-term contract with this client, after accomplishing this project successfully.
Client
The client owns one of the most reputed real estate companies in the UK. They approached us for designing custom models for their real estate projects. The company was looking forward to partner with professional 3D modelers to assist their on-going project requirements. They reached out to us online and agreed to avail our 3D architectural modeling services on a small scale before going for the long-term project.
Problem
The first issue that the client faced before contacting us was; the budget constrained to complete whole process in short time period. Therefore, while working on the requirements, we took certain measures to reduce the cost to a certain extent.
Our experts used advanced software for extracting the images and used the references that our client had provided us.
We used the information from both the client and the ones extracted by 3D modeling software in determining the specifications.
Using advanced 3D modeling techniques, our experts developed a structure of the building.
We categorized each structure according to a pre-determined pattern.
Besides, we also provided the necessary advice to the client regarding value additions.
The client also wanted us to come up with the suggestions to enhance the quality of the already existing models. Hence, our experts collaborated well to plan the project and convey their idea to the client.
Solution
Before commencing with the project, we evaluated the specifications provided by the client and preceded accordingly. The integration of annotation and color coding in the project turned to be highly effective. As the client was looking for a high interactivity level for its customers, we also came up with the required features for seamless interpretation of project designs. Therefore, the client found our custom 3D modeling services useful as it lived up to their expected standards.
Results
The client was happy with the quality of services and appreciated our collaborative effort in developing the architectural 3D models and property walkthrough animations. Particularly the architectural 3D modeling was highly interactive which impressed the client. They reported high sales due to our unique 3D models which proved to be effective in strengthening their business. Besides, they were able to keep their expenses within their budget as we came up with our customized packages. After that, they agreed to proceed with us for a long-term project.
Need high quality architectural 3D models? Let's discuss further