How rapid prototyping can enhance furniture design and production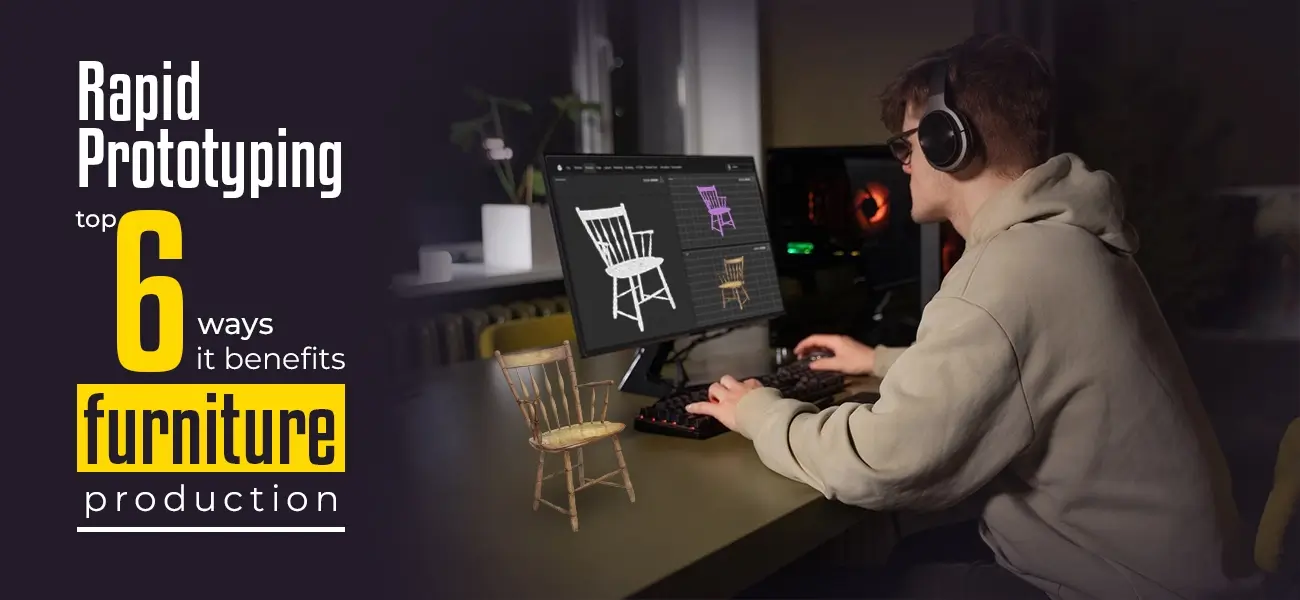 The furniture business has seen great advancements in the past few years. Now, detailed and imaginative pieces of furniture are in high demand. However, such explicit furniture designs need in-depth concept styling to make them more appealing. Moreover, such designs need an efficient assembly process to save time and manufacturing costs.
This is where rapid furniture prototyping comes into play. Many product designers use it to speed up production and reduce mistakes. It also enables them to create and test prototypes before manufacturing. There is no doubt that this unique process helps businesses cut costs, increase sales, and boost profits.
Curious to know more about this 3D-aided design process? In this article, we will provide an overview of what rapid prototyping is and its various benefits for furniture businesses.
What is rapid prototyping?
Rapid prototyping is the process of constructing physical scale models with the help of computer-aided design (CAD). The models are usually generated using additive manufacturing (3D printing).
To be more specific, it quickly creates the physical parts of the products from the CAD data. It can be used at any stage of the product's manufacturing process to improve the design functionality using prototypes.
Now you must be wondering: What is a prototype?
A prototype is the first or early version of a product used to evaluate the design, technology, and workings and provide the final desired output. This is the stage where design teams create a product to apply their ideas.
Top 6 benefits of rapid prototyping for furniture design and production
Rapid prototyping technology helps manufacturers and product designers with everything from component fitting to getting the product to market quickly. Let's take a closer look at its top benefits for the furniture manufacturing business:
Effectively communicate design ideas

Rapid prototyping is an integral part of communicating designs. It allows you to share concepts, get feedback, and come up with solutions. It also facilitates clear communication among stakeholders, so you can make changes effectively.

One of the major benefits is that everyone involved can easily understand the design and offer feedback. Accurate communication of design ideas can also help avoid misunderstandings and mistakes.

Explore the concepts easily

When combined with 3D modeling, rapid prototyping helps manufacturers analyze design concepts easily. It allows the designers to understand the feel and look of the furniture before it comes to market. Thus, you can experiment with a variety of design ideas and explore new concepts that will result in innovative products.

Saves time and money

This technology is cost-effective and can reduce the time spent on designing furniture models. It can help identify design flaws in the early stages so designers can analyze issues and make appropriate adjustments. With this approach, you can mitigate the costs that would arise if you had to make design changes after the prototype is built.

Traditional prototyping is time-consuming, expensive, and affects the overall efficiency of furniture manufacturing. But, with rapid prototyping, you get the final desired 3D models in no time.

Useful Article : 3D Furniture Modeling Prices : A Comprehensive Guide

Decreases product design flaws

This method helps avoid costly mistakes in the early stages. For instance, if the wrong color is chosen, it can affect the flow of the design process. So, these mistakes must be identified and corrected before the final product design goes into bulk production.

With rapid prototyping, designers can analyze the CGI models to ensure that the color and materials look good together. This allows you to maximize production efficiency and get your products into furniture stores quickly.

Easy customization options

Easy customization is one of the best benefits of furniture prototyping. This process allows designers to easily incorporate feedback into the design to get the desired furniture model. This makes the product customization process a lot faster than traditional methods.

In simple words, if you want to make a design change, you can easily do so by editing the 3D furniture prototypes in the software. Even if you are nearing the final stages of the process, you can still implement new design ideas and changes in the digital models.

Easy production of difficult parts

Earlier, tiny product components were complicated to design and produce. But with rapid prototyping, it has become easy to design any number of tiny product components. Nowadays, designers can create elements of 3D models with minute cavities and other geometric designs with ease. This helps them come up with design ideas, create them quickly, and get them approved as fast as possible.

When combined with 3D modeling, it is easy to address the limitations of designing complicated parts. With rapid prototyping, 3D experts can create detailed 3D furniture models using existing geometric shapes and refine them by adjusting the curves, surfaces, points, and other product elements.
Wrapping Up!
In summary, rapid prototyping is the best strategy available to furniture manufacturers for business success. With 3D models and 3D printing as part of the design process, rapid furniture prototyping helps test and evaluate new products efficiently.
In today's market, furniture manufacturers need to create and produce furniture models faster. It is also important to avoid costly mistakes and cut costs wherever possible.
Through this article, we hope you have gained a deeper understanding of rapid prototyping and how it helps furniture manufacturers quickly iterate design ideas, reduce costs, improve designs, and make changes quickly.
If you are in need of 3D models for your furniture business, then reach out to the 3D modeling companies that deliver high-quality visuals. Explore digital innovation and speedily launch your products on the market using this technology.
Watch your creative ideas come to life faster than ever and elevate your furniture business now! Good Luck!
Contact Us