13 Statistics on the Growth of 3D Product Configurators in the Ecommerce Industry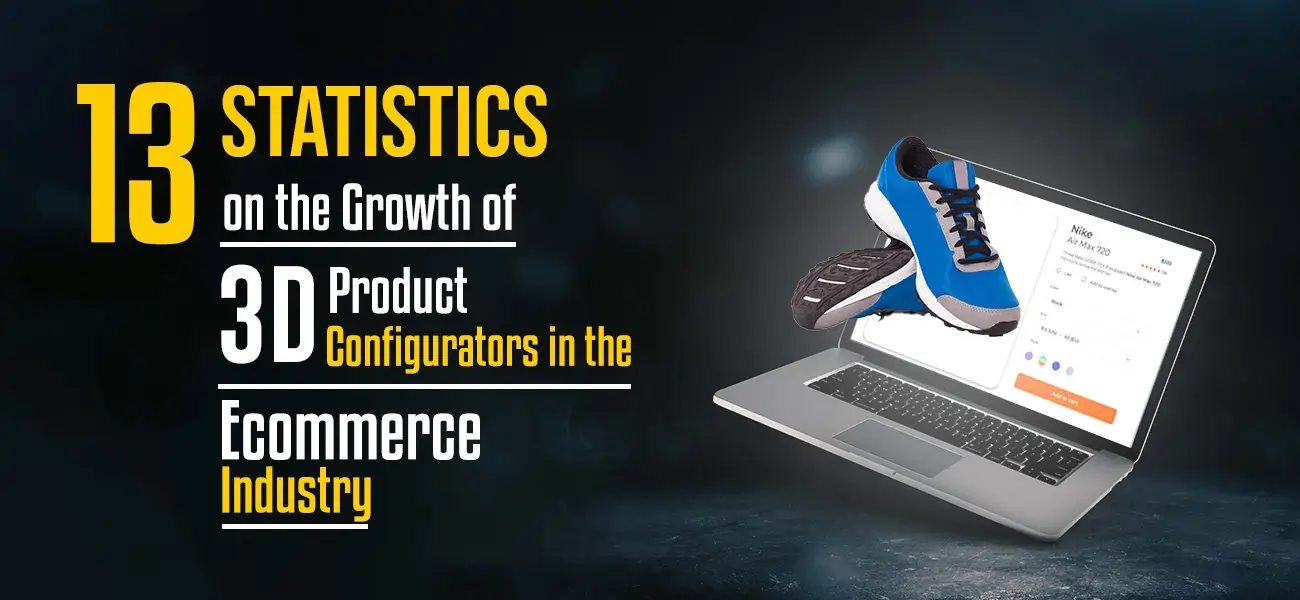 3D product configurators are revolutionizing product visualization in the eCommerce industry. It not only lets customers see a 360-degree view of a product but also allows real-time customization! That is why many businesses are using this visualization technology to stay competitive in the market. Let's look at 13 compelling statistics that show how eCommerce businesses are using 3D configurators to grow.
Top 13 stats to motivate you to adopt 3D product configurators
A whopping 82% of online store visitors view products in 3D

Of these, 34% interact with 3D visuals for over 30 seconds. People want to feel and see a product in as much detail as possible before they spend their hard-earned money on it. That is why many people still prefer to shop in physical stores. With 3D configurators, customers can have a similar immersive online shopping experience.

They can rotate the product's 3D model and customize the materials and colors like in a physical store. Moreover, combining this technology with web-based AR helps shoppers view a product in their own environment. It is especially vital considering how popular mobile-based shopping is popular with millennials and Gen Z.

At least 77% of customers prefer viewing products with configurators in augmented reality (AR)

AR with 3D views allows shoppers to visualize products in their own environment after seeing them from various angles. That's why many buyers agree that AR improves the shopping experience. Additionally, 75% of those using AR while mobile shopping are satisfied with their experience. This option makes many shoppers willing to buy products online rather than in a physical store.

Marketers see a 94% conversion lift after using 3D configurators

Images don't offer customers enough engagement. Even when marketers use only videos in their promotions, conversions rise by 60%. However, product configurators do much better than the other options. They not only allow the targets to see the product in accurate dimensions but, when combined with AR, let them view it as if it were right in front of them.

Interactive 3D delivers 40% higher conversions than traditional marketing

Customers typically try to get as many product details as possible before purchasing. Doing so helps them become more confident in their purchase decision. Online shoppers are even more inclined to gather details about a product before purchase, especially if it is expensive.

Interactive 3D renders make shopping engaging and give customers more visual information compared to traditional marketing. They can zoom in and out at different angles, examine the style, and visualize how the product would look in their hands.

95% of shoppers prefer interactive 3D renderings over product videos

Videos and images can't give customers the same amount of visual information and detail that 3D renderings can. 3D technology can help create immersive shopping experiences based on how we perceive things through our senses.

That is why interactive renderings of digital product models are so convincing for customers. It helps them perceive the product as if they were holding it, increasing their confidence and reducing return rates.

3D configurators deliver 66% higher conversions than 2D solutions

3D product views can improve customer engagement, satisfaction, and the shopping experience. They also encourage customers to explore and select more product features, boosting add-on sales. For example, Audi saw an increase of 9% in extra feature selection per vehicle, which drove up the cart value.

This result let Audi to conclude that "real-time 3D user experience is a drastic improvement over typical 2D experiences."

Configurators with 360-degree spin ranks #1 among eCommerce visual presentations

Most mobile shoppers prefer product configurators over 2D image or video presentations. 360-degree spins allow buyers to view products from all angles and give them a sense of control over the visual. When they flip, twist, and turn a product in the configurator or AR environment, it makes the experience feel real.

35% reduction in sales returns

When shopping in physical stores, buyers can see and feel a product in person and quickly spot defects or size issues. It helps them accurately judge whether a product is right for them before purchasing it. The same is not possible while shopping online.

eCommerce customers usually return items for the following reasons:

They don't fit
They are damaged or defective
They are the wrong color
They don't meet expectations
They arrived too late.

But with 360-degree 3D renders, the customer's ability to judge products has improved. They know that what they see is what they will get on delivery. Giving shoppers a multi-angle view of items during customization allows them to make informed purchase decisions. It helps reduce sales return rates without raising costs or changing return policies.

3D rendering market size will reach $5.63B by 2025

The growth of the 3D rendering market is connected to eCommerce growth trends. The global visual and 3D rendering market size is set to hit $5.63 billion by 2025, and Nasdaq predicts that around 95% of shopping will be online by 2040. Moreover, online shopping is expected to grow in emerging markets like Latin America, Asia, the Middle East, and Africa.

So, more people will seek product visualization features like 3D rendering and 360-degree views to enhance their shopping experience.
Conclusion
There is a lot of promise for the future of 3D technology and eCommerce. We hope these interesting 3D configurator statistics have made you curious about how 3D modeling, AR, and product visualization can help your eCommerce sales grow.
If you want to hire a 3D product rendering company to outsource your requirements, reach out to us.
Cheers!
Contact Us