Top 7 Reasons Why You Should Use 3D Images in Advertising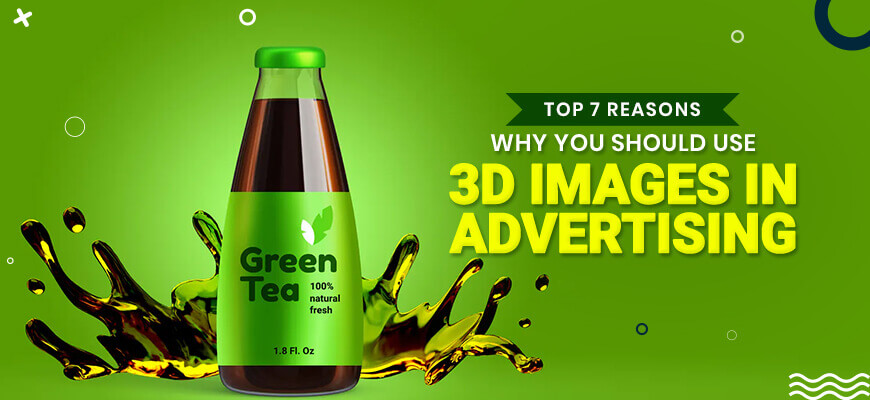 Nowadays, advertising campaigns with 3D images are the most cost-effective way to promote products. It involves using 3D imagery for marketing purposes that is produced using 3D modeling techniques. 3D images appear sharper and clearer than traditional photographs and save resources for other uses.
The effectiveness and success of product promotion efforts depend on the quality of the images that are used on e-commerce platforms. With realistically rendered product images, it is possible for online businesses to create a mark in the minds of their target audiences while being able to experience complete freedom of artistic expression.
This blog has covered the 7 reasons and benefits of 3D advertising for marketing purposes. Read to the end and see what they are.
Why Businesses Should Use 3D Images in Their Marketing Campaigns
Building an Effective and a Well-coordinated Marketing Strategy

All creative processes require high level of communication and coordination among the various teams involved. Often, businesses need to work in close collaboration with the artistic team of the advertising agency in order to let the team gain better clarity on the products that need to be created and on the purpose of the campaign.

3D designers work closely with their clients to create 3D scenes that can justify the purpose of promotional campaigns.

They can analyze the visual and aesthetic limitations and create exactly what their clients want. So online businesses can actually anticipate the end results before the project even gets completed. The fields of advertising and marketing involve short deadlines, visual constraints, and adjustments, and these issues can be effectively addressed through the use of 3D modeling services that would allow businesses to organize their projects well and share a common understanding with all the stakeholders.

Building a Personalized Concept for Products

The preliminary 3D product renderings can be used in diverse marketing scenarios on different platforms. Businesses can re-launch existing products in the market either by using seasonal or short-term offers or by promoting product makeovers.

With the use of product 3D modeling services, businesses can reinvent their product designs and add a new dimension to their branding strategies. Businesses can develop a new theme to present their products, or they can create a new brand or product story effectively. With product CGI services, businesses can give a practical and interesting shape to their new product presentations.

Highlighting Product Features in Detail

In order to showcase the special characteristics of a product, you can use 3D renders that are detailed and vibrant and can actually appear lifelike in presentations. With 3D images, you can stage your products in a completely customized way.

Businesses can select individual elements and get every detail highlighted and portrayed through the use of 360-degree rotations and animations in order to showcase a product from multiple angles.

Showcasing Products Against a White Background

When a product is presented on a white background, it creates a better focus and allows customers to pay complete attention to the product's features.

With 3D rendering, businesses can highlight different product aspects and create the best chemistry using well-balanced colors, texture, reflections, volume, shape, etc.

Useful Article : Tips to Render White Objects Against White Background

Giving an Aesthetic Appeal to Less- Photogenic Products

3D ads help businesses forego the idea of having complicated photo shoots. With traditional photography, it is quite difficult to accurately depict fresh vegetables, bottled or canned foods, prepared foods, or frozen food items. Traditionally, clicked images of these items may appear dull or fail to highlight product features accurately.

This holds true for certain technical or technological products, including home appliances. The use of 3D product rendering services can appropriately address this issue, as 3D artists have a high level of expertise in drafting product 3D models, keeping in mind the key product specifications shared by their clients. They can create accurate and lifelike 3D renders that are substitutes for traditional product photography.

Enlivening Products for Online and Television Demonstrations

The use of product 3D images in web or television commercials may bring excellent results in terms of audience response. Animations can engage prospects on a higher level, making them feel excited about the product and developing a desire to buy it. Imagine products moving out of the box! 3D rendering coupled with 3D animation can make advertisements more gorgeous and captivating.

Using 3D Models in Advertisements to Reflect Innovation

When businesses use 3D designs, they actually instill innovation in how they deliver content to their target audience. 3D design allows businesses to bestow personality and substance on their products. The process of 3D designing makes products come to life and directly impacts the psychology of customers.

Whether businesses are looking to advertise standard or complex products, photorealistic 3D rendering allows them to add innovation to their marketing strategies. 3D modeling involves no artistic limitations, so businesses are free to explore highly creative ideas.

Useful Article : Types of 3D Rendering Used for Online Product Marketing
Frequently Asked Questions (FAQ)
3D advertising brings life into inanimate products, making them look lively and realistic. People can continue their purchases from the comfort of their homes with 3D advertisements. 3D ads are already in extensive use. For example, Ford recently leveraged 3D visualisation for their Maverick truck promotion and it was super engaging. Back in 2019, Adidas Latin America used Google Swirl to create a highly effective 3D ad for its Ultra Boost shoe.
In short, 3D and AR are giving a new dimension to modern advertising, and this trend is here to stay.
Improving user experience and customer relationships is the prime motto for every eCommerce marketer. 3D Product Modeling enables this by making the advertisements more effective and immersive.
The hyper-realistic product models made in 3D resemble the real products, which gives the prospects a clear idea of what they are going to buy. Product animations made in 3D give a 360-degree view of a product, thus making it stand out.
This influences the purchase decision positively to a great extent. High-end 3D renderings boost customer trust and instill a lower risk perception. Then there is 3D printing, which is a great alternative for physical prototypes. Many manufacturing companies are incorporating this technique into their manufacturing strategy.
All of these factors make a brand stand out as trustworthy and unique.
3D visualization for marketing purposes is a praise-worthy usage of 3D technology, which allows customers to customise the product in a virtual manner. And 3D images get their popularity from having super-clarity, an extra-glossy finish, and a hyper-realistic look and feel. Customers can imagine themselves wearing the products, and this increases conversion by 40%. Especially for luxury brands, like luxury watches, automobiles, tailor-made apparel, and much more.
The online buyer can check the product from all the possible angles and get a sense of realism. This technique is great for promoting a new product, e.g., a new high-tech smartphone or a DSLR camera.
3D modeling and rendering are here to rule the marketing landscape in the years to come. With its artistic essence and ability to impact people's minds, 3D design is on its way to creating milestones in the fields of marketing and advertising. If you have 3D design ideas for an upcoming campaign, share them with us. We would be happy to assist you in giving a solid, virtual shape to your ideas.
Contact Us