How to Design Cosmetics Packaging: A Simple Guide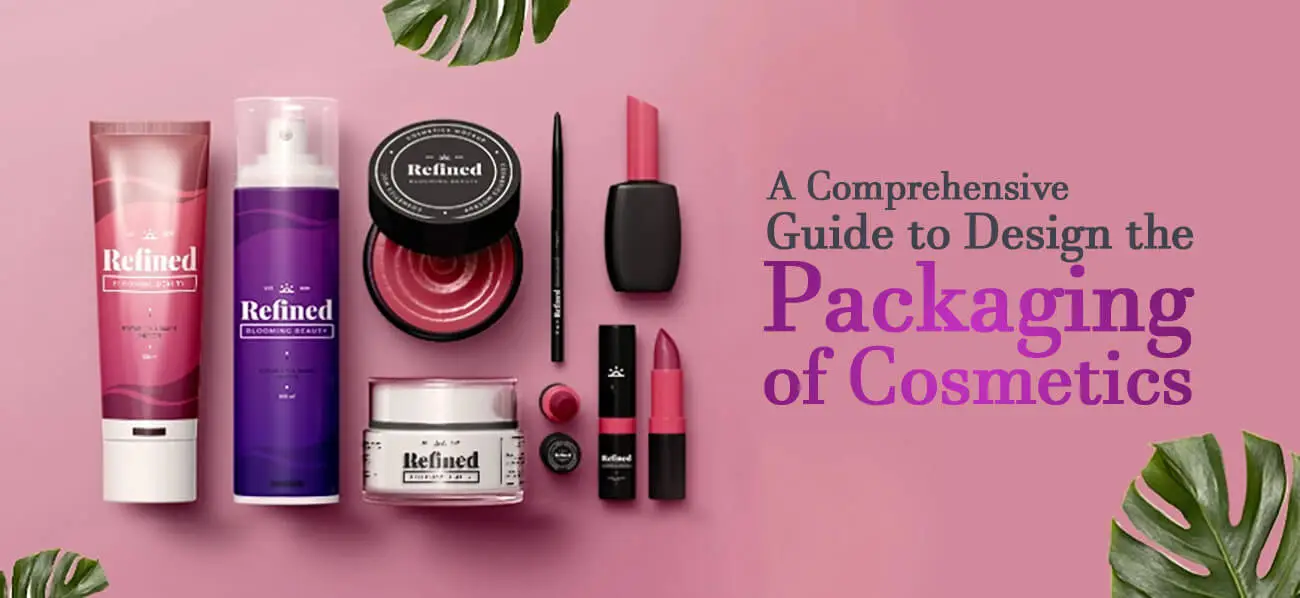 Packaging is a vital component in every product. Without it, any product would look shabby and unattractive.
Do you want to start your cosmetic line but not sure where to start? Do you need a new design for your product packaging? This blog post will teach you everything that you must know about designing cosmetic packaging and cosmetic boxes.
What is Cosmetic Packaging?
Cosmetics packaging refers to the packaging that is used for cosmetic products. The ideal cosmetic packaging should portray the brand's persona and should let customers recognize the brand readily.
A cosmetic packaging design does more than just holding things together. It is utilitarian as in it fulfills the purpose of protecting the product.
This should come as no surprise considering that 31% of global consumers claim a product packaged is an extremely important part of their satisfaction with a cosmetic. On store shelves, or even in an online retail space, eye-catchy and innovative packaging is crucial.
To be functional as a package, this protective role includes executional aspects such as:
Graphics design
Typeface alignment
Color selection
Catchy logos to increase legibility and brand recognition
How to Design Cosmetic Packaging
Before starting with your packaging design, ensure that these details are finalized:
Identify Your Ideal Customer

Do you have teenaged customers who are obsessed with anything pink and love boy bands? Or are they sophisticated women who are looking for products to match their skin tone? It is important to know who exactly your customer is to design a winning design. Once you identify the ideal customer, it is important to know what grabs their attention and what they are looking for in a cosmetic brand before designing the package.

What is Your Product?

This is an important factor in determining your skincare packaging. What materials are your cosmetic made of? Is it very delicate? If it is delicate, then it needs more securely designed cosmetic boxes.

Whether the skincare product is large in size or it has odd dimensions also determine the design. If the product shape is in odd dimensions, it might require custom cosmetic packaging.

Where Do Your Customers Buy Your Cosmetics From?

When your product competes with many others, it is essential to design packaging that will stand out. Do you want to sell in stores like grocery shops or big box retail stores?

Consumers interact with brands in various ways, and it affects how you should present your product. Store packaging needs to attract attention among competing brands.

For instance, designing products sold in a boutique store can be much more difficult than the one for a pharmacy. Example: When working with fashion-oriented merchandise, it's often necessary to dress up the outer shell of packaging or present items together instead of individually.

Packaging is always important no matter what type of retail business you work at - but in some cases, like fancy boutiques and stores, presentation matters so much more because these are "cosmetics" industries that rely on customers being drawn by stellar displays.

Cosmetic Package Design Considerations

Cosmetic packaging design is an essential part of marketing a line of products. It is important to maintain a consistent look at all your product offerings. Whether it is lipstick or for skincare the design and style must keep up with the brand message.

It usually includes three layers:

Outer packaging (box or wrapper)

The outer packaging is made of matte-finished cardboard or a glossy finish. It is where first impressions are made. With effective 3D design support, you can create amazing designs for outer packaging. You can customize the details of designs and use custom fonts and colors to make them even more unique.

The container (bottle, jar, or tube)

The containers that you choose depend on the type of product that you're using. It can be a pump spray bottle or squeezable tubes. Based on the type, it is designed with a different range of materials such as glass or plastics.

For instance, a skincare product with more acid content uses glass or Polyethylene Terephthalate (PET). Therefore, choosing the right type of material is important for your product to stand out.

Product label

Even though the packaging is only around for a short period, labels are still used until the container is thrown away. Cosmetic labels are something that users see whenever they go on with their makeup routine. So even if the product is empty, the container and label stay until it is discarded. Hence designing an eye-catching one is essential to make an impression.

Remember this kind of style on the beauty packaging and brand's unique personality can be brought together with 3D model rendering services from a reputed brand.

Get Inspiration

Getting inspiration to design is one of the fun stuffs involved in cosmetic packaging. Think about what your brand represents or create a mood board that involves all the ads for each product line. This can help you set the trend in beauty packaging.

Mood boards are great for capturing the overall mood, theme, or style. Style sheet, on the other hand, specifies how to determine your package to look from other angles.

The internet is a vast resource for information. You'll be able to find inspiration by combing through anything from magazines, store shelves or from online cosmetic trends at any time to get some helpful pointers on what works and what doesn't. Pay attention to the fonts, colors, shapes and how classic designs garners attention.
Now you can get ideas on what to craft and how to fit into a modern design that fits any era. Take time to study bad design choices and learn from them. Ask yourself, why were they so terrible?
Take some time each day to research different social media sites and blogs that talk about design trends. Check which brands have used product renderings to enhance their cosmetics.
Make it a game: have coworkers pick out the worst designs of all-time, then compare their opinions against yours once everyone's done reviewing various websites such as Pinterest and Instagram. You'll be surprised by what people find appealing these days.
Obviously, by taking inspiration from other designs, you are not just mimicking them; rather, you take the visual as a reference point for your beauty packaging.
Elements Included in Different Types of Packaging Design for Cosmetics
Although taking inspiration is a good thing, you need to set your brand apart in creative ways to create impressive makeup packaging. However, there is no harm in employing a few proven strategies as the baseline to create the perfect design. Let's take a look at few design trends that you can use to enhance your product with:
Color

Packaging design is a crucial aspect of the product packaging process. Hence, brands must make sure that the colors they use will reflect well on their products. For example, white or silver is good to use for daytime and pink & gold are considered nighttime colors.

Visible packages work much better than transparent packages because they make them stand out more than its surroundings. Packages for moisturizers are usually oval with soft curves; creams are smaller and flat but still have smooth edges.

Clear packages allow customers to see which product they get and what it looks like before buying it.

Black and white is a great combination that goes with every product and is considered a powerful color. It brings luxury and sophistication to cosmetics. White represents the height of minimalism while also portraying elegance.
Pink and purple are prevalent in makeup packaging. Why? Because it tends to evoke feelings of love and romance. Purple brings out royalty and also signifies extravagance.
Pastels: The history and meaning behind the use of pastels is both complex and captivating. This color is extremely popular and used in skincare products as they show tranquility.

You can use these colors as reference and create your unique cosmetic packaging design.

Attractive Fonts

According to the custom cosmetic packaging trends, bold fonts are gaining popularity. You can try unique fonts because it gives a lot of character to your cosmetic product. A hand-lettered font can be a neat way to portray your brand and differentiate you from the competition. This is because millions of fonts are available today for use, and picking the right one is difficult.

To give an idea:

Serif fonts have a more traditional feel to them, while sans serif is more modern at the same time.
A cursive font or script, on the other hand, creates an air of sophistication.
Bold letters often evoke a strong and aggressive brand. They are typically used to create a masculine identity in male grooming products.

Overall, a font of legible size and face is needed to ensure that the content is easy for the reader to read.

Patterns

This is the final element in making your custom cosmetic packaging stand out from the crowd. You can choose from various design styles such as geometric, art deco, tradition, contemporary and many more. Many brands combine all these elements to create a unique design that is unmatched by others.

There is no right or wrong design because you can even include hand-drawn florals or geometrics to create a powerful statement in your cosmetic packaging.

Organize All the Information to Be Included in the Design

The next step is to organize or gather all the necessary information one wishes to have in the packaging design; this mandatorily includes FDA-compliant information.

Following are a few standard information you will see on the packaging of any cosmetic product.

The name of the product itself
Where it is made or manufactured
An icon or image to indicate the product is cruelty-free or vegan
Statutory government warning labels
Clear labels for the net quantity & pricing
Expiration labels
Ingredients (if you want to disclose any)
Additional images and graphics to indicate precautions
Guide for a patch test
Brand tagline or slogan copy

Select the Physical Packaging Type

Now, it's time to actually choose the physical packaging.

At this stage, you must choose the physical packaging. You want to be extra cautious while doing that, as the packaging material you select must be suitable for the product to be packaged. It must not degrade its formulation with any chemical reaction or hamper its consistency.

For example, if your products are essential oils, you typically require a glass dropper bottle. If it is beauty soap, try wax-coated wrapping paper. Also, consider the temperature fluctuations, and shipping setup the products will undergo. Considering all these aspects will prove beneficial in the long run to retain the product's originality.

Essentially, there are three layers involved in physical packaging that one must know about.

The outer packaging: The very first covering or enclosure your customers need to probe through; it might be the carton box in which you deliver the shipment from your warehouse, or the bag you use to pack the products for retail sale.
The inner packaging: This is the enclosure that keeps your product safe; you may use bubble wrap or any other alternative, like honeycomb kraft paper, which is a type of corrugated bubble wrap.
The product packaging: This is the main container that houses the product itself, which may be a primer or foundation bottle, an eye shadow palette, or a lipstick tube.

Some of the most common packaging types widely used in the cosmetic world

As mentioned above, selecting the packaging type is one of the most crucial stages of cosmetic packaging design; what works fine for one product might not work for another. Product packaging intended for a lipstick or lip gloss won't ideally work for a body cream or shower gel. The following packaging options are most popularly used by cosmetic brands worldwide.

Dropper bottles
Airless bottles
Jars
Sprayers
Tubes
Pumps
Palettes
Compacts
Packets

Buy the Packaging Options From an Authentic Agency

Once you ascertain the kind of packaging option you need for your product, think of getting it from an authentic company. This is another critical step. Always source your packaging containers from a reputed seller to prevent any mishaps. You won't want your essential oil to leak or your herbal nail polish to get all dried up.

There are several wholesalers from which you can get bottles, tubes, jars, or other containers at bulk prices. And if you want to add a little customization, it will cost a bit more.

Choose a Focal Point for Your Design

This step is all about the packaging theme and design, where you want to stick to a particular theme or focal point. Whatever message you want to convey to your target consumers, you must do that through the packaging design.

If you are a new brand in the market and wish to increase brand recognition, put your brand logo in the most prominent position. Logo positioning is a pivotal aspect of augmenting brand recognition and recall. Do you use a rare ingredient in your product that you want to highlight? Make that your focal point. Are you standing up for a greater cause, like reducing greenhouse emissions or "going green"? Make that the focal point of your design and ensure the design elements reflect the same.

Think About the Specialty Printing Options

You may call this the final step in cosmetic product packaging, where you select special printing options for your packaging. Depending on the nature of your product, you would want to make your choice. If you are a shower gel brand, make sure the labels are coated with water-resistant material. Most women store their lipsticks, toners, nail polishes, hand creams, and other skincare products in the refrigerator to extend their shelf life and keep bacteria at bay.

So make sure your product line uses printing materials that can handle the cold temperature inside a fridge. Incorporating elements like foil-stamping, a metal finish, embossing, sculpture, or ink – all these options give a 3D effect to the design but cost more. Based on your budget, take the call.
As you see, the cosmetic business is busy, hectic and hyper-competitive. With well-placed and eye-catching designs, you can capture the audience's interest with confidence. To come to that level, you need the help of brands who are experts in 3D package rendering services.
Contact Us