5 Best Tips for Using 3D Lifestyle Renderings in Marketing Campaigns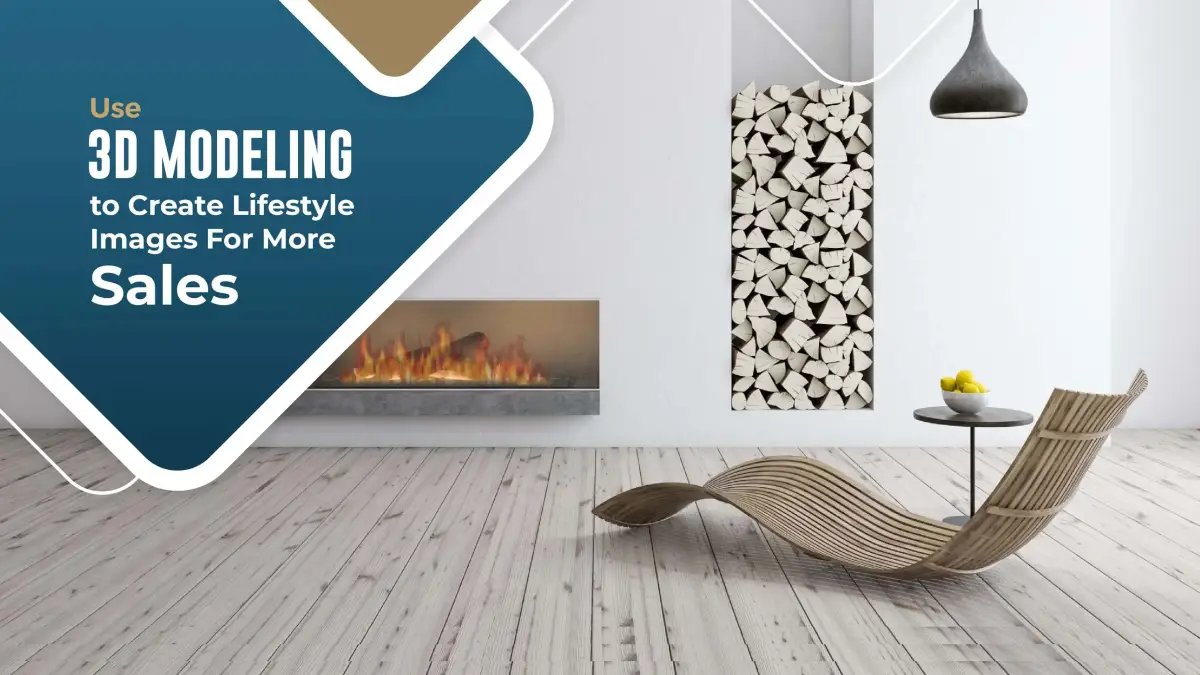 Modern businesses are leveraging 3D modeling technologies to create captivating and impactful marketing collateral featuring product lifestyle shots. This modern product lifestyle images rendering is a more cost-effective option compared to traditional lifestyle photography sessions that involve pricey locations and costs related to product transport and the actual photoshoot.
5 Tips for Using 3D Lifestyle Renderings in Product Marketing
Let's discuss how 3D lifestyle renderings can be used to facilitate the success of promotional campaigns:
Incorporate Diverse Settings

Using CG lifestyle renderings, you can demonstrate your products or furniture prototypes in different settings and backdrops. Such images are noted for their photorealism and diversity of scenes. With just one product model, they can create diverse photos using diverse settings as per the tastes and preferences of the target audience.

For example, you can get an elegant leather seat placed in an office setting or as part of a bedroom based on your market positioning strategies. In other words, you can get complete creative freedom with this modern marketing approach.

Useful Article : Modern Interior Design Styles Used in 3D Visualization to Enhance Product Marketing

Play Around With Choices

Sometimes, marketers develop an entirely new view of marketing approaches, and they may want product images reworked to suit the needs of a new advertisement campaign. When they use traditional photographs, they cannot incorporate any change into them.

But when they use 3D renderings, they can tweak these images very quickly and easily to suit the requirements of their new campaigns. They can tweak 3D images at different stages of a campaign so as to create customized visualizations for different groups of end users.

Instill the Best Background

With 3D modeling, you can add a captivating background to lifestyle photos. Lifestyle renderings eliminate the constraints related to physical conditions such as equipment availability, weather, and lighting and allow businesses to stick to their marketing budgets.

In traditional photography, photographers face budget limitations as they need to make optimal use of whatever they have on hand. 3D designers have the option of creating stunning views, props, and items of décor in product images while also being able to incorporate the best lighting in the images. The artist can introduce an individual in the scene, place a carpet on the ground, or even insert a lamp at the corner of a room.

The inclusion of several meaningful elements makes an image more visually appealing; no wonder sellers achieve greater success by using different lifestyle images in their promotions.

Useful Article : Top 8 Different Types of Backgrounds for 3D Product Renderings

Demonstrate Product Use

Marketers can combine 3D modeling with animation in order to showcase how a product can be used in different ways. This is important, as every customer has a different need to fulfill.

For example, if a customer is looking for chairs, a marketer or manufacturer may showcase how that furniture design might fit in different environments, including the office, home, and studio.

This is particularly relevant for marketing furniture items. Lifestyle images set against different backgrounds would allow customers to understand if they would suit their needs and how they should be using them.

For example, customers can assess if a particular sofa set would be perfect for the office or home and make a choice accordingly.

Perform Cross-Selling Successfully

Cross-selling boosts revenues and improves customer retention. With cross-selling, marketers can sell a related group of products to their customers. With photorealistic 3D lifestyle images, product sellers can promote easy sales of multiple products across a particular range.

For the same item, 3D experts deliver 3D furniture modeling services to help with product presentations by adding different backgrounds, objects, or other relevant details to an image.

Customers can now get a complete view of the product and understand why it may be useful to them without having to look at other sources of information elsewhere.
4 ways you can use customize lifestyle imagery
Once you have created 3D lifestyle imagery, you can use it across various marketing techniques. Let us see how you can use customizable lifestyle imagery in your businesses.
Lifestyle imagery on the product page

The product page with lifestyle imagery helps the customers visualize the products and how they fit into their daily lives. It helps to showcase the products to the marketers with product details like colors, materials, patterns, etc., which engages the customers to make the purchasing decision. This increases brand trust, making the imagery beneficial to the online shopping experience for the users.

Besides showing a 360-degree view of the products, it aids in creating visuals for every product, like large banner images and product feed thumbnails. It serves as an attention-grabbing hook to promote the products.

Promoting on social media

Lifestyle imagery in the product images plays a vital role in creating the content you must use on social media platforms. The images can be used in various marketing materials, from website banner ads, email marketing, and other social media posts to print ads. It gives the customers a realistic view of what your product is all about.

If used promptly, it helps to connect with the customers more personally, authentically showcase your products, and boost engagement with the brand.

Showcase your products using catalogs

One of the most effective ways to expose your products to the market is by using catalogs. The images used in the catalogs show the products in many color variations so that one can see the images very clearly and make a purchase. This has become a win-win for any customer who takes the catalog into their hands.

Lifestyle imagery on the catalogs highlights the product's dimensions. As a result, one can showcase the whole product's features in one image.

Enhancing the in-store experience

To increase customers' overall shopping experience, lifestyle images have evolved as a merchandising tool to create a unique experience. Most retailers and other marketers have added kiosks to their showrooms to showcase the products and let customers customize their choices through lifestyle imagery. It bridges the gap between online and offline shopping experiences, enabling the brand to stand out in the market.

Thus, lifestyle imagery helps to maintain the existing customer relationship through product visualization, which is highly unique and budget-friendly.
At the end of the day, let's sum up the manifold benefits of using 3D product rendering services. Marketers benefit immensely from high-quality, photorealistic images, quicker sales conversions, and drastic savings.
Using 3D modeling for creating promotional materials simply means that marketing teams would now have diverse promotional materials to use and that they can now put greater emphasis on areas that would bring better results.
3D rendering is associated with multiple opportunities and businesses can create outstanding marketing materials that would help them beat the competition.
Frequently Asked Questions (FAQ)
Lifestyle image or lifestyle photography of a product usually implies taking a highly stylized photograph of your product, sometimes featuring a model. The whole idea behind such a photograph or an image is to promote the product to the prospect. It is a great way to develop brand identity and also to enhance the look and feel of the product.
The main difference between product photography and lifestyle photography is that, in the latter, the customer or the potential buyer can visualise themselves wearing the product. A lifestyle image is also a great way to increase conversions. It goes without saying that such photography techniques are usually done for luxury apparel brands.
Gone are the days of static catalogues where models posed in robotic gestures on a white background. Enter a lifestyle 3D image that features models in a highly curated and stylized background.
Realistic 3D modeling for lifestyle images is a great way to sell your products with minimal effort. Because your customers can view the products in a living environment, in the most realistic way. Utilizing CGI lifestyle images in 3D leaves a jaw-dropping effect on customers and emphasizes personalization.
Do you want to boost the effectiveness of your marketing campaigns with impressive collections of 3D imagery by outsourcing your 3D product design services? Call us now for a consultation.
Contact Us