Top 8 Different Types of Backgrounds Used for 3D Product Rendering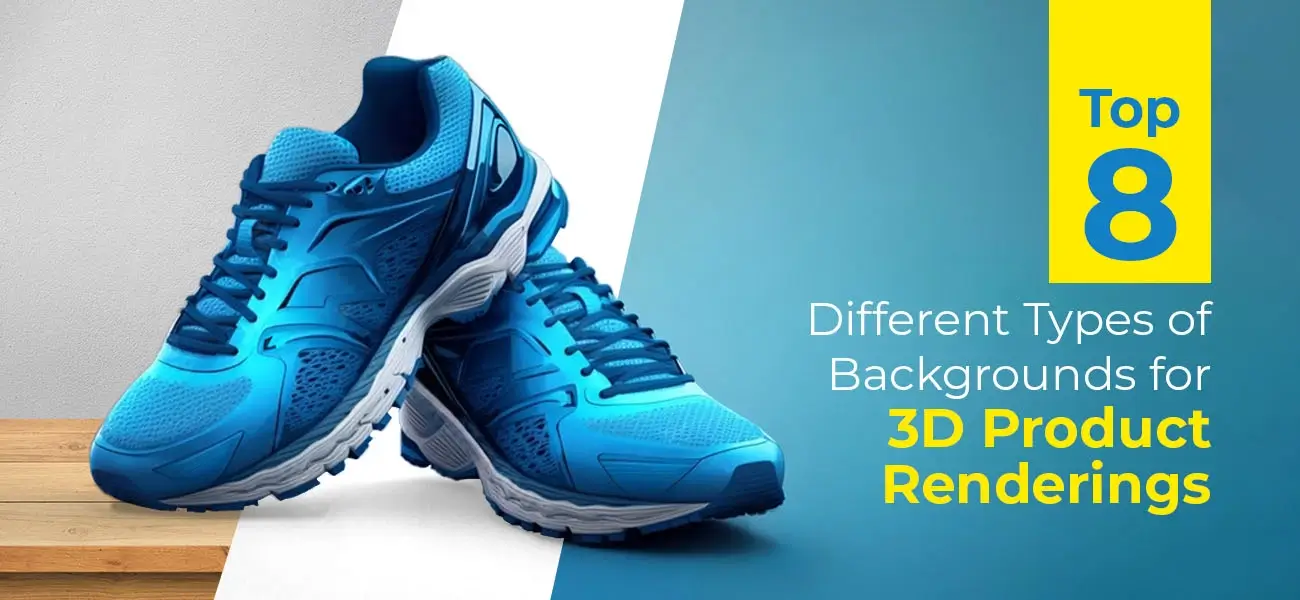 Choosing the right backgrounds for your product rendering is essential for marketing campaigns. There are many types of backgrounds available that can use to create 3D prototypes and other marketing ads for their products. Each type has its own advantages and can be used depending on the requirements to showcase the products in the market.
It is said that product rendering with a proper background helps customers make purchasing decisions. As you can see, websites that use different types of backgrounds to market their products have experienced higher traffic and an increase in sales.
Check out our guide that covers the top 8 backgrounds that you can use in 3D product rendering to increase profits and elevate business growth.
What Are the Different Types of Backgrounds Used in Product 3D Rendering?
White Background

White is a widely chosen color for the background in 3D-rendered product images for marketing and showcasing eCommerce products. The white background is proven to illustrate the product's features in more detail and take care of the dissonance faced by the customers at the same time.

Pure white and tones of white, like off-white and light gray, are also used sometimes. Only the work of the 3D artist designing the product model can make a picture stand out amidst white background. The correct amount of light and reflection can simultaneously make the product appealing and prominent.

Related Article How white backgrounds impact consumer behaviour?

Solid Color Background

Black, light blue, yellow, and pastel pink are the preferred colors when sellers want to experiment with the product display with a solid colored background. Red and green are also used but rarely and are strictly based on the color of the product. If the product's color is on the darker side of the color scale, then red and green are strictly avoided.

Apart from using the colors singly, sellers many a time pair two solid colors together, like pastel blue and pastel pink, for the background (as pastel colors are in fashion now). They do not mix the colors together but instead, separate them with a well-defined line from the middle.

Gradient Background

A gradient background shows a gradual and smooth transition from one color to another. Generally, a dark and a light shade are coupled together for a mesmerizing visual effect. A gradient background adds to the product's look and appeal, making it more convincing for the buyers to buy them, provided they are in contrast.

Pairing and mixing random colors might make the product display a disaster. So, color pairing should always be done through expert hands as it takes a lot of experience to properly understand the color theory and palette. The better the color pairing, the more will be the product appeal.

Nature-oriented Background

There are numerous products that are used outdoors, especially furniture. Any patio (outdoor) furniture, including hanging chairs, armchairs, garden and backyard decorating items, can be made to put in a backdrop of a garden, beach, poolside, etc. This gives the prospects a clear image of how that particular piece is going to look in their space.

But it would help if you are careful while choosing the background image as the color of the product and that of the background shouldn't camouflage. For instance, a white hanging chair with a white beach sand backdrop is a strict no-no! Instead, use images containing more blue sea and less sand.

Textured or Pattern Background

Texture means the type of material. Certain textures like wood, metal, brick wall, tile, stony, sandpaper, crushed paper, bed sheets, woolen, denim blue jeans, and towels are called surface textures. In contrast, honeycombs, bubbles, geometric shapes, abstract lines, and polka dots are called repetitive pattern textures.

Product renders are often placed in textured backgrounds to add to the "quirk factor." For instance, a white sneaker shoe can be placed with a backdrop of denim blue jeans. This will not just elevate the look of the shoe but will also give the buyers an idea of what colored jeans would go along with it.

Lifestyle Background

Lifestyle background is very trendy in the eCommerce furniture and interior decoration market currently. It has become a quintessential way of product marketing, especially furniture, as millennials, being the majority of the buyers, prefer to see the products in a proper setting like a living room, bedroom, kitchen, balcony, or bathroom.

Lifestyle backgrounds help the buyers get the approximate space measurements, texture, and quality insights, and a basic idea of the looks and how well a product will sit in an expected place.

Useful Article : Different lifestyle shots for furniture marketing

Brand-Specific Background

The brand-specific background is putting the logo or the entire brand name in the product background. This is either done by flashing the brand name on a white background to make it prominent or by using the brand name in any corner, irrespective of the texture, color, or image in the background.

Using brand-specific background can be considered sensitized marketing, where a buyer ends by buying a product of that brand, even if it is unplanned. This is done by flashing the brand name repeatedly in front of the buyers, making them conscious and aware of the brand. The response generated through such a marketing strategy is only increased sales.

Custom or Contextual Background

This is a unique type of background used with product renders where the background is customized per the context; the reason it is famous by the names "custom background" or "contextual background." It is a story-telling way of marketing products where the buyers get additional ideas for embellishing their spaces.

In this, the sellers customize the background by adding and eliminating items to make it go with the product on display. Most of the time, customers also end up buying the additional props shown along with the main product, even if the seller is not putting any effort into marketing them.
Why use different backgrounds in product 3D renders?
Imagine having a good collection of products to showcase, but the viewers cannot understand the use of most of them. Will it be worth having that collection? Definitely not!
If a suitable backdrop is added to the product, the viewers will easily be able to understand the purpose, use and get an idea of how the product is going to be beneficial.
Besides elevating its appeal, an appropriate product background gives the prospects an idea about how a chosen product will look in a particular place. So selecting the correct background for the product is ideal during marketing.
For example, if you have a beautiful designer lamp for sale, presenting the 3D model of the lamp with the background of a room showing the placement of the lamp can be a lot helpful to prospective buyers.
So when marketing eCommerce or any product through 3D rendering, a suitable product background is an absolute necessity. This is a potential way of turning your viewers into buyers as, after all, you aim to sell your products and not just showcase them.
Background, rendering everything makes sense when the 3D models of the products are accurately made. Product 3D rendering is a work of precision which can be only achieved through proficient hands.
Hope this article was insightful and could give you a basic idea of the backgrounds in 3D product rendering. That was all for this blog, stay tuned for more!
Contact Us