How Does Product White Background Impact Customer Buying Decisions on Online Shopping Websites?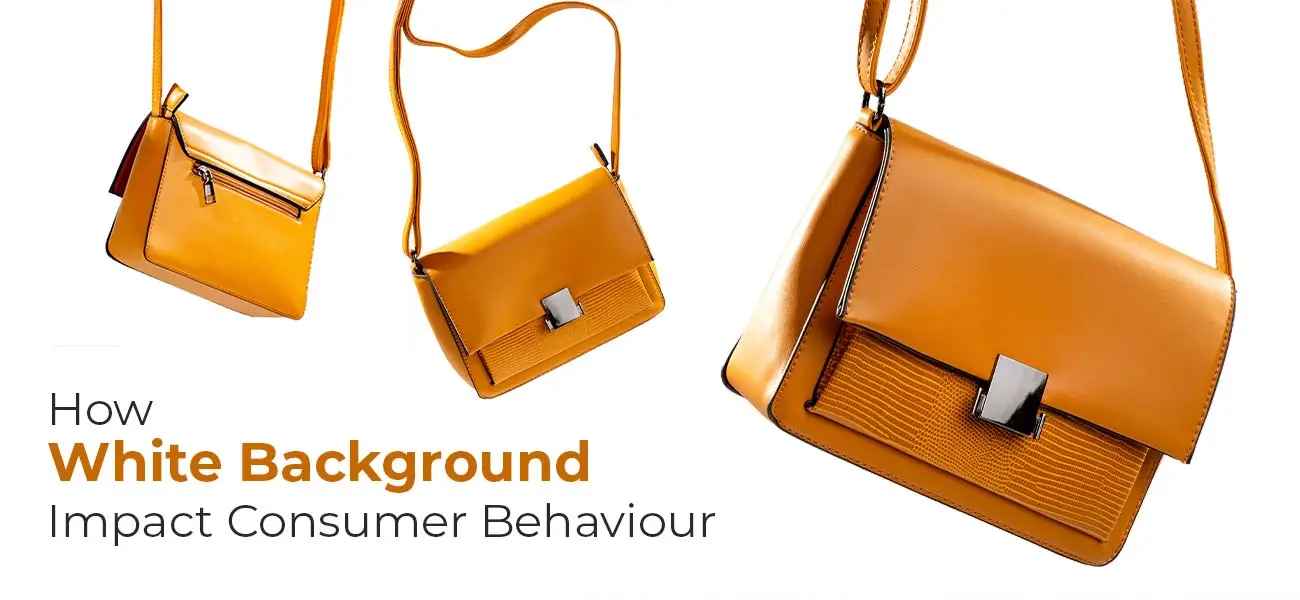 Product images on white backgrounds are considered an essential tool for the eCommerce industry. It is one of the most powerful strategies to grab the potential buyer's attention and make them want to purchase. As there are no other environments around the products, white backgrounds give them a sense of uniformity and make them look more appealing without any effort. This gives the customer the first impression so that they can perceive the products more clearly. Thus it helps to increase the customer's trust when shopping online.
With this said, many companies are using white backgrounds for their product images, as it gives more photo-centric visuals to the customers. This is the key to increasing online sales and engaging with potential buyers.
In this blog post, let us explore how white-background product rendering helps with customer buying decisions. Keep scrolling to learn more in detail.
How does white background rendering help with customer buying behaviour?
Product models rendered in white background reduces dissonance

All buyers have at least once been in a situation where they tried buying one product through online shopping and, for that, searched almost a hundred websites. Yes, this exact thing is called "dissonance." This situation makes it impossible for the buyers to distinguish between the features, utility and brands or simply think, "Which one will be good?"

Websites with high-end 3D product models rendered on a white background make this easy. It increases the prominence of the products, which helps the customers in making a well-informed buying decision. White background rendering reduces the ongoing conflict in the buyers' minds and eases their buying process.

Key benefits

Increases prominence of the products.
Reduces dissonance/conflict.
Helps to select products fast.
Eases the buying process.

Helps consumers buy expensive items online

With the accelerated technology advancement and 3D product models becoming so distinct and elaborate, we don't think twice before buying items online like furniture, cars, household goods and appliances, and interior items. White background renders enrich the user experience and give the customers a seamless shopping experience.

For consumers who are seeking to buy expensive products through online shopping, products rendered on white background show them and their features in utmost detail without leaving any gaps in understanding them. Businesses using products with 3D configurators in white background witness a good ROI and increased online sales too.

Key benefits

Enriched user experience.
Clear view of the features of products.
Increased ROI.
Increased online sales.

Consumers are attracted to visually appealing products

We all like colors, but don't we find the color white much more soothing to the eye? Any visual element on the white background is easy on the eye. As customers are more inclined towards aesthetically pleasing visuals, they prefer it more during online shopping, where they invest several hours looking at the screen.

This is why most websites offering white background renders experience traffic and earn a large customer base. White background increases the product models' visual appeal, highlighting their features prominently. This, in turn, manifests customer acquisition and retention owing to better growth.

Key benefits

Soothing and easy on the eye.
Increases visual appeal of the products.
Increases website traffic.
Increases customer acquisition and retention.

Maintains the focus of the customer on the product

White background accentuates the color of any object, even if it is a 3D model. White background renders eliminate color mismatch and boosts product presentation quality. Focusing on the product models rather than the background gives the consumers good clarity about what they are going to buy.

Even white-colored product models on white backgrounds stand out, provided the website can portray them artistically. The form, texture, intensity of reflection, lighting, and shadow of the products, if worked on creatively, can maintain the focus of the potential buyers for a long time.

Key benefits

Helps customers focus on the products.
Makes the colors of the product models pop.
Eliminates color mismatch.
Boosts product presentation quality.

Makes the product models convincing enough for the consumers to buy them

Customer buying decisions are greatly influenced by the look and feel of the product models online. We buy only when we are super convinced. 3D product models and white background when clubbed, gives amazing results when it comes to convincing customers to make a purchase.

The white background makes the 3D product models appear real through clear reflections and shadows and the finish of the 3D models are also equipotent to attract eyeballs. This increases customer engagement, less return of products and automatically promotes positive brand image.

Key benefits

Makes the product models appear real and life-like.
Increases customer engagement.
Promotes positive brand image.
Reduces return rate.
Useful article : How 3D Visualizations are Transforming Online Shopping Experience?
Are white background 3D renders beneficial to eCommerce marketers?
Yes, absolutely!
eCommerce marketers or e-tailers are the major users of this marketing strategy.
Using white background renders have shown to:
Increase website traffic
Increase sale
Increase customer acquisition and retention
Reduce warehouse cost
Improve brand awareness
Wrapping up
Consumer satisfaction is the prime focus of any business. Sellers always look for ways to improve the user experience which might be through introduction of variety, strict quality control, or enhancing the product display quality.
One of the biggest measures taken to enhance the product display and increase customer engagement is the use of 3D rendered product models in white background. 3D rendered product models are not only affordable but also have a magnetic effect on the buyers.
That's all for this blog. Stay tuned for more!
Contact Us