How 3D Visualizations are Transforming Online Shopping Experience?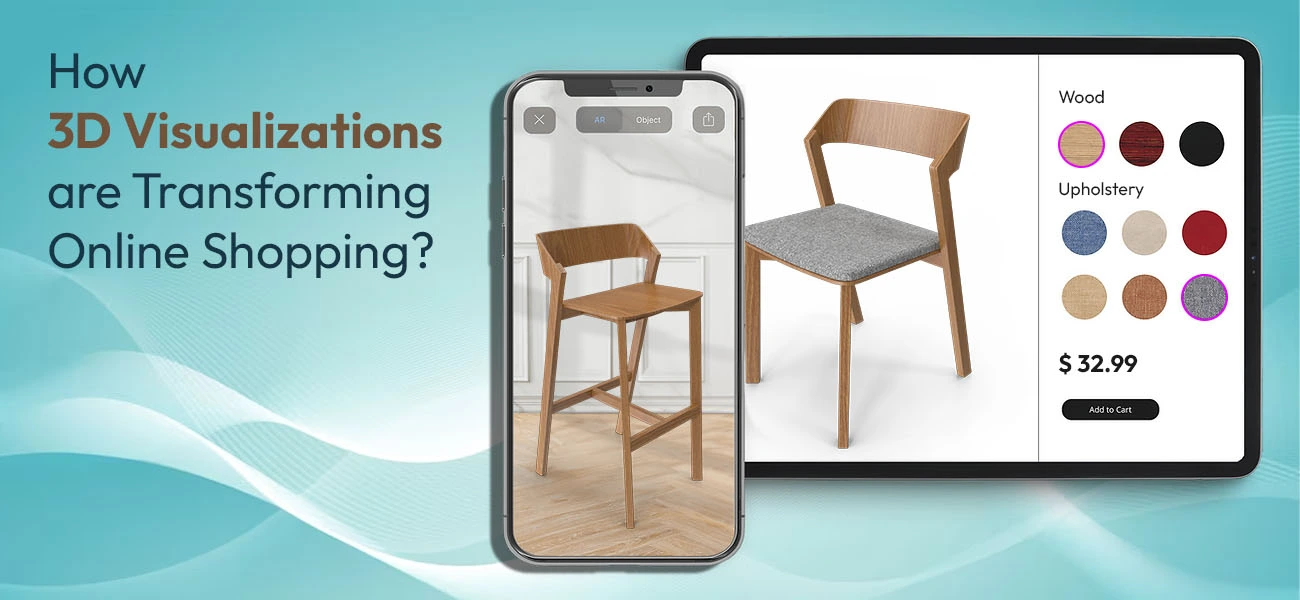 For modern shoppers, the buying experience is the most important factor. This is true whether they buy a product online or choose a brand. If the shopping experience is not good enough, they lose motivation and bounce back. That's the reason why, today, there's a very fine line between in-store and online shopping.
Regardless of a product, its sales and conversions depend on how attractively it is listed on an eCommerce platform. As the competition grows fiercer, more and more marketers focus on the user experience and how to enhance it.
The answer to that is 3D product modeling and rendering, which offer new opportunities. By adopting:
3D animation
AR/VR
360° viewer
Product configurators
- to product promotions to online campaigns, e-tailers are all set to enhance user engagement.
The 5 best 3D visualization technologies impacting the present-day online shopping experience
The world rapidly moving towards online shopping on a daily basis. From furniture to beauty products, fashion accessories, and apparel, everything buying from online. This development made marketers adopt 3D-rendered visuals for product listings to beat the competition.
Greater advancements are made in that field to attract more audiences. Furthermore, to create a more engaging shopping experience. Because user experience, or shopping experience, is one of the biggest driving factors for online buyers. The more engaging the purchase experience is, the higher the chance of conversion.
The five main 3D technologies used for eCommerce can be named:
3D product rendering

Photorealistic rendering develops highly realistic digital images of a product or a prototype from a digital model. For the process, high-end 3D rendering software programs are required that ensures high quality. The more advanced the software, the greater the rendered quality. The beauty of 3D rendering is that it produces accurate, realistic images with exact measurements.

Besides, one can even generate a rendered image before the product is ready. This helps in promotional activities and other online campaigns that create awareness for the product.

3D product renderings come in two forms, white background and lifestyle. As the name suggests, white background renders feature the product against a clean, white backdrop. No other visual elements are visible.

Useful Article : Different Types of Backgrounds Used for 3D Product Rendering

eCommerce platforms like Amazon, Target, and eBay prefer white background product images. This is because such shots prevent any sort of deviation or distraction for the onlookers. They can focus directly on the product's features and details. Product USPs are also best portrayed through white backdrop images.

Another is the lifestyle shot, which shows the product in a real-life environment. This is more concept art that emotionally connects with the buyers. Lifestyle images are also best for inspiring a potential lead to make a purchase. When consumers see a product within a familiar lifestyle environment, it helps them understand its utility.

AR product viewing

Product viewing with Augmented Reality helps prospects preview products within their own environment. Not just products, but they can also experience a service. This amazing realism makes the customer more confident and convinced. Regardless of the product or service, the customer can make more informed choices, reducing the rate of returns.

More and more brands are opting for this technology in their product promotion for a better ROI. Amazon also adapted 3D rendered images for product listing to maximize sales. Especially while selling niche items such as home decor or furniture items.

For example, a bulky dining table or a sofa that is difficult to return in case the buyer doesn't like it. If the product is viewed through an AR viewer before purchase, the buyers know how it will look in their homes. This will help them decide whether or not to buy it.

One of the adopters of this technology is Gucci. The global luxury brand introduced AR-enabled shoes that customers could "try-on" through their smartphones. With the integrated web-based AR, shoppers can view a digital overlay of the exact pairs of shoes on their feet. They can also change the virtual try-on pairs by simply swiping left or right.

Useful article : Use Augmented Reality(AR) Marketing to Step Up Your Business

3D Virtual showrooms

VR or Virtual Reality has immensely transformed the online shopping experience. E-tailers are now adopting virtual stores to give their customers a better experience. Virtual stores and showrooms give an immersive shopping experience.

Such a virtual experience replicates the exact in-store or physical shopping feeling, but from the comfort of one's home. Travel and tourism (Thomas Cook, Lufthansa), hospitality (Marriott Hotels), and automobiles (Mercedes-Benz) are some of the early adopters of this engaging technique.

Virtual shopping results in greater loyalty among customers before they buy. They can get a pre-travel or pre-stay experience or do a virtual test drive before deciding.

Useful Article : What is Mixed Reality? In-Depth Guide For The Beginner's

3D configurators

3D configurators are highly efficient marketing and sales mediums for digital commerce. These virtual configurators let customers get exactly what they pay for. They can get custom-made products by customizing or configuring them according to their preferences. Right from color and material, to texture, model, and size, everything can be configured with 3D configurators.

All the changes are made as per the buyer's taste and requirements. This option of getting a product precisely designed increases brand loyalty among customers. This kind of interactive shopping also makes them repeat customers.

Useful Article : 13 Statistics Motivating You to Use 3D Configurators on Your Website

360° product viewer

With a 360° spin, products can be viewed from all possible angles, replicating physical shopping. Using 360° rotating images, marketers enable customers to interact with the product by simply using the cursor. This gives a greater sense of control and shows the item from a close-up view. Such enhanced product display is crucial for improving product listings and conversions.
How is 3D visualization making eCommerce future-ready?
In a nutshell, 3D product visuals are visibly powerful in boosting eCommerce and making it more tech-savvy. Modern-age consumers prefer a comfortable and enjoyable shopping experience, as marketers have realized.
So now let us check the facts about how 3D visuals influence eCommerce and online retail.
Unlimited storefront experimentation

Marketers can virtually create multiple virtual storefronts and use them for A/B testing. Customers can select their picks digitally without the hassle of visiting an actual store physically. This helps create buzz about an upcoming store launch.

Customer data can be effectively collated

eCommerce shopping done through 3D innovation gives more user data that can be used to create strategies. For example, website traffic and how people enjoy the 3D ecosystem can be known. Based on these specific insights, brands can create a more immersive experience. This will further strengthen customer engagement and boost ROI.
Wrapping up!
TV ads, lengthy product descriptions, and texts are long gone. They are now considered "old school". Advancements with 3D visualizations are the new-age concept in retail innovations.
Owing to the:
Greater engagement factor
Immersiveness, and,
Unlimited personalization options
- eCommerce marketers are mostly adapting 3D designs. Professional 3D modeling service agencies are in great demand now, and the future also seems to be the same. They offer stellar 3D product design services at affordable rates and amazing quality.
Contact Us