What is a 3D Configurator? Benefits and Applications in the eCommerce Industry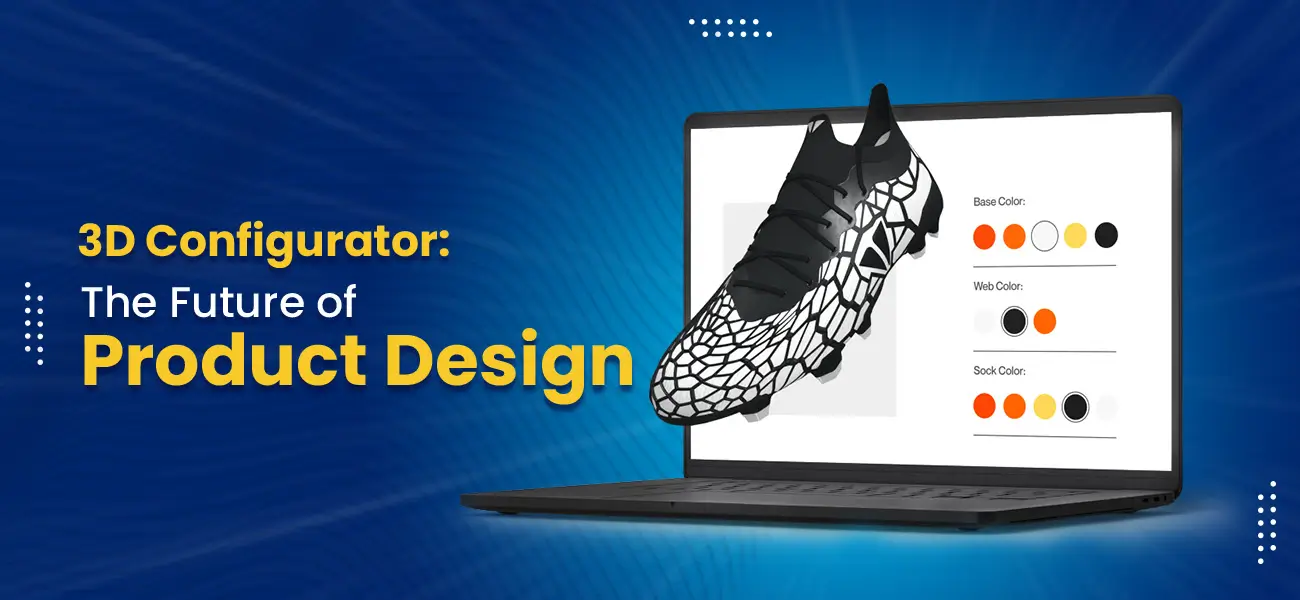 3D configurator has similar good implications on the entire eCommerce business, and this blog will tell you how. It also covers the important aspects of 3D product configurators and some most often-asked queries about them.
Keep scrolling!
Adopting 3D technology in eCommerce marketing has shown higher customer engagement. This further showed that consumers loved visiting online stores that would offer them a personalized shopping experience.
The e-tailers have now started displaying their products through online 3D product configurators and are experiencing website traffic like never before! Now let's dig into the concept first.
What is a 3D configurator?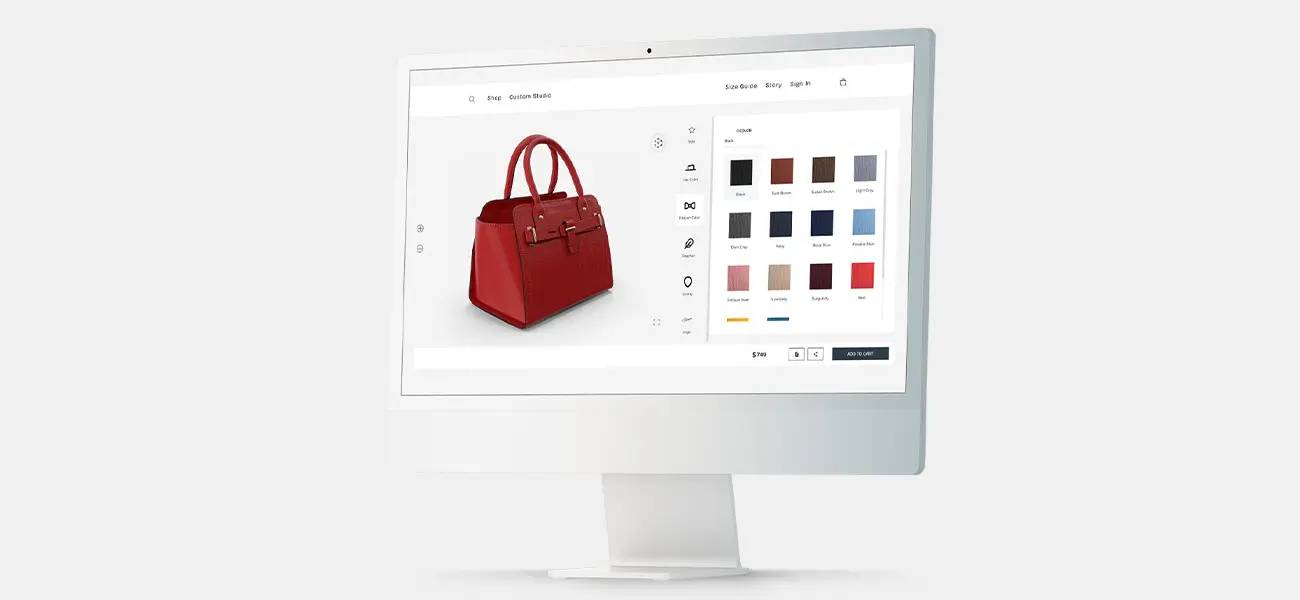 A 3D configurator is an interactive tool that allows users to customize and visualize a product in real-time. It gives customization options as per the desired design, colors, textures etc and makes the product purchase-ready according to need and cost.
Online stores that use this feature have to have 3D models of their products. The 3D configurators are then used on those 3D models through 3D configurator software like Floating UIs, Zakeke, Vendavo etc. This custom 3D configurator allows the customer to interact more for better experience compared to product visualizers where it allows to view product as a static model.
3D product configurator: A revolutionary model in eCommerce industry
eCommerce contributes to the majority of sales in the retail sector. The eCommerce market is even predicted to give about 90 percent of sales to the retail sector by the end of the decade. So steady improvement in sales technique is a mandate.
3D-modeled products have always had a positive effect on the eCommerce market. The fast-growing technology and innovation which sparked huge competition in this sector compelled the e-tailers to change their sales strategy ever since.
From simple 2D images of the products, the market has been gradually accepting the paradigm shift, and today, it stands at using this revolutionary 3D product configurator tools. And why not? The whooping growth says it all!
Useful Article : 13 Statistics Motivating You to Use 3D Configurators on Your Website
Application of 3D product configurator
A 3D product configurator is like a virtual showroom which is suitable for use on furniture, clothes, shoes, sports accessories, household appliances, interior and exterior decoration items, jewelry, machines, cars, and almost every consumer good.
Besides these, they give the product a 360-degree view making it easier for the buyers to make a more informed purchase.
Top 5 benefits of 3D product configurators
Now let's see why it is revolutionary.
Increases customer engagement

A 3D design configurator is an amazing technology for sellers who keep looking for ways to enhance their customers' virtually interactive shopping experience. People prefer online stores where they can get photo-realistic 3D images of the products to personalize their needs and experience the features rather than looking at simple 2D pictures of the products.

Useful article : How 3D Visualizations are Transforming Online Shopping Experience?

Showcases the unique features of the product

When subjected to ecommerce product configurator, expert-crafted 3D models of any eCommerce product give the buyers in-depth info about the features and allow them to moderate or configure any feature according to the product design. Virtual product configurators even helps buyers understand complex products easily.

Minimizes product return rate

Customized products have a very low return rate as buyers know the product's specifications much before getting the actual product in hand. Online 3D configurator helps the sellers save a lot of warehouse costs which they lose behind storing the returned items.

Increases customer satisfaction and brand recognition

Customers who get the opportunity to configure their purchase barely like returning to websites without this facility. We all like to buy the best of the lot. So won't we be dragged more towards an online store where we can have plenty of options to choose from?

Increases website traffic, ROI, and sales.

Online stores and companies offering the interactive 3D model configurator facility to their potential buyers mostly end up with high conversion rates. A satisfied customer refers that site to another potential customer, and this, in turn, increases the website traffic, ROI, and sales.
In what ways can buyers use the 3D configurators?
The 3D configurators are available for buyers to use in 2 ways. They can either use it on the browser of their choice or use this feature through the applications available. The product configurator cost depends on the integration of features based on your requirement.
The web based real-time 3D configurators perform as per the browser's capacity. In contrast, the application-based ones need the user to download certain 3D configurator software like Zakeke, Vendavo, VividWorks or plugins to make it run and use it.
After this, the buyer can get various options through visual interface to personalize their products like, color, material, dimensions, text, logo, parts, etc. Amazing, isn't it?
Who can make use of 3D product configurators to regulate sales?
3D product configurators are leveraged by:
Enterprises
Startups
Agencies
Conclusion
A product model needs to be accurate so as to enable virtual modifications in it. Modeling a 3D asset is a work of dedication, skill, and experience. So, the sellers outsource their requirements to professional 3D product rendering companies.
To get that picture-perfect result and present their customers with the best photorealistic representation of their product 3D models, sellers swear by custom 3D product modeling solutions. They ensure that in whichever way the models are to be configured by the end-user, they get only what they desire.
So what are you waiting for? Let us know if you want assistance regarding 3D models for 3D product configurators in your business.
Contact Us
Frequently Asked Questions (FAQ)
No. 3D product visualization only lets you see a 3D product model from all directions. But, the 3D product configurator enables you to modify, manipulate and personalize products per your needs besides giving you a 360-degree product view before you make a purchase.
The type of 3D configurator to be embedded in a website or application selling products depends on the complexity of the product. The more complexity, the higher the price.
However, on average, the cost of instilling a 3D configurator starts from as low as $ 99 USD per month. Even if it is so, the degree of complexity of the type of product you are selling will still determine the price you have to pay.
The degree of customization purely depends on the seller as to how much customization he can offer on a product. For instance, he might have color or graphic specifications for a particular product, but no customization is available in the dimensions.