What are the benefits of AR in furniture retail industry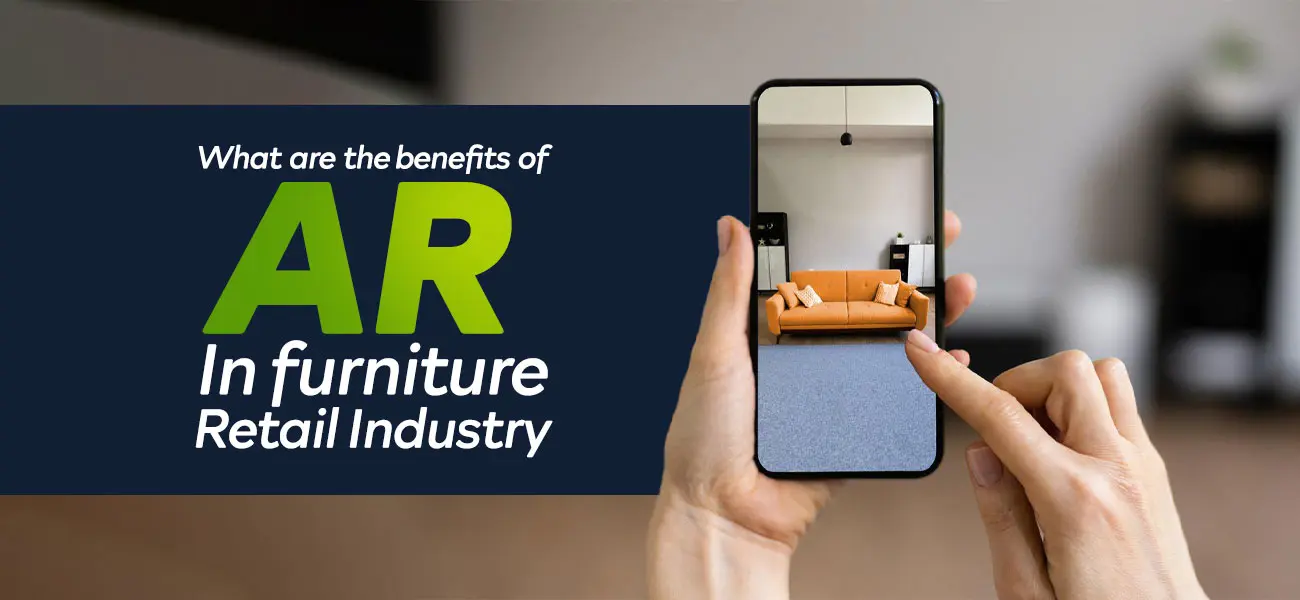 The furniture retail industry has been showing an impressive growth with a very little effect during the COVID 19 pandemic. A research shows that the global furniture market is expected to grow from 493.6 billion USD in 2021 to 720.2 billion USD by 2028 at a Compound Annual Growth Rate (CAGR) of about 5.5%. The market even witnessed a positive global demand shock during the pandemic.
To keep up with customer expectations and ever-changing trends and behaviors, the furniture sector has embraced many innovative methods. As the internet creeped into the frame, several big and small businesses started enjoying its benefits. So similarly, the furniture industry, like any other industry sector, gradually began to adapt to the online media game to accommodate the paradigm shift.
In the beginning, the furniture industry was unable to make it big on the online selling platforms. The consumers readily bought small furniture items from online stores. But, hesitated a lot while buying bigger items or items with bigger price tags. Till date, people still prefer physically visiting the offline stores, as they cannot get a clear idea of the dimensions of the furniture or if at all the furniture is going to fit in their houses.
The following sections of this blog is going to cover how Augmented reality, or AR, is emerging as a remarkable solution to the aforementioned problem. Keep reading till the end.
Table of content
What is AR?
Augmented Reality or AR is a technology that combines virtual elements with real-life scenes or objects so as to enhance the visuals and provide a life-like experience to the users. This technique integrates the virtual elements (like furniture in this case) with the real scene (here, a picture of a room or place) or where the object is to be placed.
For instance, the Snapchat filters make use of the Augmented Reality technology. They are possibly one of the most frequent users of AR, and AR ads are one of the highest revenue generators for Snapchat!
How furniture retail industry is benefitted from AR technology
Furniture retailers started leveraging the AR technology, as their customers would want to see if the furniture they are planning to buy is going to fit in their houses well. This not just gave the buyers the liberty to get a complete idea of the dimensions of the furniture but also gave a good customer volume to the sellers.
Now lets have a look into the advantages of augmented reality in the furniture retail industry.
Selecting furniture at the comfort of the house

Even a decade ago, we used to physically visit the stores to select and buy even a single piece of furniture. After "online shopping" came into the picture, we took small steps towards purchasing furniture on the internet. However, making large investments without physically inspecting them remained a common practice.

Keeping this in mind, the retailers started using the AR technology on their websites. This enabled the potential buyer to view and judge if a piece of furniture would fit into the desired space and if it was going to look good. The sellers started getting a very positive response from the shoppers, with good feedback at every turn.

Now in almost every online furniture store, you can find an option asking you to upload a picture of the room or house and set the furniture as you desire. Easy, isn't it?

Better customer reach

Customers now prefer 3D furniture models to simple pictures because they get a more detailed sense of how a piece of furniture will fit in a specific space. Seeing furniture in the space where it will be used before purchasing it bridges the gap between the virtual and physical shopping experiences.

Moreover, they are able to make quick purchase decisions at their own convenience, which was previously not possible only by looking at the pictures. So who won't consider a furniture brand or store that is saving so much of our time?

Increased turnover

AR is emerging as a powerful tool for furniture retailers to influence their customers' buying decisions. Visitors who are new to an online furniture store that offers the facility of virtually trying out an item before making a purchase can effortlessly turn into buyers.

The idea of instilling AR in retail stores seems to have paid off well, especially in the case of furniture. Studies show that less popular furniture brands, products that lacked adequate appeal, and pricey products that could not make a lot of sales, after leveraging AR, had a positive impact on their sales.

Seamless selling and buying experience

The Augmented Reality technology in furniture sector is transforming brand experience. While AR was evolving, it required a dedicated application to run. Advancements in this technology have now made it functional in almost every browser. All you need to use the AR facility is just your mobile camera!

This hassle-free and easy access is giving the customers a personalized experience and also heightening their buying confidence to some extent. The buyers now only need to visit the website, choose the furniture piece, turn on the mobile camera, and keep choosing until they decide! Yes, it's as simple as that!

Gives a loyal customer base

Using AR for furniture sales has shown an increase in website traffic for the brands using it. Customers keep returning to the websites that offered them the AR facility when choosing or buying furniture. Augmented Reality for furniture sales has further enhanced the brand-customer bond by letting the buyers interact virtually with the products.

The customers become hooked on the brands and prefer returning to them for any future purchase. The buyers are more likely to feel connected with the brands, and the furniture retailers earn a loyal customer base in return!

Less return of products

When products are purchased online, there's a very high chance of them getting returned to the sellers. This might be due to the product's dimensions, quality, or even the mood of the customer. The products, after being returned, require a lot of storage space, which in turn involves a lot of money.

Now that the products are furniture, imagine how big a hole it makes in the retailers' pockets! Using AR technology in the furniture sector has shown a massive decrease in product return rates. This has proven to be economical and profitable too.
Summing up
With AR becoming an eminent name in the market, 3D modeling services for AR are also in a spiking demand. Several furniture brands outsource their projects to highly professional and skilled 3D furniture modeling service providers and keep making profits. A skillfully designed 3D furniture model would give customers an overall idea of the piece's appearance in addition to providing a real-time experience of how well a piece of furniture would fit into a specific space.
Expert 3D artists make use of powerful 3D furniture design software to create hyper-realistic furniture models that are fit for an AR preview. By providing 360-degree view of furniture designs can improve the selling and buying experiences.
So you've seen how powerful AR is emerging as a technology. AR technology is undergoing upgrades to perform even better, and it might dominate market sectors in the upcoming years as well!
That's it for this blog. Stay tuned for similar pieces!
Keep sharing your valuable thoughts with us. Also, if we have missed any point to add on how AR is helping the furniture retail sector, let us know if you have any other suggestions. We shall surely discuss the same in our following blog post!
Contact Us