Growing Trend of Using 3D Lifestyle Images in the Furniture Marketing Industry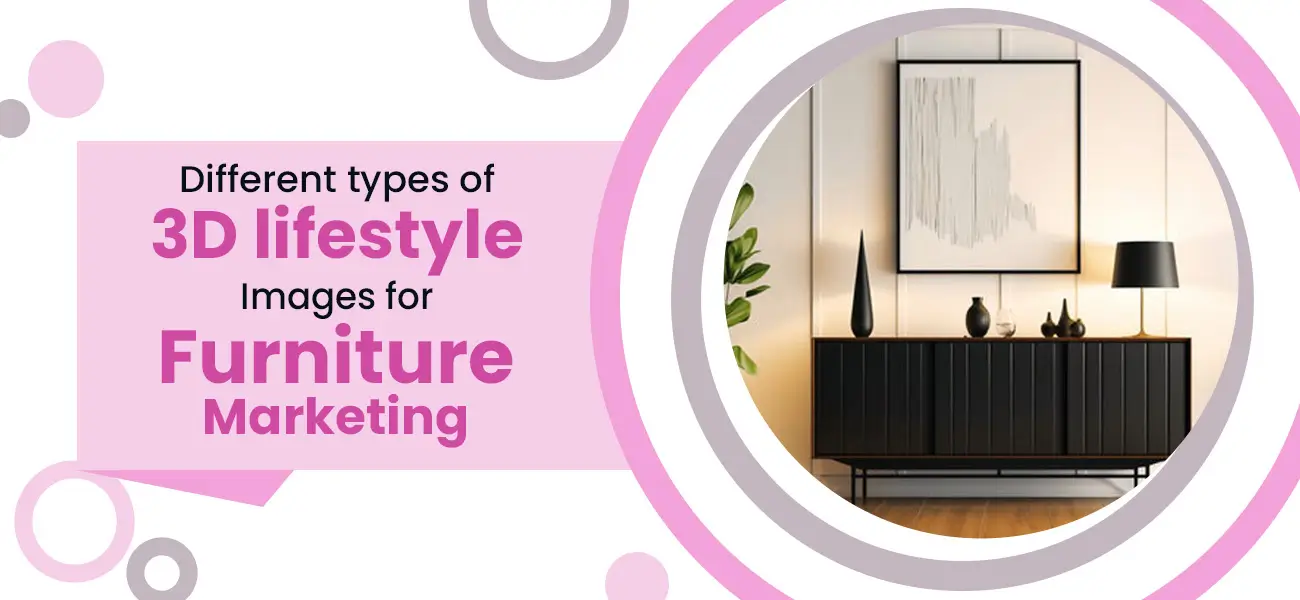 Furniture lifestyle images are very trendy across the internet now for giving ample choices for interior planning, as lifestyle image in 3D also supports buyers' choices as per their preferences and aspirations, being economical at the same time.
Interior design involves planning for both indoors and outdoors. Just the way you want your living room, bedroom or kitchen to have that perfect touch of beauty, your outdoor space is no different.
3D Lifestyle shots have shaped the furniture marketing industry since its rise. The buyers get a good perspective in buying furniture, and the sellers get an opportunity to build their brand name.
Through this blog, we have tried to trace the types of modern furniture lifestyle shots which would act in sync with your lifestyle choices. Keep reading!
Types of lifestyle furniture shots used for marketing campaigns
Scale shots

While buying any furniture, scaling and space measurements become major issues. Well, scale lifestyle furniture images provide the solution to that. These shots are intended to give you an idea of how much space the furniture will occupy in general.

For instance, if a new center table needs to be added in the living space, the scale shots will give an idea of how much space the table will occupy if kept in a particular position. It will also give an overview of the living room after the addition.

Also, if patio (outdoor) furniture is to be added to a garden, the scale shots will give an idea of the proportions of the furniture to the garden space. The client can then choose the furniture piece and decorate the garden accordingly.

Detail shots

Material and texture are genuine concerns while purchasing furniture. The customer invests not just for the looks and appeal, but for the material and finish too. Detail lifestyle furniture photos are a superb way in visual merchandizing to give the customers a virtual view of the material in detail even if it is a mixed material.

If the customer plans on installing a wardrobe in your bedroom, the detail furniture shot will tell them about the quality, texture and finish of the wardrobe. They will also get an idea if a metal wardrobe is going with a wooden bed.

For backyard furnishing ideas, detail shots work wonders. Backyard furniture should be made of material which can withstand all types of weathers like teak, aluminum, plastic resin, etc. Detail lifestyle shots will give the clients a detailed insight into the furniture material making the buying process easier.

Colorway shots

'Colorway' is a special entity in the market of designs as it shows a range of colors in which a particular design type is available. Colorway lifestyle furniture shots enable the buyers to view a piece of furniture in all the available colors in a given background.

For customers, who keep looking for color options in a single furniture piece, colorway shots are the best way to sell furniture to them. Colorway lifestyle shots are very helpful in giving the buyer a compact virtual view of the room's outlook with a particular piece of furniture much before making a purchase. Such an unique presentation of virtual imagery gives an accurate depiction of the functionality and usability of the furniture item in the most practical manner.

If the customer has a lawn outdoors, the colorways can give them an idea of whether white, wooden or pastel-colored furniture will be a perfect fit for that space. Similarly, if installing indoor furniture like a dining table and chairs, they can get to know if a particular color of the furniture is going with the background.

Group shots

If you have visited stores like IKEA and Target etc., you must have seen that they assemble the furniture and present you the overall look of a room. Just like a choice of bed with side tables, carpets, window frames, wall background, etc., giving you a feel of being in a bedroom.

This way of online furniture selling approach gained popularity as the customers started getting an overall idea of what would make their rooms look complete without having to hunt store after store for different furniture. Photorealistic lifestyle imagery in group shots give this exact thing but virtually.

If your client plans on setting up the living space, a group lifestyle furniture shot will tell them the color, texture, and style of a sofa, a corner shelf, a lounge chair, or even a coffee table that will go with the background per their taste.

Conceptual shots

Conceptual lifestyle shots are meant to give robust home-decorating ideas to the buyers. The marketers apply creative backgrounds behind the furniture products and elevate the appeal of the furniture.

Experienced and professional 3d rendering agencies offer such customizable lifestyle imagery creation services at the most affordable rates and with fast turnaround.

The conceptual shots of the furniture lifestyle catalogs are very enticing and appealing, and customers make quick buying decisions. Since lifestyle images have a storytelling factor in them that inspires the prospects into making the purchase. For instance, a beautiful swing chair, if set with the background of a green garden, instantly uplifts the product's value proposition rather than displaying it on a plain white background.

Similarly, textured kitchen cabinets can make the customer go for that particular cabinet texture when shown with a beautiful floral background that complements the cabinet.

Hero shots

Hero lifestyle shots for furniture are aimed at displaying a single furniture piece in a room by highlighting its features through proper lighting and a suitable backdrop. These shots target selling a furniture item in a particular room or space by showing its benefits and the purposes it will serve, setting the mood through the lifestyle images and thus convincing the prospect to buy the item.

If you are a furniture marketer trying to sell an item online, that is expensive and, at the same time, less-selling, hero lifestyle furniture shots will help you sell it seamlessly.

These days digital merchandizing is a bigger game and must be played well enough; and that's why leveraging 3D visualization is your best bet.

All you need to do is set the correct lighting, add other furniture items in the image if needed to compliment your product, and add interior decorating items like a chandelier, a vase, or a carpet, and then you are all set to go!
How can 3D lifestyle images help for furniture marketing?
Photorealistic 3D furniture lifestyle images showcased with realistic background and setting help the sellers and marketers save abundant time and investments, which are otherwise lost in physically staging and professionally photographing the furniture items.
The color variation, exact space measurements, texture, material, and utility of the furniture shown through the different 3D lifestyle shots add creativity to the images and enable the customers to make informed choices and quick buying decisions.
Latest 3D technology offers innumerable benefits to furniture sellers by highlighting the product's features on a virtual platform. The buyers can even decorate their homes in the comfort of their own house.
Useful Article : Benefits of 3D Furniture Rendering Over Traditional Photography
Conclusion
Furniture lifestyle shots are paving a smooth way for selling and buying furniture online, and the role of 3D furniture rendering is notable here.
Expert 3D furniture modeling solutions can give stellar quality furniture representations that give exact space measurements and tell the type of material and texture even before buyers make the actual physical purchase. This is how experienced 3D design agencies craft custom 3D product model designs that help furniture brands skyrocket their sales.
Reach us