7 Effective Furniture Marketing Campaign Ideas to Boost Sales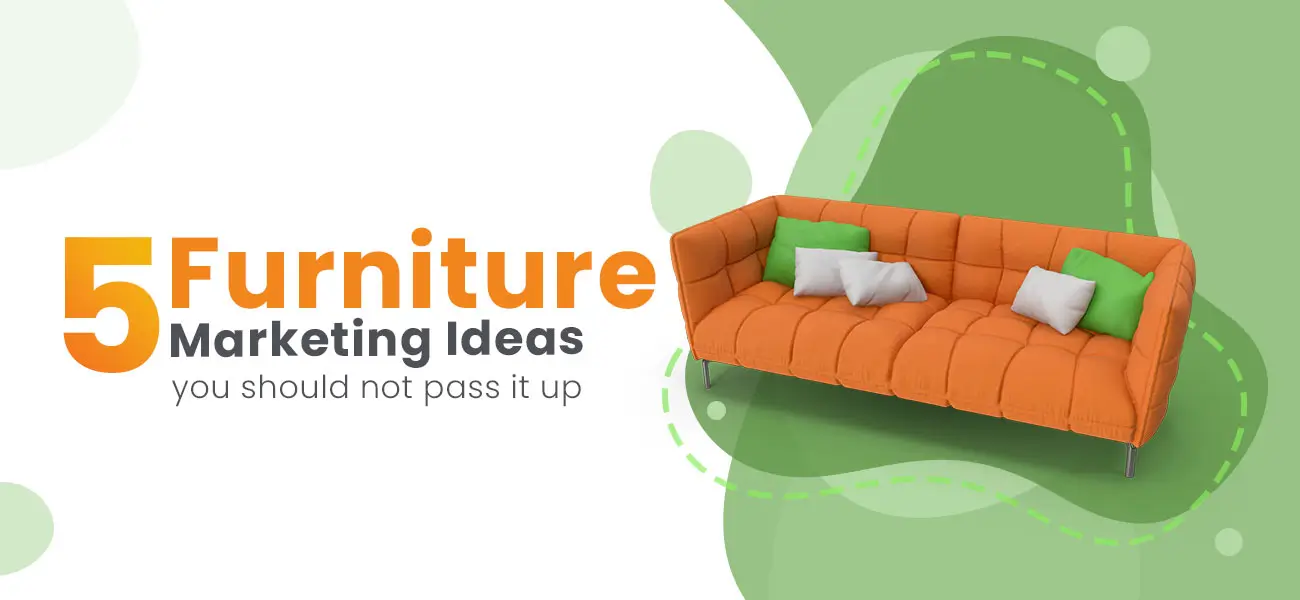 Furniture is a retail product that requires a lot of space to keep and showcase. Offline furniture sellers invest a hefty amount in buying or leasing storage space and staging them for printed catalogs. It might be possible for sellers who can afford that expense, but what about sellers who cannot?
So today, let's discuss a few aspects of the modern marketing and promotion trends for the furniture manufacturing sector:
Why online marketing is the future of furniture brand promotion
The different channels of marketing your furniture
Benefits of each of these formats
Sure-fire tips to enhance furniture promotion and marketing efforts online
What is the importance of online furniture marketing?
Offline furniture stores have a significant disadvantage when speaking of space. Even if the sellers have products to display, they cannot until the previous stock is sold. Due to the limited color, material, and texture options, even printed catalogs failed after a while.
Online marketing is a one-stop solution for all furniture marketing needs. The sellers can display as many options as they wish, with the added benefit of selling at any time of day. It feeds consumer demands and is a more profitable method than traditional ways of marketing.
Online catalogs showing the furniture industry changes and trends are also an effective way to market your furniture store due to the vast spectrum of solutions they have for home furnishing. The 3D lifestyle images in the catalogs open new pipelines for the retailers to sell and earn them loyal patrons.
However, there is no proper road-map for furniture marketing strategy; we still have a list of some brilliant furniture marketing ideas for your business. Keep scrolling!
What are the best ways to market your furniture?
Social media marketing

In today's generation, good service and products are not enough to beat the competition of the growing market. You must be at par with the growing trends as well. Social media marketing always lets you stay a step ahead by being the most productive furniture marketing strategy.

Social media marketing enables you to:

Illustrate your furniture collection.
Create advertisements that will reach far and wide.
Cope up with the decline in demand for items which had no sale for long.
Drive traffic through organic story-telling content (slides, video, textual) about the products.
Track target customers from different groups and connect and build a community with them.
Update followers by sending notifications on any new post or change related to your business page.

Every social media platform has its own marketing strategy. Google, Facebook, LinkedIn and Instagram are perfect for B2B and B2C sales. Understanding the way they work can surely help you reach a large audience and boost your sales significantly.

Video marketing

Furniture video marketing involves pairing visuals with suitable audio, like music and/or voice-over narrations, to demonstrate the features and working of an item. Video marketing content can be precise or descriptive, explaining the products, sharing a glimpse of any furniture or a collection, or describing how to assemble the parts.

Video marketing enables you to:

Connect with the audience faster than other means, as people are more attracted to audio-visual content.
Build a strong bond with the customers as they get to know the furniture items in detail and also educate them about a product.
Grow the conversion rate as video contents are potentially convincing to viewers and influence the buying decision.
Audio-visually appealing content increases website traffic and brand awareness.
Buyers get more connected to websites that show how the furniture would look or work through animations and gifs.
Increase your brand's online presence.

Strategically crafting a product video with content the users like consuming and using well-ranking keywords will always make your website rank in the SERP. The more the number of times it appears, the more will be the number of visits to your page.

Niche advertising

"Niche" means to have the best fit of someone or something. The term "Niche advertisements" comes to play when a certain audience category is targeted during marketing. It's a way of tracking consumer behavior, like interests and likes and promoting your ad content, particularly to them.

Niche advertising enables you to:

Streamline the promotion process, as it's easier to sell furniture to those in search of them rather than those not in need.
Build and sustain the focus of your targets on your brand as they get to see what they want.
Enhance your product quality and services by working on the feedback of the customers, as your focus is a specific audience group.
Save ample money that is lost during mass advertisements, and this money can be utilized for other essential tasks.
Increase your business's profit percentage as you spend less in attracting customers while earning more through focused service.
It's a clever marketing strategy that prunes the number of competitors around you, letting you serve your targets better.

Actions like analyzing your target audience, knowing their interests, keeping a vigorous eye on their web activity, creating ad content focusing on their demands and needs, and choosing images, videos or words within the ads greatly influence niche advertising.

Paid ad campaigns

Another way to make your furniture designs and brand reach the audience is through paid advertisement campaigns. They are available on different browsers, social media platforms and websites. The platforms line up the ads by studying the user's behavior (the typical way any search engine or social media platform works) and display them to the viewers.

Paid ad campaigns enable you to:

Spread your brand name and reach the audience faster as they are deliberately made to rank in the SERP.
Save money by making you pay only when your ad is clicked. This is known as Pay Per Click (PPC) system.
Reach a wider audience in a short time as the user count of social media channels like Facebook, LinkedIn, Instagram etc., is on a sharp rise.
Paid ads are repeatedly sent to the audience despite being already exposed to them. This in a way compels them to click an ad even if they have seen it before.
Viewers of any social media platform love consuming video ads more than picture or textual ads, making them click on the "Shop Now" button even before thinking much.
Paid ads follow target marketing, which displays the ad content to a specific category of customers and increases traffic.

All you have to do is pay the platform to create your ads. Browsers use suitable and trending keywords to keep your brand or its items on top of the search result, while social media platforms use trending hashtags relevant to the furniture item. This process is widely known and accepted to increase website traffic and conversion rates.

Affiliate marketing

Affiliate marketing is a way of promoting products or services through common people, be it a post with an image or video of the person using it on their own profile or channel.

Affiliate marketing enables you to:

Save a lot of money in marketing, as paying commission is much cheaper than paying a hefty amount to promote a furniture item.
As affiliate marketing targets educating the customers about the products through reviews and feedback from affiliate marketers who are common people.
As ordinary people review the products, they are sometimes more trusted, and the brand makes a lot of sales.
Upscale your business's growth by demonstrating your product's quality and durability.
It's a low-risk marketing strategy.
Peer-reviewed products boost the ROI.

The affiliate marketers would refer to using a furniture item, e.g., a laptop table, on any platform or banners and offer the prospect a purchase link or code. Every time a prospect uses that link to purchase, the affiliate marketer receives a commission.

Email campaigns

Email marketing is one of the most effective ideas when your business is young or needs a good promotion. This can be done in two ways:

by adding a "newsletter" checkbox after the subscribe button in running social media ads.
by taking their email address during the purchase stage.

Email campaigns enable you to:

Increase user engagement through the details of the items attached to the emails or share the website link in that email.
Increase conversion rate through the newsletters the customers receive all year round and build a strong customer base.
Mention the benefits of the furniture in short, along with some added benefits like free consultations, etc., to attract buyers.
Send ads, offers and coupons based on the type of product the customer searched for on your website.
Remind the customers about the furniture items and new launches through timely campaigns.
Use eye-catching and compelling words, as buyers are a lot influenced by how an ad is written.

Successful furniture businesses use email marketing to promote new products, sell dated furniture by putting up sales, and even sell items that have not sold for long. The marketing emails should be catchy enough to evoke prospects' responses.

Use 3D models, 3D configurators and AR technology

Modern-day furniture sellers hardly use pictures and furniture stagers for promoting and selling their products. 3D furniture models come cheap, handy, and visually enticing. They also give innumerable ideas to buyers and a wide range of options.

These features enable you to:

Make use of 3D furniture models, which will give the customers an all-around idea about the furniture's dimensions, shape, material and texture.
Give a personalized experience to the prospects by using 3D configurators on your website and offer them options to choose and configure their products even before buying.
Use 3D lifestyle catalogs instead of simply staged furniture photos on your website, as prospects will always prefer an online store where they can choose, modify and get ideas for home furnishing.
Use augmented reality technology for furniture showcase and let the buyers view the 3D furniture models in their house setting even before buying and physically installing it.
360-degree furniture models help the customer to know the products better and hence build the brand name.

The impactful visuals of the 3D models and any other 3D-related feature in a furniture website have been proven to increase sales and ROI and help a brand establish its name in today's competitive market.
Bonus tips to enhance your marketing methods
Make your website visually appealing and user-friendly - A website with 3D furniture models on the landing page will always gather more eyeballs.With the help of reputed 3D design service providers, enhance your website by showcasing your furniture designs in an interactive manner.
Make the payment process easier - UPI payment options or "Scan to pay" attracts more buyers than websites where they have to enter card details every time during any purchase.
Omni-channel experience - Customers would only return to a brand if they get complete support through all the channels like emails, Whatsapp chat, Facebook, Messenger, Instagram, etc., apart from the parent website.
Use interactive chatbots - A chatbot popping up immediately after the web page loads will help potential buyers get the answers to all the queries related to a product or its purchase without having to hunt the entire website.
Influencer marketing - Influencer marketing is simply leveraging a person's fame or a public figure to market one's products. It's a go-to choice for business owners today as people are a lot influenced by these public figures, which hugely improves brand perception.
Wrapping up!
Building a mark in the market takes a lot of time, energy, patience and effort, and the pressure of maintaining that name comes with that. The furniture business involves huge investments, but using the correct marketing strategy can cut down marketing costs to a great extent. This results in increased ROI, positive brand awareness and investment of that money in expanding your business further.
Online marketing is a budget-friendly and affordable option for furniture sellers, and attempts are still being made to enrich the online shopping experience for customers.
In the time of computers, mobile phones and the internet, people hardly like to go out to shop, even if it's a massive item like furniture. Technological advancements now give buyers a personalized shopping experience in the comfort of their houses, which is why online furniture sales have crossed a whooping figure.
So if you are still unsure whether to start selling your furniture online or not, we hope this blog can give you the correct direction for your online furniture sales. If you need any furniture 3D design services, talk with our experts and convert your furniture ideas into digital 3D designs.
Keep following us for more useful 3D design tips and techniques!
Contact Us