5 furniture marketing ideas you should not pass it up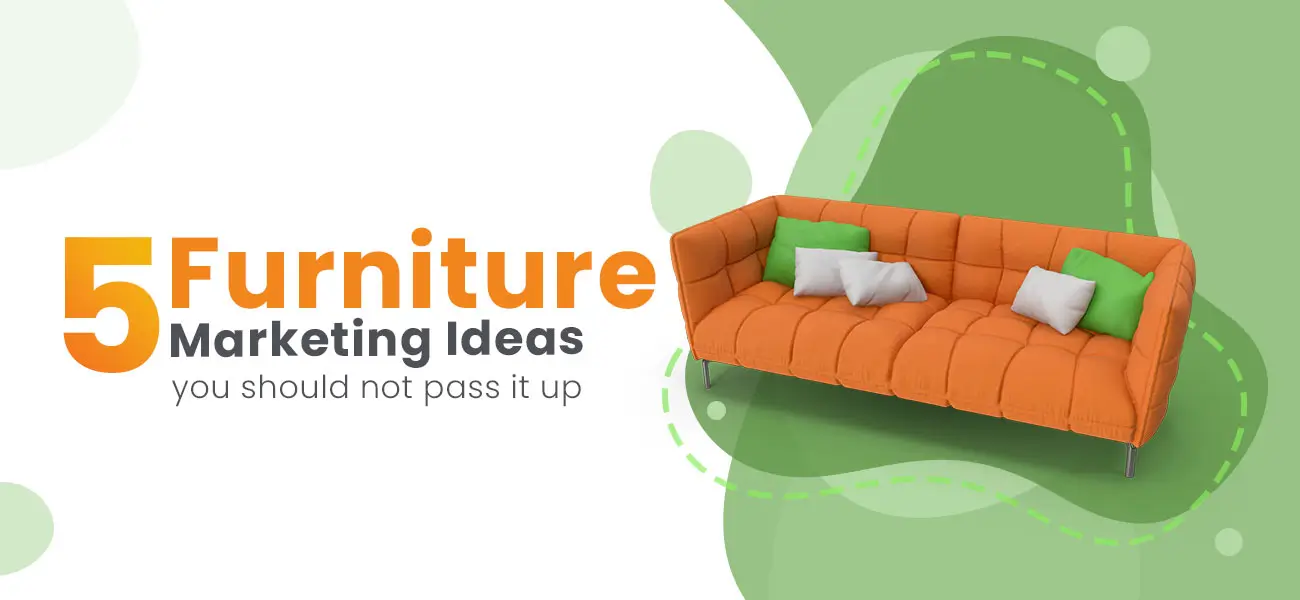 Finding strong promotional ideas for furniture sales has been difficult in a world where online furniture purchasing controls the market. It is becoming more difficult when there are hundreds of concepts available to marketers, all of which seem promising and practical at first glance.
Unfortunately, marketers do not have the option to test out each of these concepts to determine their viability individually. So how can furniture dealers search for the finest ways to market their items under these conditions? Thankfully, there are some practical ways for furniture advertisement ideas to help marketers boost sales quickly while keeping them under budget.
Here are five strategies you may incorporate into your furniture creative ads plan.
Before you run online advertising, optimize your website.

It goes without saying that the number of individuals buying online is growing by the day. In fact, for anybody trying to buy furniture online, websites are the initial point of contact.

To offer the best customer satisfaction, marketers should focus on four factors to make their e-stores more user-friendly:

Quick loading time to catch the customer's attention
To make the shopping process easier, keep the navigation basic
Detailed product description
High-quality product images

The more satisfactory a visitor's user experience on a website, the more likely they will return. The only way online retailers can avoid this is to optimize their websites according to the most recent optimization techniques.

Optimization aims to increase the number of visitors and keep them on your site long enough for them to become paying clients.

Secondly, it has to be platform-specifically optimized. People use different devices, including mobile phones, laptops, and tablets; therefore, they must have a consistent user experience regardless of their platform. Together, these suggestions offer excellent ideas for furniture shop advertising.

At last, update your business website pages with all important information like business hours, showroom address, contact number, pictures of your showroom, best-selling products, customer feedback, etc.

Keep improving your visual content

With good content, the visuals should be great enough to impress your customers. Every individual prefers high-quality visuals to be seen and experienced as proof of the product's genuineness.

This is more required for items like furniture, where comfort and unique features are big pluses. Leveraging the latest technological advancements, retailers should use better types of photographs in their furniture marketing in order to stand out from the crowd.

For example, nowadays computer-generated imagery (CGI) is used to display furniture ads via 3D-rendered images of the products. Through this technology, a 360-degree view of products can be seen, and 3D animation of any product is possible.

These images provide customers with a true impression of the product they have selected, especially when it comes to luxury furnishings. This can also entice customers to purchase specialized products.

By using 3D visualization services from reliable companies nowadays, furniture merchants may easily commission the creation of such representations. These businesses provide top-notch 3D product design solutions at incredibly affordable prices.

Make use of social media's influence

A large number of people all over the world are influenced by social media and try to get ideas from it. For online shopping, social media can be a great choice because of its accessibility, simplicity, and degree of customization. Sites like Instagram, Facebook, and Pinterest serve as profitable e-commerce platforms.

It will be much easier for furniture manufacturers to showcase their customized furniture designs through advertising if they have a strong social media presence.

Creating pages on different social media sites like Facebook and Instagram can give your furniture advertising a boost. If the ideas can be presented on a regular basis through active posts (video and reel included). To promote furniture sales, use specific items in crisp, interesting video commercials on social media.

E-tailers can also easily post 3D product representations from their digital collections to their social media pages. It would be an incredible way to reach millions of people with a single click.

Remember the Value of Traditional Advertising

Many furniture retailers blend the traditional approach with digital advertising, which can be used effectively to reach a wide range of markets and people. A large portion of people still choose and utilize non-internet-based communication methods, like newspapers, TV, radio, etc. They are surely to be included in any advertising strategy created by a marketer with a budget in mind.

In this case, furniture businesses will need to put in less effort because they have to only focus on small advertising campaigns on a regular basis. According to the seasons and sale times, furniture ads need to be updated. They can also offer collaboration in advertising with other businesses, such as real estate firms, hotels, restaurants, etc.

Boost recognition of your business with celebrity endorsement

You can establish trust and awareness among the people you want to reach by collaborating with well-known celebrities or other influential faces. By using this approach furniture advertising can help you sell more, reach out to new customers, and boost the value of your brand.

Consider those influencers who are in your budget range when looking for people to collaborate with. Influencers with up to 10-15k followers often offer the most value for small businesses in terms of cost and effectiveness.

Make a list of influencers that best represent your brand. For instance, if you want to advertise products like beds, chairs, tables, and couch sets, consider partnering with an influencer who loves to talk about interior design and home decor.

Reach out to the people you're interested in working with once you've discovered them to learn about their prices, engagement metrics, and other details that will help you decide which is the greatest match.
Final thoughts!
If you tried traditional marketing initiatives and they did not yield the desired results, furniture ads on different digital platforms may assist you in increasing engagement and sales. Make sure your website is fully ready for visitors by including a "calls to action" (CTA) button to direct potential buyers to take a specific action. For example, on a product page, you can add the "Get more information" or "Shop now" buttons.
With a growing real estate business, demand for furniture is increasing by the day. Furniture retailers use these smart choices to let their customers know about these high-quality products. The only way any furniture manufacturer can achieve this is through quality advertising. In this case, direct mail, influencer marketing, and social media video advertising are great ways to advertise specific products.
Only effective advertising will allow any furniture manufacturer to build a strong brand image. By implementing the furniture marketing ideas described above, they can attract visitors, convert them into leads, and finally build a solid customer base.
To give a hike to your furniture advertising approach, try our 3D furniture rendering services.
Contact Us