Types of 3D Renderings Used for Online Product Marketing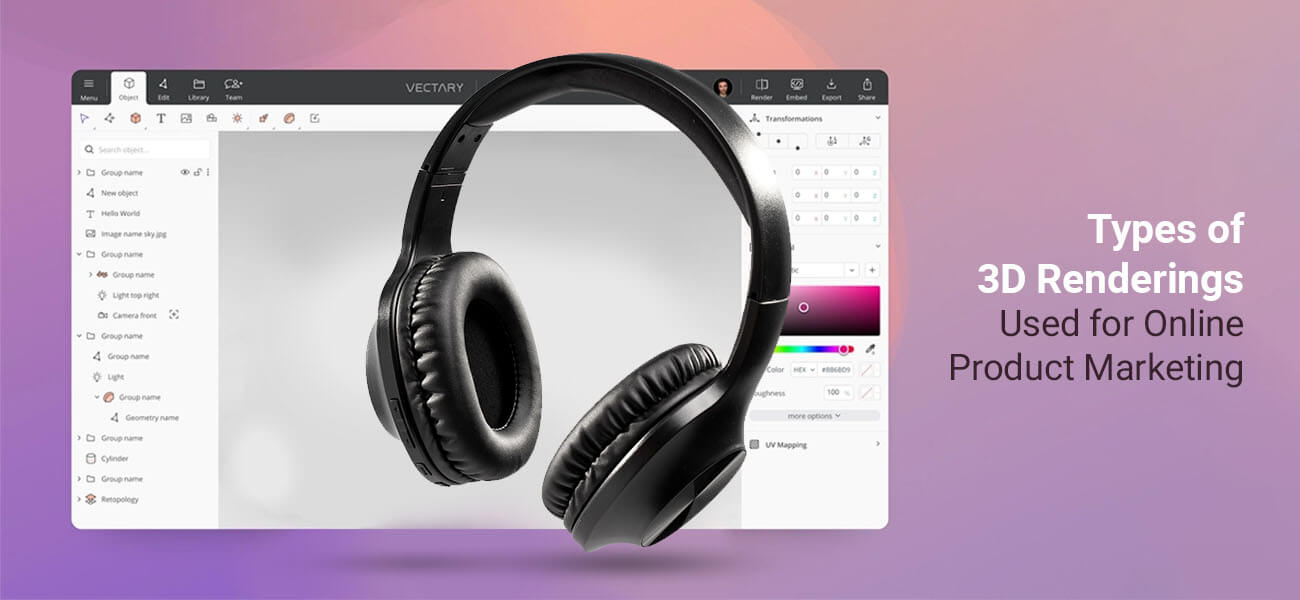 Most manufacturers and marketers use numerous 3D product renderings to get creative, photorealistic visuals for various marketing purposes. Using different types of 3D product renderings helps you advertise your products and increases the chances of attracting potential buyers.
Choosing the right type of 3D product rendering can streamline your marketing efforts and benefit the business in achieving its marketing campaigns. Keep reading to find out about the various types of 3D product rendering and how they can help businesses sell more online!
What are The Different Types of Product 3D Renderings?
3D product designs appear life-like even on the digital screen. Be it a lifestyle image, a product model rendered on a white background, or even a 3D model in an AR environment, all can convince prospects to make quick buying decisions.
Now let us see how they can enable you to make a mark in this competitive market.
Still 3D Renderings :
Still visuals or still images are the go-to kind of visual content that can be used in social media posts, product listings, ecommerce websites etc. With these types of 3D renders, you can showcase your items with plain white background or lifestyle background.
Product Lifestyle

Lifestyle rendering makes the images so realistic that a viewer cannot tell which one is an actual photo and which will be a three-dimensional rendered image. Customers can easily visualize the product in different spaces they need. The same objects can be featured in different locations with lifestyle shots. It will cut the costs of producing engaging and high-quality imagery to delight and engage the intended audience.

Useful Resource: 5 Best Tips for Using 3D Lifestyle Renderings in Marketing Campaigns

Plain White Background

Plain White Background helps to visualize your product with plain white background to highlight the product details with no distractions. It helps to know the authenticity of the products as it plays an important role in conversions. White background rendering is easy to implement and less in cost compared to lifestyle renderings.
Useful Article : How white backgrounds impact consumer behaviour?
Interactive 3D Renderings :
360 view

Interactive 360-degree view solution helps buyers virtually examine the products from different angles. This type of 3D configurators helps see all the textures and detailed specifications as they could see in a physical store. The ecommerce customer experience is taken to the next level with this 3D rendering technique.

Useful Resource: Benefits of Using 360° Furniture Models for Your Ecommerce Business

Product Animations

3D animations are the best for engaging the audience on social media and help in increasing sales in online stores. This will also help to amaze your audience with stunning animations. Audiences prefer understanding the products through videos before purchasing the actual product. CG rendered animations help explain to buyers about installation, assembling, and use of complicated products.

3D Models for AR/VR Technology

Creating a flawless 3D model for the AR environment is a growing trend in some mainstream industries. This includes furniture manufacturing and retail, real estate, fashion, ecommerce etc., wherein customers prefer "virtually" trying these items. For example, with 3D furniture models for AR viewing, prospective buyers can virtually see how a couch or a wardrobe looks amidst their actual home setting.
Useful article : Use Augmented Reality(AR) Marketing to Step Up Your Business
Contact Us