What is 3D Product Design & Which Industries Have Benefited From It?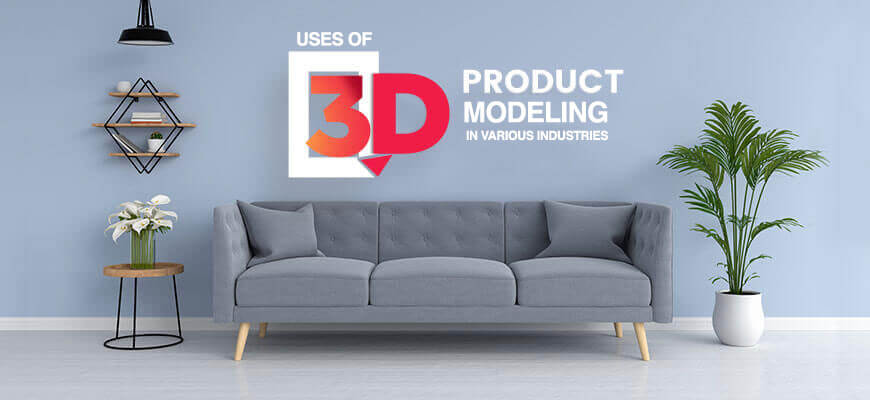 What is 3D Product Design ?
3D product design is the process of creating realistic digital 3D models of the products through the different software available, giving the products a sharp and edgy look.
Alternative to the pictures of the products initially used for marketing. It lets the buyer know the product in more detail, helping them make informed decisions while buying, and, in return, helps the seller promote its reach.
Are you curious to know how the marketing style is evolving? Keep reading!
Traditional marketing styles are evolving rapidly, with 3D product design emerging. Design competence, rapid prototyping, cost-effectiveness, and ease of access are some of the many reasons industries leverage this stellar technology.
So let us now see how 3D product design is invariably used by different industries to address business challenges.
Which Industries Need 3D Product Design the Most?
This amazing technology finds use in almost all types of industries. To break it down, we have listed the names of some sectors that depend on 3D product designs for commercial purpose.
List of Best 3D Product Design Software in 2023
Mentioned below are the most widely used and supposedly the best 3D rendering software for product design.
3Ds Max – This is a paid software by Autodesk and possibly the best 3D product design software for architecture and interior designing. OS compatibility: Windows

OS compatibility: Windows

Maya - This is again by Autodesk and is employed when much complex 3D models are to be designed. It is also a paid professional level 3D product design software and finds use in some of the most complex works.

OS compatibility: Windows (10 and newer), macOS (incl. Apple Silicon using Rosetta 2), Linux

Blender - Blender is a free platform founded by Blender Foundation and pretty much does every job. It is not much preferred for complex jobs but its a brilliant software for learners and accomplishing small 3D modeling tasks.

OS compatibility: Windows, macOS (incl. Apple Silicon), Linux

Apart from these, the few other popularly opinionated and frequently used 3D modeling software programs are:

Substance 3D designer - by Adobe; paid; OS compatibility: Windows

Unity - by Unity Technologies; 30 day free trial and priced after that; OS compatibility: Windows, macOS, Ubuntu

Zbrush - by Pixologic Inc; paid but less for ZbrushCore; OS compatibility: Windows, macOS (Apple Silicon in compatibility mode only)
Conclusion
For marketers who have long struggled to promote their products, 3D model product design technology has worked as a blessing to them by inducing a change in the average marketing strategy for a product!
3D product designers are worthy of mention while discussing 3D design technology. Highly professional and skilled 3D product designers use some of the best 3D design software for product design to generate stellar quality outputs.
So you saw how different industries fully leverage 3D product rendering solutions? And not just now, but 3D technologies are estimated to dominate the market in the future too.
That's it for this blog. Keep following us for more!
Contact Us