Several free CAD programs are available online that can be downloaded for various mechanical engineering, product designing, or other purposes. This article lists out the top free 3D CAD programs and platforms that you can employ for the same.
CAD software helps with different types of works, such as visualization, simulation, or 3D printing. People usually think that they need to spend a fortune to use these programs. Well, it may be true at some point but not in all cases. There are many free CAD software available for use.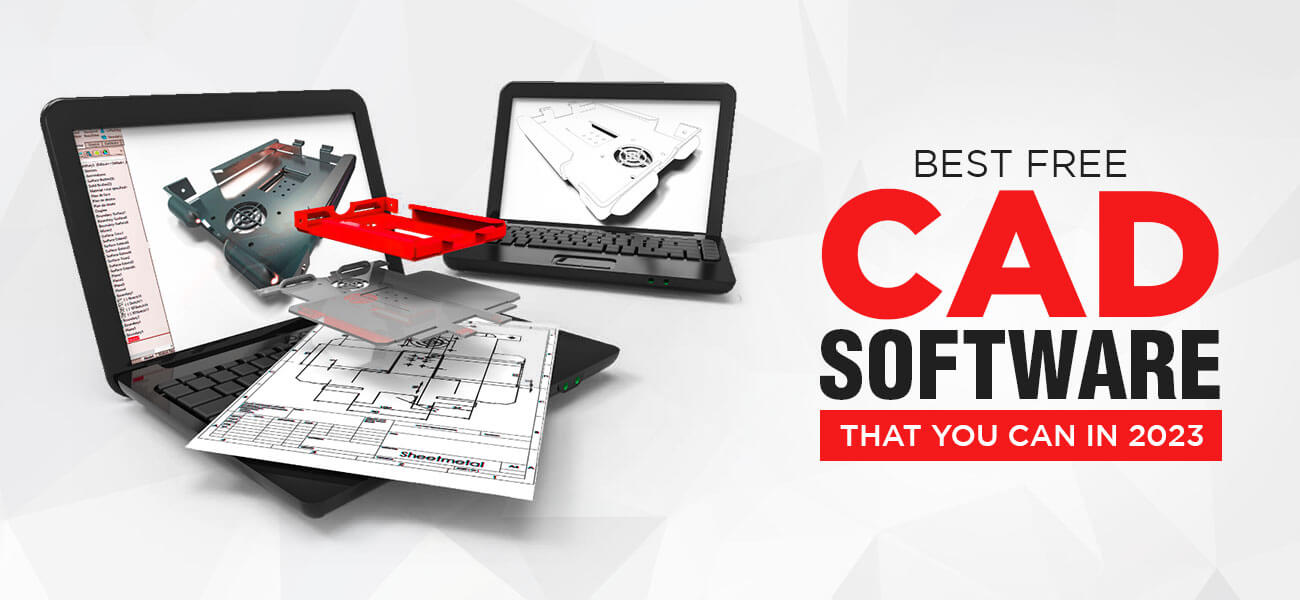 The CAD programs available for free can be either downloaded or used online. So, you can use them at your convenience. Apart from listing out the top free 3D CAD programs of 2022, we will also share some of their features along with a few insights on how to choose the right one.
What is CAD?
CAD stands for Computer-Aided Design. Here, computers are used by the industries to gain support with the process of creation, optimization, analysis, or modification of a design. Using CAD software is one of the best ways to bring your design ideas to life.
Not just designers, but engineers, architects, and even animators use it to improve their design quality. By employing CAD software, you can create a complete model in the imaginary space by visualizing different properties like distance, width, material, height, etc.
Advantages of CAD Software
There are many advantages of using CAD software. They are:
Ability to clearly visualize and create 2D and 3D objects
Easy to make modifications in the designs
Availability of specialized tools and features
Inexpensive and less difficult than the traditional fabrication methods
Adding detailed representations to the designs closer to real life
Easy to carry out simulations and test for the design flaws
Free 3D CAD Software programs to use Online
Free CAD Software programs to download
How to Select the Best CAD Software for your Needs?
Since there is a long list of free CAD software available online, choosing the right one can be a little confusing. However, to help you avoid confusion, we have collected some of the best tips. Try implementing them and see if it works for you.
Choosing software based on your experience

Using every program requires a level of expertise. If you are a beginner, try to use software that has a simple interface and features. However, if you are an intermediate or professional, you can go with a program having a complicated interface and variety of features.

Go through all the features of the software

Your requirements will differ depending on the type of business or industry you are in. For instance, a person working in the architectural sector will have different requirements than someone working in the fashion industry.

So, you must select the software that offers features suitable for your 3D project. A cloud-based program can help with data management. But, parametric software can help you create 3D models easily.

Considering your budget

Finance is also an important criterion in the process of choosing the best CAD software. Even though we have discussed some of the best free CAD software here, remember that the use of features might be limited to some extent. Hardly any software will allow you to access all the features for free.

That is why while choosing the software, make sure to consider both the free and paid features along with its cost.

Compatibility of the software with your company's existing system

The compatibility factor is often ignored by people. However, you must consider it before finalizing the software. Finding out later that the program isn't compatible can be an issue.

While finalizing the software, consider the workstation it needs to run, its licensing model, and whether it allows remote access or not, etc.
We hope that the above information was useful enough to help you choose the right 3D CAD software. With the right selection of software, you can add a great asset to your business and help it obtain its organizational objectives. We wish you all the best for your 3D printing projects.
Contact Us
Related Blog Posts