3D Digital Sculpting : A Simple Guide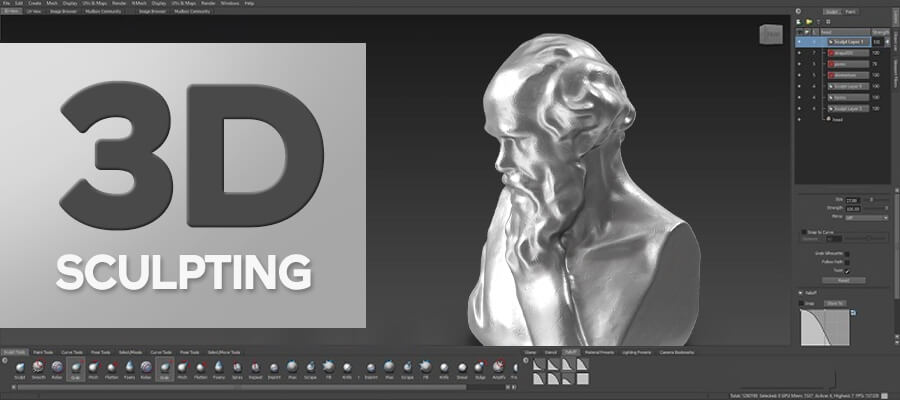 What is 3D sculpting?
Digital sculpting is also known as 3D sculpting, is the process by which experts sculpt 3D objects on a canvas with brushes and tools provided by advanced software.
The digitized 3D sculpture is developed over a base model or right from the start with a palette of textures and shapes that resemble real-life clay and rocky compositions. The basic art sculpture 3D model is polished and refined with brushes and various software tools that allow tweaking and shaping the shape in the desired manner.
Like a conventional sculptor, the digital sculptor begins with a rough assemblage of polygonal meshes and gradually fine-tunes the shape with more detailing through an increase in the number of polygons.
A successful computer sculpting project can be completed in minutes or may consume significant time based on the complexity levels and the artist's skill repertoire.
How to Start 3D Sculpting Process
Procedure:
To sculpt a 3D model the process first begins with a seemingly random mesh which is then dragged in all dimensions to build the fundamental shape of your object, just like you would do with a clay lump in real life. Several brushes are used for this, and each manipulates the material differently. For instance, a few of the most well-liked brushes include:
Curve brush – Creating curves and creases
Smooth brush – smoothing out textured and rough surfaces
Groom brush – enhancing fiber-based elements like hair
Curve bridge brush – repairing and fusing bridges between curves
Clip brush – brush with a clip to help remove extra material
Layers are worked through, and iteration plays a significant part in sculpture. A sculpted design's fundamental shape and contour are included in the base layer, while other layers add the object's additional characteristics and details.
Advantages of 3D Sculpting Technique
3D sculpting has a number of advantages. Let's discuss.
Useful for making organic structures
Frequently quicker than modeling
Gives the user a lot of freedom while handling the item
Adding delicate features is simple
What is Digital Sculpting Used for?
Manufacturing and 3D printing

High levels accuracy and detail in design are necessary for both 3D printing and production. For 3D printing and manufacturing, 3D sculpting is used as it focuses on extensive detail and volume-focused proportions.

Gaming

Games are the ideal environment in which to employ sculpted assets since they are rife with the kinds of things that are often sculpted, such as people, monsters, flora, and accessories.

Product design

Sculpting is typically used for path-finding—establishing the object's external appearance and overall design—during prototyping and product development.

Advertising

Advertising catches people's attention by being mysterious and unusual. This design and technique are frequently used in advertisements and sometimes even videos as they deal with uneven and discrepant structures.

Media

Movies, commercials, and fun videos all make extensive use of 3D models in their production. 3D sculpting is the best method for creating stunning effects, art direction, and post-processing for a digital creatures.

Architecture

The architecture industry uses digital sculpting to demonstrate buildings instead of traditional architectural models. The sculpted models help you with shapes such as arches, curves, and other extensions. To apply changes and develop the desired 3D model, digital sculpting is used by architects and designers to make their projects faster and more affordable.

Healthcare

3D models are used in medical because they allow surgeons to diagnose better, plan surgeries, improve education, and streamline outcomes. 3D-sculpted models show replicas of human anatomy with high accuracy. This saves more time and enables surgeons to operate more effectively.
3D Sculpting Vs 3D Modeling
Digital modeling and sculpture is frequently combined to create an excellent effect. Both can start by building a digital mesh (a patchwork of connected polygons or shapes). They differ in a few ways, though.
The nature of the 3D models produced by each technique is the fundamental difference between the two. The ones created by conventional Modeling can be modified at the sub-object level. A sculpted model is a complete object, similar to a statue. The emphasis of sculpting is the molding of a huge mesh, such as a sculpture, and the indirect lines of vertices at the sub-object level. This enlarges the file size and typically makes it more challenging to modify.
While 3D modeling is based on geometry and exact calculations, and 3D sculpting is more creative. Moreover, 3D sculpting is more prone to errors, so experts must take extra precautions and double-check everything.
Detailed article : 3D Modeling Vs Sculpting : Comparison
Top 3D Sculpting Software Programs
There are numerous software available online to facilitate high-end sculpting procedure. Most are free, yet they offer a plethora of features. Furthermore, there are the paid ones with their advanced tools and options. Among the most well-liked 3D sculpting software on the market now are:
5 inspiring 3D-printed sculptures projects
Let's take a look at five inspiring 3D-printed sculptures around the world that showcase the incredible potential of this technology.
Neon Deer

Paco Raphael and the pop artists use 3D printing technology to design life-like neon deer pieces. He finalized his plan to design the deer using mammoth resin. The neon deer is highly detailed and printed on a large scale. He approached the 3D designers and used the ZBrush tool to create a detailed sculpture design. The large sculpture was then placed in multiple urban places in New York City to display pop art.

Sandstone sculptures

The Italian artist Darioa Santacroce creates unique 3D-printed spherical shapes using 3D printing technology. He chose 3D sculpture when traditional printing could not accomplish his vision for perfect forms.

According to him, the curved forms of his spherical creations represent the three-dimensional sculpture interlocking the three sculptures that give rise to the Reuleaux Triangle. Using this technology, he had to model the sandstone prints and use FDM to form the original sculptures, allowing him to sand the prints to the final desired shape precisely.

Light, darkness, and trees

Artist Se Yoon Park uses 3D printing to explore the appearance of light, darkness, and the tree. He wanted to see the subtle gradations of color, shadows, and illuminations and the balance between the transition between light and darkness in his life and in nature. He explored through his sculptures that light is changed to darkness, darkness is changed to light, and the tree must survive in both.

After finalizing his ideas and using 3D printing, he modeled his designs in Rhino. In addition to this, he placed the electric lights inside the prints to create a glowing appearance. As a result of this, 3D-printed trees are placed in the park's gallery.

Gyre in natural uncoated bronze

The Frensch sculptor Charles-Eric uses 3D printing in bronze and polyamide to show the representations of the universe through sculptures. Even after he was diagnosed with Parkinson's disease, he embraced 3D printing and created a mix of human, animal, and vegetable creations.

He used Blender to concretize shapes that represent his ideas in his mind. He chose bronze for the design as it has a strong, durable appearance and is easy to adapt to almost all shapes. He used reflective qualities in the gyre to make it sparkle and give it a more vivid appearance.

Stand-still sculpture table

The Belgian artist Koenraad Van Daele stands as an excellent example for experimenting with diverse 3D printing materials and sizes. He uses his curious mind to design different technologies, like easels and sculpture tables. He gets his inspiration from the objects placed in the artist's studio.

He designed the sculpture using 3D printing technology, where the standing figure without any support falls over but with a hole. From big 3D sculptures to large jewellery pieces, he explored his ideas for designing 3D-printed creations.
To know more about the list of 3D sculpting software and tools in more details, read our blog or reach out to us anytime for more digital sculpting service details. Each software is distinct from the other, with a variety of operations and functions. Choose them wisely to enhance your workflow and make your performance much more efficient.
Contact Us
---
Frequently Asked Questions (FAQ)
---
Other Modeling Techniques You Might Interested to Know
Contour/Edge modeling
Sub-division modeling

Image-based modeling