3D Digital Sculpting : A Simple Guide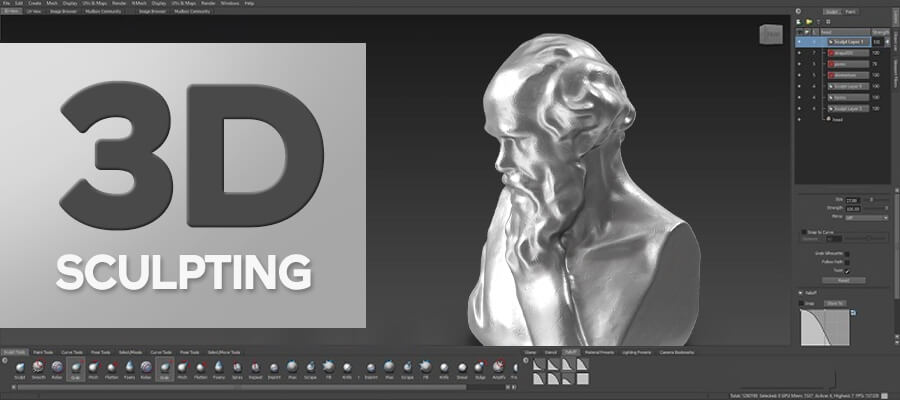 Are you aspiring to become a 3D sculptor and want to master 3D digital sculpting art? This blog will comprehensively overview the concept and some of the most popular sculpting tools.
Over the years, 3D sculpting has become a great way to bring characters and organic shapes to life. But indeed, many technicalities are involved in this 3d sculpting process.
3D digital sculpting offers some distinct advantages over modeling in specific instances. Hopefully, this tutorial will teach you all you need to know about the process and assist you in getting started with sculpting or locating a 3D sculpting business to handle your 3D needs.
Keep scrolling!
What is 3D sculpting?
3D sculpting is the process by which experts design 3D objects on a canvas provided by advanced software. 
The digitized sculpture is developed over a base model or right from the start with a palette of textures and shapes that resemble real-life clay and rocky compositions. The basic art sculpture 3D model is polished and refined with brushes and various software tools that allow tweaking and shaping the shape in the desired manner.
Real clay's appearance is pulled off using intricate polygon meshes created using complex mathematical calculations in the background. Like a conventional sculptor, the designer begins with a rough assemblage of meshes and gradually fine-tunes the shape with more detailing through an increase in the number of polygons.
A successful computer sculpting project can be completed in minutes or may consume significant time based on the complexity levels and the artist's skill repertoire.
How to Start 3D Sculpting Process
You may wonder how to 3D sculpt process can start? Before knowing the process you should get familiar with the procedure and some of the norms applicable to the art before you start making your first sculptured model. Let's look at the important factors.
Procedure:
Digital sculpting begins with a seemingly random mesh which is then dragged in all dimensions to build the fundamental shape of your object, just like you would do with a clay lump in real life. Several brushes are used for this, and each manipulates the material differently. For instance, a few of the most well-liked brushes include:
Curve brush – Creating curves and creases
Smooth brush – smoothing out textured and rough surfaces
Groom brush – enhancing fiber-based elements like hair
Curve bridge brush – repairing and fusing bridges between curves
Clip brush – brush with a clip to help remove extra material
Layers are worked through, and iteration plays a significant part in sculpture. A sculpted design's fundamental shape and contour are included in the base layer, while other layers add the object's additional characteristics and details. For instance, a character's bodily form may be the lowermost layer, while clothing, accessories, etc. might represent the topmost layer.
Advantages of 3D Sculpting Technique
3D sculpting has a number of advantages. Let's discuss.
Useful for making organic structures
Frequently quicker than modeling
Gives the user a lot of freedom while handling the item
Adding delicate features is simple
What is Digital Sculpting Used for?
Manufacturing and 3D printing

High levels accuracy and detail in design are necessary for both 3D printing and production. For 3D printing and manufacturing, 3D sculpting is used as it focuses on extensive detail and volume-focused proportions.

Gaming

Games are the ideal environment in which to employ sculpted assets since they are rife with the kinds of things that are often sculpted, such as people, monsters, flora, and accessories.

Product design

Sculpting is typically used for path-finding—establishing the object's external appearance and overall design—during prototyping and product development. Also, it is employed in producing prototypes for products with an easy-to-understand structure.

Advertising

Advertising catches people's attention by being mysterious and unusual. This design and technique are frequently used in advertisements and sometimes even videos as they deal with uneven and discrepant structures.

Media

Movies, commercials, and fun videos all make extensive use of 3D models in their production. 3D sculpting is the best method for creating stunning effects, art direction, and post-processing.
3D Sculpting Vs 3D Modeling
3D Modeling and sculpture is frequently combined to create an excellent effect. Both can start by building a digital mesh (a patchwork of connected polygons or shapes). They differ in a few ways, though.
The nature of the 3D models produced by each technique is the fundamental difference between the two. The ones created by conventional Modeling can be modified at the sub-object level. This implies that the artist can change the item's polygon mesh's vertices, edges, and faces. A sculpted model is a complete object, similar to a statue. The emphasis of sculpting is the molding of a huge mesh, such as a sculpture, and the indirect lines of vertices at the sub-object level. This enlarges the file size and typically makes it more challenging to modify.
While 3D modeling is based on geometry and exact calculations, and 3D sculpting is more creative. Moreover, 3D sculpting is more prone to errors, so experts must take extra precautions and double-check everything.
Detailed article : 3D Modeling Vs Sculpting : Comparison
Top 3D Sculpting Software Programs
There are numerous software available online to facilitate high-end sculpting procedure. Most are free, yet they offer a plethora of features. Furthermore, there are the paid ones with their advanced tools and options. Among the most well-liked 3D sculpting software on the market now are:
To know more about the list of 3D sculpting software and tools in more details, read our blog or reach out to us anytime for more service details. Each software is distinct from the other, with a variety of operations and functions. Choose them wisely to enhance your workflow and make your performance much more efficient.
Wrapping up:
We offer 3D sculpting services in a wide range, and you can depend on us as our experts have in-depth knowledge of everything that is linked to 2D and 3D art.
We look forward to learning more about your project and reviewing our partnership's specifics. Just sculpted models are an option, or you may request additional 3D visualization services. Our experts will analyze your requirements first and deliver the best possible result within a very short TAT.
Contact Us
---
Frequently Asked Questions (FAQ)
---
Other Modeling Techniques You Might Interested to Know
Contour/Edge modeling
Sub-division modeling

Image-based modeling