List of 15 Best Free and Paid 3d Sculpting Software Programs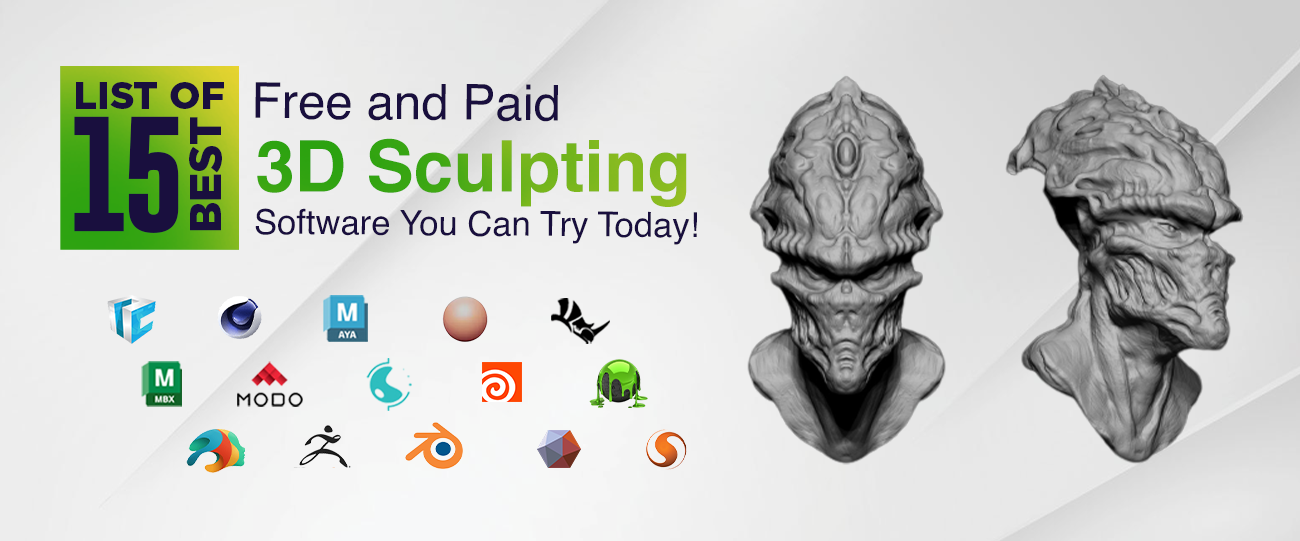 3D modeling has become a mainstream method of representing products, furniture, and any other object with a realistic, more intense form. Nearly all marketers prefer 3D modeling and rendering to market their products and boost sales.
One interesting sub-category of 3D modeling is 3D sculpting, a much more detailed and aesthetic form of modeling an object.
With the help of the latest 3D sculpting software, polygonal meshes are manipulated and "sculpted", resembling real-life clay. Any kind of free-form designs - like human busts, animals, gaming characters, eCommerce products, industrial equipment, and real estate models - can be sculpted with this organic style of 3D modeling.
This article will curate a list of some of the marvelous digital sculpting software possessing the strongest features, the most robust artistic applications, as well as being the most competitive. Let's get started.
The ultimate list of the top 15 best 3D digital sculpting software
Free 3D Sculpting Tools
Meshmixer

Starting our list with Meshmixer - an Autodesk product, which is a highly user-friendly and efficient software and comes with a broad set of interesting features. Meshmixer's dynamic re-mesh and auto-repair functions are great for the user's workflow.

Besides helping create exceptionally detailed low-poly surfaces, this tool allows 3D designers to manipulate basic polygon meshes and mix them with meshes having a variety of poly counts to create something totally new and unique digital sculpture.

Users: Beginners, intermediates, professionals

Pricing: Free

OS compatibility: Windows, macOS

ZBrushCoreMini

Another popular 3D sculpting software with a lot of potential, the ZBrush Core Mini is ideal for 3D art enthusiasts who want to try their hands at creating detailed organic sculptures.

It was developed by Pixologic, a USA-based software development company, and has a simple interface preferred by beginners. The technology behind this highly influential software is 3D pixels, aka "pixols", that contain extensive information about depth, material, color value, composition, and orientation.

Users: Beginners, intermediates

Pricing: Free

OS compatibility: Windows, macOS

Blender

Besides comprehensive sculpting features, Blender has video editing, animating, compositing, and game creation options. Other features include motion tracking, fluidic simulation, game character animation and development, and more, blending everything under one single unit as its name suggests.

Users: Intermediates, professionals

Pricing: Free (open-source)

OS compatibility: Windows, macOS, Linux

Sculptris

Sculptris is one of the best 3D model sculpting tools, recommended for novices as well as 3D modelers with a couple of years of experience. The software has an extremely quick-to-navigate interface, user-friendly options, and an easy importing feature.

Most importantly, Sculptris is connected with ZBrush, as it is developed by the same company, Pixologic. Thus, users can further hone their skills learned on Sculptris, with the added, more technical features of ZBrush.

Sculptris enables digital sculptors to develop any unique shape they want using the mesh as virtual clay, adding more life to the models with vibrant paint palettes available within the software.

Users: Beginners, intermediates

Pricing: Free

OS compatibility: Windows, macOS

SculptGL

SculptGL is another effective program for digital sculpting that doesn't require any downloading or a complicated installation process. Therefore, aspiring individuals can experiment with SculptGL first before moving on to more expensive options.

Though it comes with limited features compared to the other software mentioned until now, it has some amazing options that help sculpt a diverse range of models. Such as solid objects, human characters, animals, and more, with moderate intricacy.

One of the best aspects of SculptGL is that, it supports 3D file formats like STL and OBJ, which makes it easy to import and export models for 3D printing in a hassle-free manner.

Users: Beginners

Pricing: Free

OS compatibility: Web-based (Compatible with all common browsers)

Daz Studio

Apart from its robust digital sculpting features, Daz Studio provides multiple tutorials for using its features and has a dedicated online community. It also offers the great feature of "morphing" any figure into your own customized character design.

Moreover, it has a handy plug-in known as "Daz Bridges" that easily transfers models to other software like Maya, Unity 3D, Cinema 4D, Blender, etc. With all its high-quality features, Daz Studio is ideal for individuals at all stages of their experience.

Users: Beginners, intermediates, professionals

Pricing: Free

OS compatibility: Windows, macOS
Paid 3D sculpting software
Mudbox

If someone is keen on high-poly 3D modeling and regulating polygon density to adjust topology, their best bet will be Mudbox. A product of Autodesk, this free digital sculpting tool has a set of versatile options that only a few such tools can offer.

Apart from allowing high-poly modeling, Mudbox also enables painting texture maps directly on the meshes. Meshes can be easily created from scanned, sculpted, or imported data. This industry-standard software has an easy-to-learn interface and easily integrates with other 3D software.

Users: Intermediates, professionals

Mudbox Pricing: $90 per year or $10 per month

OS compatibility: Windows, macOS, Linux

3D-Coat

Developed by Pilgway, a Kyiv (Ukraine)-based software development studio, 3D-Coat flaunts some of the brilliant features any 3D sculpting artist can think of. The software is equipped with a variety of texturing tools that can also be used for retopology.

Most importantly, 3D-Coat offers a great alternative to traditional digital sculpting, called "Voxel sculpting" that utilizes 3D pixels, ensuring more creative freedom, speed, and adaptability during the 3D sculpting.

And lastly, 3D-Coat has a fast 3D UV mapping program that helps create simple UV maps in no time.

Users: Intermediates, professionals

3D-coat Pricing: €380 (Permanent license) - Updates will cost €45 after 1 year €20/month (Subscription)

OS compatibility: Windows, macOS, Linux

Maya

Another product of the Autodesk suite, Maya, is a multi-purpose software with millions of customers worldwide. This unparalleled program for 3D sculpting has some powerful features besides high-end sculptings, such as modeling, rendering, simulation, and animation. It can also seamlessly integrate with Mudbox.

Maya's enhanced workflow and robust catalog enable 3D professionals to work faster than with any other software.

Another striking feature of this end-to-end software is that, after the sculpting is done, Maya can convert the sculpted model into polygons that you can either animate, export for 3D viewing, or for 3D print.

Users: Professionals

Maya Pricing: $1,800/year

OS compatibility: Windows, macOS, Linux

SelfCad

A relatively new CAD software that can be used not just for sculpting, but also for 3D drawing and slicing. SelfCAD offers traditional 3D drawing tools, mesh modeling, creating 3D characters, environments, prototypes, repairing and slicing for 3D printing, and so on.

SelfCAD offers fully functional sculpting brushes, such as the flatten brush, standard brush, smooth brush, drag brush, and more, for highly detailed sculpting replicating the real world.

Users: Intermediates, professionals

SelfCAD Pricing: Free basic version, $15/month (full version), $600 (lifetime license)

OS compatibility: Windows, macOS, Linux

Houdini

A high-end sculpting program, Houdini, was developed by Tom Huston, a leading software developer with an innovative mind, in 1998. This veteran software offers some stellar sculpting tools and advanced 3D visualization, making it the go-to choice for 3D sculpting professionals.

Houdini's sculpting algorithm is highly intuitive and helps create the most realistic and life-like textures and characters. Houdini also has multiple webinars and tutorials geared toward the first-timers.

Users: Professionals

Houdini Pricing: Houdini Apprentice - Free, $270/year - Indie version, $2,000 - Artist Upgrade charge ($1,000/year after the first year)

OS compatibility: Windows, macOS, Linux

Modo

Developed and demonstrated in 2004, Modo is perhaps the best option for aspiring 3D design professionals trying to carry out aesthetic 3D sculpting, modeling, animation, and rendering. It delivers speed in the workflow with its direct modeling feature and progressive rendering option.

As one of the best sculpting apps for pc, this premium-grade software can smoothly integrate with several other third-party plug-ins and supports all the major 3D file formats.

Users: Intermediates, professionals

Pricing: $670/year, $70/month, $1,578 (lifetime license)

OS compatibility: Windows, macOS, Linux

Rhinoceros

One of the top-most and most accurate 3D modeling tools, Rhinoceros is perfect for 3D artists with a creative bent, architects, product designers, and the like. The best feature of Rhinoceros is its intuitive drag-and-drop functionality for 3D sculpting, unlike the accuracy of dimensions usually seen in conventional software.

The drag-and-drop feature helps to create an organically sculpted environment with free-moving components. It preserves dimensional accuracy and therefore gives in-depth dimensional analysis to the engineers.

Users: Intermediates, professionals

Rhinoceros Pricing: $995 (one-time payment)

OS compatibility: Windows, macOS

ChronoSculpt, from Lightwave 3D

Developed in 2009, Lightwave 3D is well-known in the 3D market for its cost-effectiveness, simplicity, and user-friendly interface for modeling, rendering, and texturing. Lightwave 3D presents ChronoSculpt, a powerful application for high-end and intricate 3D sculpting. Users can directly manipulate cached geometry files from any application.

This robust application also introduced a geometry engine based on the "Hydra" technology that enables the manipulation of more than 10 million polygons seamlessly.

ChronoSculpt eliminates any dynamic simulation glitches and allows sculpting artists to export frames from the sculpted model directly to an OBJ file.

Users: Professionals

Chronosculpt Pricing: $399

OS compatibility: Windows, macOS, Linux

Cinema 4D

Created by MAXON, a Germany-based software development organization, Cinema 4D is an exceptional software with multi-resolution sculpting and advanced symmetrical sculpting options.

Apart from sculpting, C4D can also be utilized for animation and rendering. Although the sculpting option is a fairly recent addition to Cinema 4D's offerings, it has quickly become intuitive and high-end.

Users: Professionals

Cinema 4D Pricing: $95 per month (subscription), $720 per year, $3,500 (lifetime license)

OS compatibility: Windows, macOS
5 smart tips for choosing the right 3D sculpting tool for you
Choosing the right 3D sculpting software can be challenging, especially if you are new to the world of 3D modeling, and considering most of them have quite similar features. Check out the useful tips to help you make the right choice.
Define your goals: What do you plan to create with the software? Defining your objectives and goals will help you narrow down the best options for your needs.

Consider your skill level: Are you a beginner or an experienced 3D artist? Some software may be easier to learn than others; some might have a steep learning curve. Think of the skillsets you possess and make a choice accordingly.

Look for a user-friendly interface: You don't want to spend hours figuring out how to use the software. Look for a program that has a user-friendly interface with easy-to-use tools.

Check for compatibility: Ensure the software is compatible with your computer's operating system and hardware.

Check for third-party plugin support: Some software allows you to use third-party plugins to extend their functionality. This can be a valuable feature if you need to perform specific tasks not included within the software.
Over to you now!
Over the years, a constructive interest has developed around 3D technology and visualizations. It's not like 3D technology hasn't been around or is a fairly new-age concept; but there has been a considerable boom in the 3D market with the advent of online commerce. Adding life-like details to an otherwise software-generated model has now become a legit trend.
Therefore, knowing the skill will help any 3D enthusiast enrich their knowledge base, and grow professionally.
Hope the detailed list of free and paid 3D sculpting software will inspire anyone who reads this article to try their hands at detailed 3D sculpting models.
Contact Us