Popular 3d File Formats Used in Various Industries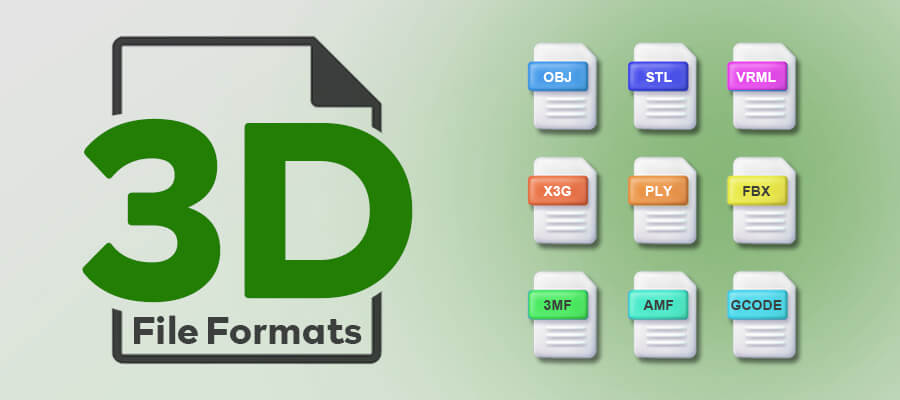 As the 3D Industry is growing at a breakneck pace, multiple sections are upgrading their market presence using this technology. This is why every business uses different 3D file formats depending on the nature of work and requirements.
In this article, we will discuss all types of 3D file formats, starting by giving you a brief introduction to the 3D file format and its features. It will help you gain a basic understanding of the concept.
Along with that, we will also discuss the popular 3D file types used in different industrial verticals.
What is a 3D file format?
3D file format is a custom file used to store comprehensive details about 3D models, including their attributes. Some of the extensions for 3D modelling files that are popularly used include Collada, Obj, Stl, Fbx, etc.
These formats have broad applications in diverse fields like video gaming, films, 3D printing, academic projects, engineering visualizations, architectural projections, and various scientific applications.
Based on historical facts and ease of usage, different industries have embraced the most common 3D model formats.
What are the key features of a 3D file?
3D printer file format encodes the geometric information of a model and makes it readable on computers.
A 3D file allows you to store a model's texture and material information separately or within.
It can help keep and save scene data, i.e., the location where the 3D object appears.
Unlike other file formats, a 3D model format offers animation rigging or encoding support.
What are the most common 3D file formats used in various industries?
By now, you must have gained significant insights into the various open-source 3D file formats widely used. Knowledge about these 3d file formats comparison is important to work in an agile manner in 3D modeling, video gaming, movie production, architectural visualization, product visualization, 3D printing, and more.
Now let's move on to the next step, which is a detailed list of all the 3D file graphics formats you must be aware of.
A List of All 3D File Graphics Format
In this list, we have compiled all the 3D file graphics formats that are most popular and the ones not so commonly used in the industries but have an essential place.
Here is a detailed list of all the names-
So far, we've discussed all types of 3D File Formats, and now it is time to explain how you can choose the best among the available formats per your requirements.
How to Choose the Best 3D File Format?
The first and foremost thought that should come to your mind while choosing the 3D file format for your work is what will be the end product and what will be the portability.
The Use Case

Before choosing the 3D file format, think about how your 3D model will be used? Once you find the purpose, you can choose from the various formats. There are purpose-related file formats also available.

The Final/End Product

As mentioned above, you need to consider your end product while choosing the 3D File format for your work. Also, research the platform where your final product will be published and used, e.g., iOS, Android, Google Visual Search, gaming platforms, VR headsets, etc.

The Software

Before choosing the 3D file format, you need to check if it is compatible with the software you are using. This is a crucial step to take as everything depends on it. For this, you can start with the open source type formats to check whether it will work for you or not.
This sums up the topic of 3D file formats and the available types per various industrial requirements.
Want 3D Design Related Help?
Get in touch!
Frequently Asked Questions