List of Top 3D Rendering Software in 2023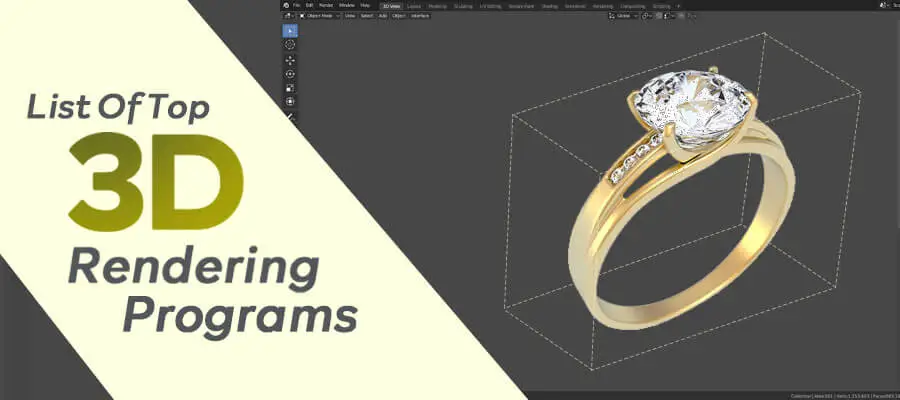 3D rendering software is a type of design program that enables us to convert a 3D model into a rendered 2D image. It help clients visualize a project before its development. Earlier, renders were only generated for high-end projects. But today, it is developed for all kinds of projects, be it big or small. This happened because buyers and customers of all categories are now expecting to see 3D visualizations before making a purchase or investment.
Besides, do you know a project that can be pre-visualized have a better chance of selling? Let's compare a simple photograph of a product or property with that of a 3D one having realistic views with perfect lighting and shadows. There's a higher chance of a customer purchasing the same by viewing the latter.
Today, you will find a lot of top free and paid 3D rendering software for beginners and professionals to help you create renders. They may not be completely free of cost but often come with a free trial version. In this article, we will have a look at the list of paid 3D rendering software programs.
Autodesk
The 3D real time rendering software offered by Autodesk is a complete package of an advanced software collection spanning construction and architecture (BIM), engineering and product design, industrial equipment manufacturing, media and entertainment, and a line of software for consumers, etc., empowering 3D artists worldwide to develop high-end renders.
Autodesk's broad range of design, engineering, and entertainment software includes various tools, including SFX and VFX options, motion graphics, texture mapping, shading and shadows, and much more. With a gamut of software, Autodesk is considered the best software suite for animation, game development, and design visualization.
Key features of Autodesk's software suite:
Help render various types, including cloud, hardware, software, vector, and more.
Assist in the smooth and fast rendering of entire scenes.
Autodesk includes the following software
6 practical tips for selecting the best 3D rendering tool
Amidst so many best rendering programs available for 3D rendering, which one should be your pick? That's the tricky part of carrying out an end-to-end 3D design project. This is the step that a renderer must master in order to choose the best software for their needs.
Follow the checklists below before making up your mind about a specific software.
Whether the software is competent to meet the requirements

Consider your project's or your client's needs before every other metric. Make sure the software you select can meet all the requirements adequately. Figure out how effectively each tool performs the project's rendering objectives.

Once you gather these data, you may go for it, or scrap it off your list!

Has a simple and easy-to-use UI

Too much of a complex software might be hard to follow and work on, making your workflow slow. Never let a complicated interface harm your efficiency and TAT. So, don't just prioritize features; also consider how simple the interface and tools are.

Has the latest features

Although simplicity and user-friendliness are the two main factors to consider, the features available in the different types of 3D rendering software must be up-to-date with the latest trends and offer the most recent add-ons that help reduce the workload. You shall find many software offering advanced features, yet having a user-friendly UI.

Look out for the file formats the software supports

Never forget that the files you provide your client with will be viewed by others as well. Thus, the files must be in a universal format that most computers are compatible with. Examine the file formats supported by the software and in which you intend to export your files.

Offers proper trial, training, and technical assistance

While onboarding a new software, it is normal for you or your team to ask for a trial, a demonstration, or training. See if the software offers these dedicated services or not. Also, make a note of whether they offer tech support, as you might run into several technical hurdles with your new software.

Finally, if it suits your budget

This is super important. Always go with a software that comes withing your budget and doesn't burn a hole in your pocket. Subscriptions or licenses of high-end software usually do not come cheap; nevertheless, keep an eye out for alternatives and bulk discount offers.

Offshoring your rendering projects to a dedicated third-party agency can save you a lot of dollars, as professional rendering agencies work at a fraction of the cost of high-end software subscriptions.
In case you need the assistance of a professional, you can reach us. ThePro3DStudio provides an entire gamut of 3D design services and employs advanced software to work on the clients' projects. So, if you need futuristic 3D rendering services or any other service for your business, get in touch with us to discuss!
Contact Us