Top Fields to Specialize as a 3D Artist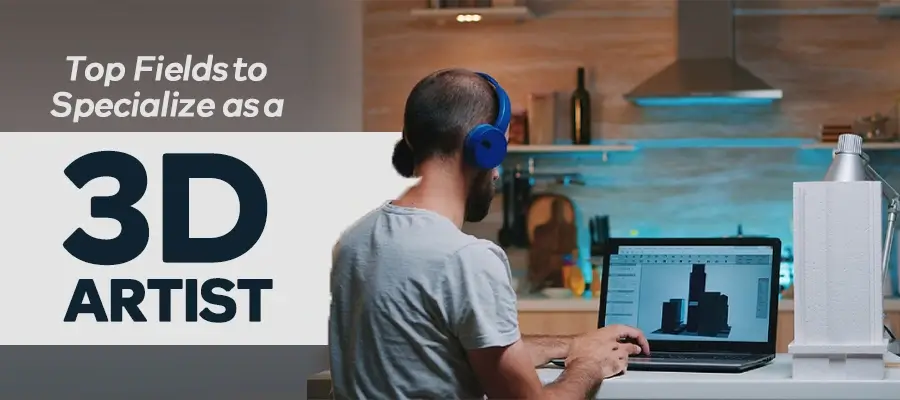 So you've decided to start your career as a 3D artist and already got your bachelor's degree in computer graphics and arts. You started looking for jobs and came across one with an outstanding pay scale. But, you soon realized that you cannot qualify for the position since you are a 3D generalist.
A 3D generalist is someone who has a bit of knowledge in every field of 3D design. Having knowledge of everything is good. But to find a job that pays you well, you need to acquire specialization in a specific field, which means you need to become a 3D specialist.
In this post, you will get to know the different fields you can specialize as a 3D artist. You can have a look at all of them and choose one that intrigues you the most. Let's begin with understanding who a 3D artist is?
Who is a 3D Artist?
A 3D artist is someone who is responsible for developing three-dimensional models, animations, or visual effects that can be used in diverse creative projects, such as movies, video games, advertising campaigns, etc.
Becoming a 3D designer involves software usage knowledge, technical skills, creativity, and a strong understanding of design principles.
Certain job profiles require 3D designers to research upcoming projects, where you have to figure out new ways to develop designs and animations. You may also need to conceptualize designs or create storyboards to draft the outlook of a scene. A part of the responsibilities may even include meeting with clients, designers, or directors for reviewing projects and deadlines. Move on to the next section to find out the various fields in which you can specialize.
3D Artist Career Path Options
3D Visualization

Three-dimensional visualization is a common field of work for 3D artists. If you're someone who loves creating awe-inspiring visuals, then this field is perfect for you. It will mostly require you to give shape to your clients' ideas, which means you will be developing a 3D rendering based on their idea.

Sometimes, you may have to use your creativity if an idea isn't provided for the visuals. You can do this by understanding their business and project needs thoroughly.

3D Modeling

In 3D modeling jobs, you'll be creating 3D digital representations of an object or surface with the help of 3D computer graphics. You will also need to have good technical skills and artistic abilities to make a 3D model stand out.

Besides, 3D modeling also has other fields as subsets in which you can gain specialization. For instance, you can develop three-dimensional models for different fields like architecture, interior design, advertising, web designing, engineering, gaming, film, etc.

Related Article : Tips to Improve Your 3D Modeling Workflow

3D Animation

Three-dimensional animation is one of the interesting fields on the list and can come with different opportunities. The work mainly requires you to create digitally animated images and videos. As a 3D animation artist, you can further specialize as

Character Artist: Character artists need to create 3D characters for movies, games, or marketing materials. You will usually work with an art director to bring a character to life by using 3D illustrations and computer graphics.

Related Article : 15 Best Tips to Create Lively and Realistic Character Animations

Motion Capture Artist: If you choose to become a 3D motion capture artist, you need to develop computer-generated characters that exactly resemble real people. Here, you will work closely with directors, actors, technicians, etc. to capture the movements of the artists and then incorporate them into your digital characters.

The most common application of motion capture includes TV and films. But, it may also be implemented in the military, sports, robotics, medicine, etc.

Environment Artist

Becoming an environment artist will often require you to work in the video game sector for developing the indoor and outdoor settings of games. You will be responsible for 3D modeling, texturing, lighting, compositing, and other tasks that can help in creating the game environment.

By specializing in this area, you can develop anything that you can imagine for the game environment. You can create a city streetscape, a sci-fi space station, a dungeon, a fantasy city, and more.

Related Article : 3D Game Art Production: Detailed Guide of the Concept & Styles

Visual Effects

Becoming a VFX artist will require you to create animations and motion graphics. Creating visual effects is super exciting and specializing in this field may get your work featured in video games, films, and TV shows.

Visual effects can be used for other purposes too but are widely implemented in movies and video game sectors, especially those requiring digitally generated photorealistic imagery. If you compare today's visual effects to the ones used before, you will notice a huge difference and can understand how VFX has transformed both industries.

Concept Artist

The work of a 3D concept artist often involves creating illustrations for communicating ideas and concepts for movies, video games, comics, animations, and other media types. As a concept artist, you will use computer graphics for visualizing ideas and then use those visualizations for creating 3D arts for digital creatures, characters, environments, or other assets.

The role of a concept artist is extremely important in a production chain. It is because 3D modelers, VFX artists, and animators depend on them to bring clients' ideas to life and get them ready for production.

3D Sculpting

If you choose 3D sculpting as your field of specialization, you'll learn how to manipulate a digital object. The process is similar to that of sculpting a model out of clay. However, the only difference is that it is carried out digitally with the help of digital sculpting programs.

As a 3D sculptor, you will work on creating three-dimensional sculpts, which are far more detailed than the 3D models. Besides, the technology is often used when 3D modeling fails to introduce higher detailing in the meshes. With three-dimensional sculpting, it is easier to achieve photorealistic results.

Related Article : 3D Digital Sculpting: Everything You Wanted to Know

3D Texturing

As a 3D texturing artist, your job will primarily involve creating textures for three-dimensional objects. You will be required to have a broad knowledge of skeletal framework as texturing works as the top layer of the model.

3D textures can be either created using real-world references or from scratch. That's why it is very important for the artists to have a good understanding of architectural finishes, products, landscapes, textiles, and even human or animal skin. The demand for texture artists is increasing by the day.

Related Article : How to Create 3D Textures Using Simple Tips
Specializing in a particular field is very important when it comes to a 3D artist job. These are not the only fields you can specialize in as a 3D artist. If you dig deeper, you may find other options too.
Besides, we advise you to research as much as you can and go through every 3D artist career tips before coming to a final career decision. Make sure you choose something that you love so that you enjoy your work.
Need a hand guiding you through all the possible career options in which you can excel as a 3D artist?
Contact Us
Frequently Asked Questions (FAQ)