Simple but Effective Tips to Increase Photorealism in 3D Renders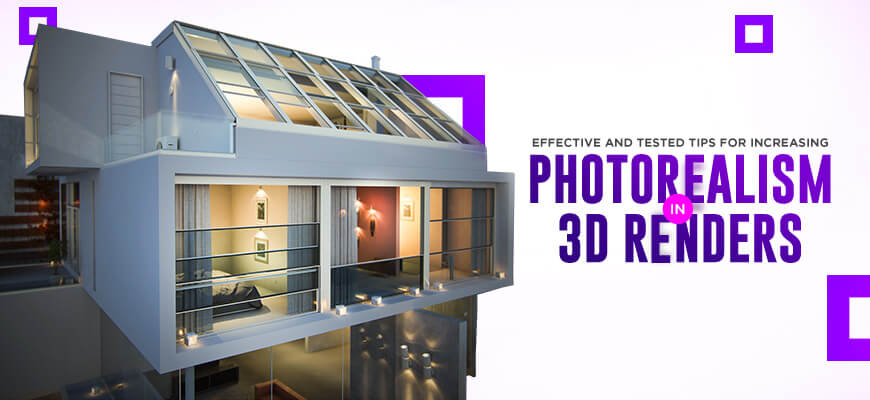 Photorealism is a convincing art that uses graphics media to create artwork that is strikingly realistic. The artists study photograph and attempt to create an artwork of it. Photorealism is implemented in 2D and 3D rendering and the art is called Photorealistic Rendering. The professionals have to carefully reproduce tri-dimensional models using the automatic rendering process. This is facilitated with the latest computer applications.
While looking at the photorealistic renders, it will take a while to realize that they are mere renders because of their close resemblance to the original 3D models. So, how to make renders more realistic? Explain reading the article to learn how to do it with perfection.
What are The Best Tips to Make 3D Renders More Realistic
Here are some great tips that can be useful for you while planning 3D rendering process:
Bevel Application

Natural objects have no sharp edges; instead, they are rounded. With beveling, you can provide a realistic touch to the models while managing the lighting solution effectively. This can improve the reproduction of natural or man-made objects. If you do not know to use bevel and detail the edges of objects, then practice it as this is an effective tool that can easily improve photorealism in your 3D design.

Application of Linear workflow

Beginners creating 3D renders should master Linear Workflow and learn to implement it. You need to apply Linear Workflow if the output provided by your render engine contrasts with color spaces of images showcased by monitors. Then the simple solution is to apply Gamma Correction and improve the design. While these strategies are extensively used by architects and 3D professionals, be prompt to adapt them and improve your 3D renderings and live up the competition from the players in the same domain.

Lighting

Some conventions hold good in photorealism of renders too. Lighting is an important factor in conventional photography and paintings. It plays a crucial role when it comes to the steps to create interior in 3dsmax. Besides, ordinary light sources can be also used to increase photorealism. V-Ray or other rendering engines can imitate the distribution of light while illuminated scenes can easily transform the quality of your 3D renderings.

Therefore, to create a 3D realistic rendering, include the right lighting to set the scene. You can adjust light and set the mood of the scene as daylight or night. Also include a source of artificial light so that the scene looks naturally illuminated from this source of light. You can also include direct or indirect lighting and enhance photorealism.

Useful Article : Advanced Lighting Methods Used in 3D Lifestyle Environments

Application of IES lights

Professional 3D artists who are keen on improving the photorealism of their 3D rendering art can use IES lights in the designs. It provides information on luminance and other light effects. Nowadays, professionals are considering this application as an advanced option than imitating real lighting over hours.

Photorealism and textures

Textures can define your 3D renderings and increase photorealism. By using advanced texturing software programs, highlight and define the textures of the materials such as leather or wood so that it is easily recognizable while anyone view the 3D renders. You can also include reflection and effects. Using texture mapping, we can integrate all these important elements perfectly in your renders to impress the viewers.

Colour aberration

Try colour aberration using Photoshop and improve your process. 3D professionals are applying colour aberrations in their renders extensively after they found the phenomenon to be effective. Simply play with your lenses and use advanced virtual rendering software to manage colour aberration. Using Photoshop filter opt for the lens correction mode and then apply Red or Blue fringes. In this process, you can manage good colour aberration. 3D professionals fake the aberration to provide a good effect; it is become a great idea to increase photorealism. Though colour aberration can boost photorealism, remember to not overdo it.

Natural effect

Use natural effects such as cracks and other good effects to add realism in your 3D designs. Use plenty of articles, props etc. for the scene to make it look natural and not fake. Forget the concept of presenting an immaculate picture. Rather it should have a human touch. If it is a room, then the render should seem as though it has been used by persons.

Depth Effects

Application of depth effects is an effective way to increase photorealism. Use Photoshop and adjust the depth effects in the background. Observe the results. You will find that the renders have become more photorealistic.

Relevance of Asymetry

3D professionals have given up on the conventional concept of symmetry. Instead, they are playing with asymmetry to provide exceptional appeal to their 3D renders. Try out this photorealistic rendering technique in your new renders.

Improve photorealism in the final renders

Manage colours and contrasts, adjust objects, and find out if any model is floating in your renders. You can add final touches to your renders and ensure better realism. Add finesse to your 3D rendering and turn it impressive and highly realistic.
With the applications of advanced tools, photorealism techniques, and error-detections, it is possible to improve 3D renders dynamically. Increasing photorealism is an effective way to transform 3-D rendering and help customers visualize the architectural projects easily and accurately. The high-resolution imagery can contribute to flattering visualization that can attract the audience and impress them enough to make a sale.
Hope this article will impart enough knowledge to the readers about photorealistic 3D rendering, its benefits, applications, and how to achieve such detailed photorealism in 3D rendering projects. If any further assistance is required, feel free to get in touch.
Contact Us