List of Top 8 3D Texturing Tools in 2023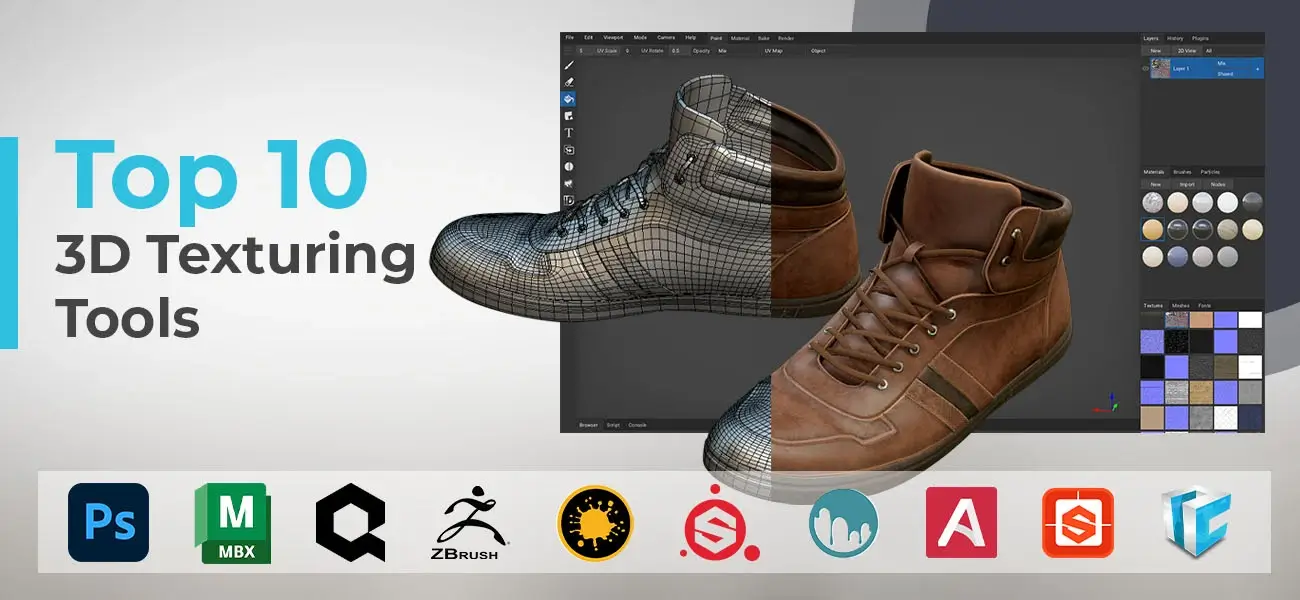 Most mainstream industries, manufacturers, and marketers lean on 3D modeling and texturing to showcase their products more engagingly. As well as create prototypes, making the entire manufacturing process risk-free and flawless. Though high-quality digital prototypes are true game changers, it is the texturing that makes these models so lifelike.
Thus, to keep up with the constant advancements in technology, knowing the best 3D texturing tools that most professionals use is a great idea.
So, whether you are an aspiring 3D texturing artist or a professional, read on and enrich your knowledge to a greater extent. This blog post provides detailed information about 3D model texture painting software that can help in creating high-quality digital texturing. Let's begin!
What are the Best 3D Texturing Software Programs to use in 2023
Adobe Photoshop

Adobe Photoshop is undoubtedly a top-notch, industry-grade software suite that offers numerous tools to its users. Its robust development community performs in-depth R&D to provide handy CG tools.

That said, creating stunning custom 2D textures and maps with Photoshop is fairly easy and effective. Photoshop's painting and adjustment tools make the process flawless. 3D texturing artists can save the designed and edited textures in PNG format and export the same to the modeling software.

These 2D files are imported as entries and are grouped per map categories, such as Bump, Diffuse, Glossiness, etc. These can be found within the Layers panel of the software below the 3D layer option.

Cost: $20.99/m

OS compatibility: Windows, macOS, and Linux

Product link: https://www.adobe.com/products/photoshop/textures.html

Autodesk Mudbox

A product of the Autodesk software suite, Mudbox is a highly potent and multi-purpose texture painting and editing tool. Apart from enabling smooth texturing, it also offers sculpting functions for 3D modelers.

Autodesk Mudbox has been recommended by several 3D texturing artists worldwide owing to its user-friendly UI, intuitive tools, and lots of tutorials. One of the advanced tools is the retopology tool, which allows for the creation of clean polygon meshes from scanned or imported data.

The retopology helps reduce the poly count from the data, which ensures a seamless texturing process. Once this process is done, texturing artists can directly paint the textures on the digital model and proceed to bake the texture to make it look appealing and easy to render.

Cost: $85/year

OS compatibility: Windows, macOS, and Linux

Product link: https://www.autodesk.com/products/mudbox/overview?term=1-YEAR&tab=subscription

Quixel Mixer

A relatively recent addition to the community of best 3D texture painting software is Quixel Mixer, a high-end texturing software that allows CG artists to modify textures based on the Megascans library.

Owing to Quixel Mixer's compatibility with Megascans technology, users can create and fit ultra-realistic 3D textured model the most realistically.

In short, Quixel Mixer has massive potential to be the number one digital texturing software in the world, revolutionizing the way texturing is done.

Features :

Multi-channel 3D painting
Real-time 3D curvature,
Displacement sculpting
ID masking
Procedural noises
Seamless texture projection
Smart Materials

Cost: $85/year

OS compatibility: Windows

Product link: https://quixel.com/mixer

ZBrush

Developed by Pixologic Inc., a developer of innovative software, ZBrush is a great tool for creating high-resolution texture details and texture streaming and is widely used by 3D professionals worldwide. The best part of ZBrush is that users can also perform high-end, detailed sculpting through its workflow.

With ZBrush, the objects can be sketched first by using the software's built-in PolyPaint technology. After that, a texture map can be added, and the sketch can be transferred. Users do not need to purchase any expensive graphics cards for the process.

Features :

Crease Edge UV Unwrap
Dual Alphas & Textures
MorphUV
Texture & PolyPaintAdjust by Color
DecoBrush
ZColor

Cost: $39.95/m

OS compatibility: Windows, and Mac OS X

Product link: https://www.maxon.net/en/zbrush/features/advanced-painting-texturing

Substance Painter

Adobe Substance Painter, developed by Allegorithmic, a French software development company, is ideal for beginners and amateurs trying their hands at 3D texturing for the first time. Substance Painter was later acquired by Adobe and since then has been widely used for creating custom textures and paint masks, with real-time preview options.

This 3D model texture maker is especially used in game studios for developing ultra-realistic-looking game characters, as well as being leveraged in the animated movie industry, fashion, architecture, and so on.

Probably the best thing about Substance Painter is its compatibility with other Adobe Suite products. However, the only downside is its limited number of UV maps, which makes it difficult to create textures for organic surfaces.

Features :

Automatic UV Unwrapping
Physical size
Smart Materials and Masks etc

Cost: $19.99/m, $49.99/m, or $99.99/m

OS compatibility: Windows, Mac, and Linux

Product link: https://www.adobe.com/products/substance3d-painter.html

ArmorPaint

ArmorPaint is an open-source PBR (physically based rendering) texture sketching tool. It provides numerous options to paint several highly detailed textures with bump maps and complex color schemes simultaneously. ArmorPaint also comes in different versions that are compatible with iPads. That's what gives creative freedom to CG artists to come up with custom textures anytime, anywhere.




The standalone software runs on GPU making the texturing process very fast, and it also supports 4K quality. However, one needs to have the latest hardware to ensure a seamless process.

Features :

3D Painting Software
Node Based
GPU Accelerated
Ray Tracing
Live Link
Baking
Path Traced Viewport

Cost: $18 (one-time)

OS compatibility: Windows, Linux, Mac OS X, and Android

Product link: https://armorpaint.org/

3D-Coat

Developed by Pilgway, 3D-Coat is an all-in-one 3D texture painting software that combines everything a 3D professional requires into a single unit program. Such as 3D modeling, sculpting , PBR texturing, UV editing, rendering, and so on. It is undoubtedly one of the most advanced software programs for 3D modeling and texturing processes.

The provision for PBR texturing helps 3D designers ensure high-definition shading quality. 3D-Coat also empowers CG experts to develop various UV maps and textures with natural painting functionalities.

Features :

Sketch tool improved.
Multi-level resolution.
Tree-Leaves generator.
Timelapse recorder.
Auto UV Mapping
Surface mode speed improvements.
Power Smooth Paint
Volumetric color
Modeling workspace improvements.
Import/Export enhancements.
Factures

3D-Coat Professional: $379, 3D-Coat Floating : $568, 3D-Coat Educational: $99

OS compatibility: Windows, Mac, and Linux

Product link: https://3dcoat.com/

Mari

An immensely powerful 3D texture painting software developed by The Foundry, Mari is mostly used for intensive workflows. Owing to its naturalism and breakthrough performance, Mari is one of the most popular 3D texturing tools utilized by the movie and video game industries (the canceled Star Wars 1313 video game).

Mari supports thousands of textures, each with up to 32K x 32K pixels per model, to ensure hyper-realistic quality. There are also other impressive features such as color-rectifying filters, options to texture each face (without using UV mapping), along with fractal noise, and mask blend features.

Features :

Projection painting
Nondestructive layer stack and node graph
adjustment layers and masks
Teleport node
Design and apply presets in one application
Ingest PBR texture sets
Complex geometry handling
Roller brush and more.

Cost: $629/year, or $68/m

OS compatibility: Windows, Linux, and Mac OS X

Product link: https://www.foundry.com/products/mari
Over to you now
If you have reached until this point, now you do have a fair amount of knowledge about the best 3D texturing tools that most professionals use and recommend. What do you think of them? Which one will be in your texturing tool's arsenal this 2023?
Well, regardless of the tool you select, it's imperative that you make your selection based on a few crucial criteria; such as your budget, purpose, whether the software offers a trial, your skillsets, etc. Each software listed above is distinct from the others and can perform a great deal of functionality; so make a wise decision and select the best of the lot.
In case any expert help is required, feel free to reach out to an experienced third-party agency that offers professional 3D texturing services. Good luck!
Contact Us