Advantages of Using 3D Technology in Fashion Industry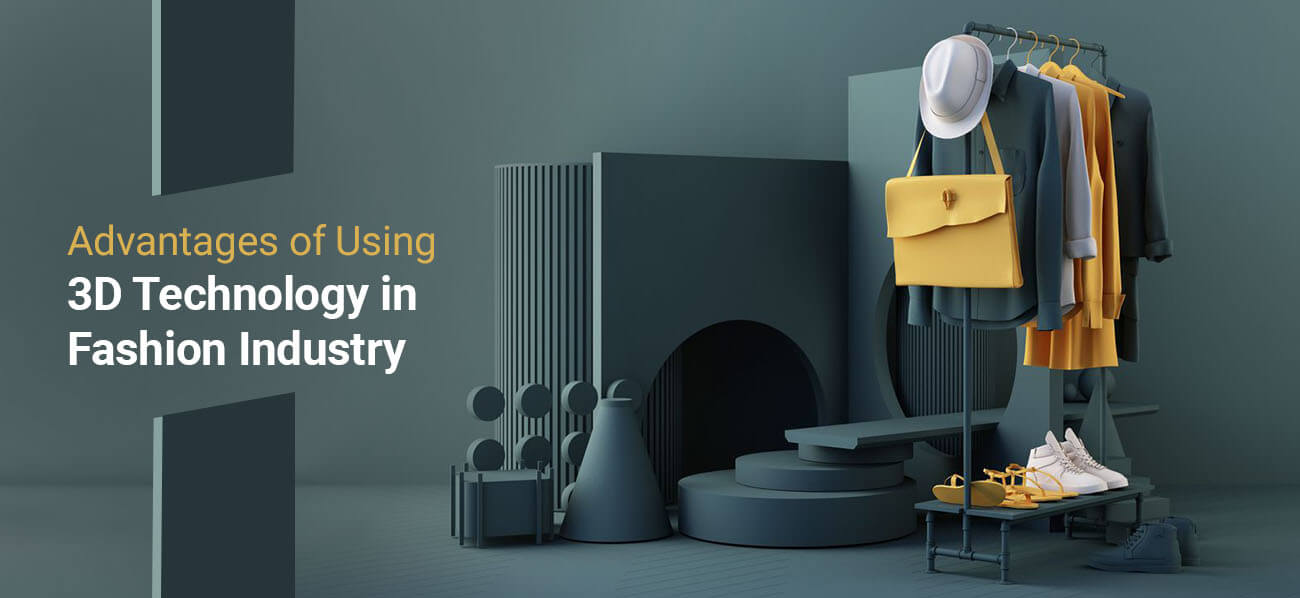 Just like every other industry, the fashion industry has also been reaping numerous benefits from 3D technology. Product development and promotions have taken a new form and have been greatly benefitting the businesses.
3D technology is widely used in different verticals, like architecture, gaming, interior design, and scientific fields. However, now it is also implemented by the fashion industry as well to simplify the work processes.
In this article, we will discuss how different 3D technologies are integrated into the fashion business. Aside from that, we will learn how it transforms the respective industry.
Integration of Different 3D Technologies into the Fashion Industry
3D Modeling

Apparel designers and garment marketers are making optimal utilization of 3D modeling techniques to create realistic 3D blueprints of their fashion vision. Interestingly, the apparel 3D modeling technology has enabled the printing of clothing.

The companies offering 3D product modeling services also use different techniques to boost the product's appeal for a brand and contribute to its success.

Useful Article : What is 3D Modeling : A Simple Guide

3D Visualization

The main reason why apparel retailers and manufacturers use 3D visualization is because of the photorealistic visuals. The realistic 3D images using different fashion design software programs help designers to correct the sample designs before it is physically created.

Apart from that, 3D visualization includes 3D configurations, product animations, white background images, lifestyles background images etc, can also help with faster design decisions, approvals, production times, and marketing of fashion garments or accessories. You can also employ a professional company offering fashion products 3D modeling services for the same.

3D Printing

3D printing helps fashion businesses to create high-end personalized products by developing conceptual frameworks.

It was in 2011 when Iris van Herpen, a Dutch designer, launched 3D printed garments on the runway. Karl Lagerfeld, Chanel's ex-creative director, has also created gowns, dresses, and shoes using 3D printing technology.

Virtual Reality

3D-VR technologies can create unique customer experiences by engaging customers at a deeper level. These technologies facilitate the creation of simulated environments that promote customer interactions. This is how designers can take shoppers to locations where shoppers can try out items and experience the joy of real shopping in a virtual world.

Isn't it a really cool idea to be able to try on a virtual gown and find yourself in a luxurious castle or to sport a gorgeous swimsuit while seeing yourself on the Miami beach?

3D technology is definitely a futuristic idea in the fashion world. This would allow designers to gauge customer response and to sell their concepts even before they bring their products into the market. They can even launch new apparel using 3D printers and allow customers to get a glimpse of the latest creations through VR headsets.
How 3D Technology is Transforming Apparel Designs in the Fashion Industry?
There are five typical ways 3D product modeling impacts the fashion industry. When used appropriately, it can help in popularizing brands and bring profits with impactful product promotions.
If you are an apparel designer or an apparel marketing executive, here are the reasons why you may consider investing in 3D technology for your fashion apparel designs.
With 3D cloth modeling, you can sell clothes before you manufacture

You can actually sell a particular design even before giving it a physical form using clothes 3D modeling. Here's one example.

In 2018, Carlings, a Scandinavian retailer, introduced Neo-Ex, its first assortment of digital clothes. The collection included 19 pieces of clothing with a limited production run.

The store used digital fashion visualizations by using shoppers' photos to generate a feel as though people were really using the apparel. You would be surprised to know that the retailer was able to sell the entire collection within a week by leveraging multiple influencer-channels.

Another factor that makes apparel 3D modeling "cool" is its eco-friendly appeal. Research indicates that the fashion industry emits more carbon than what is emitted by the air and sea travels in a year.

Using 3D modeling services, fashion designers can gauge the demand for their products and manufacture the exact number of clothing products, thereby reducing carbon footprint and preventing excess utilization of energy.

Digital designs allow shoppers to understand if it is the right choice

Customers often fail to manage time to visit brick-and-mortar stores to try on apparel. With apparel 3D modeling services, prospective buyers can judge whether a certain clothing product would be suitable for them or not from the comfort of their homes.

The AR 3D modeling solution allows customers to virtually experiment with shoes, clothes, and accessories.

The only thing shoppers need to do is to upload their photos or videos in the app. Then, they can try out different apparel virtually and make choices accordingly.

We have also witnessed the introduction of the Interactive Mirror, a device that is a powerful amalgamation of augmented reality and RFID. Widely accepted by customers across the globe, the Interactive Mirror has proven to be a successful replacement for trial rooms.

With the Interactive Mirror, customers can skip the process of trying on clothes physically. The Interactive Mirror works by scanning the customer's body image as well as the images of their selected clothes. Then, it shows the customers how they would appear in their selected clothing.

This technology not only allows customers to skip the hassles of visiting brick-and-mortar stores to try out products but it also helps them to make prompt purchase decisions.

3D designing allow customers to personalize their apparel designs as per their liking

Apparel 3D modeling promotes design customization by allowing prospective customers to tailor the designs of their chosen garments in their own unique ways.

Research indicates that 75 percent of consumers want brands to approach them with personalized offers, messages, and experiences. Also, 94 percent of businesses confirm that personalization is the most effective strategy to create a loyal customer base.

The application of 3D technologies in apparel designing and marketing is definitely a modern step for today's businesses to create a deeper impact on their prospects. 3D product modeling allows customers to create their own styles and personalize their outfits.

The 3D product configurator is one such tool that allows customers to create apparel designs on their own through a combination of numbers, colors, names, or any other emblems. When the users complete their personalization work on their clothing, they can download the finalized design and place an order finally.

3D technologies allow for the creation of real outfits through 3D printers

You can use a 3D printer to accurately convert the 3D models of clothes and fashion accessories into their physical forms. The use of 3D printing technologies is quite limited in retail. However, it surely bears a huge potential for growth in the times to come.

3D-printed garments are found mainly on runways and not in retail outlets. The constantly evolving technology is used by several fashion designers, at present.

Renowned designer Dani Peleg used apparel 3D modeling and printing to produce her collections called "Liberty Leading the People" and the "Birth of Venus".

Like Peleg, other fashion designers also believe that 3D printing has a long way to go, and that we would soon see it as a mainstream technology to produce garments.

3D-enabled virtual reality solutions allow people to attend fashion shows from any location

The use of virtual reality has not yet gained strong momentum in the present-day fashion industry. However, it does have a huge potential for growth and widespread adoption given the fact that leading brands are using virtual reality to deliver unique fashion experience to their customers.

Tommy Hilfiger, Balenciaga, Rebecca Minkoff, and other leading brands have used VR headsets to allow their clients to enjoy the experience of attending fashion shows virtually. By using this VR device, fashion designers would be able to allow their clients to view their exhibits from any location across the world.

Interestingly, designer Minkoff makes use of the VR technology to examine product variations and the efficacy of store designs.

Designers can check their customers' responses to their latest creations by allowing them to view the digital designs. In this way, they can decide the designs they should be bringing into reality and save a lot of money that they would otherwise spend on product or store redesigning.
If you are looking for a reliable company that can help you with the product 3d rendering services, then reach ThePro3DStudio. We have a team of 3D product rendering experts and VR specialists who can work collaboratively to make the best use of 3D technology for your fashion clothing and accessories.
Contact Us