Web AR: How does it work?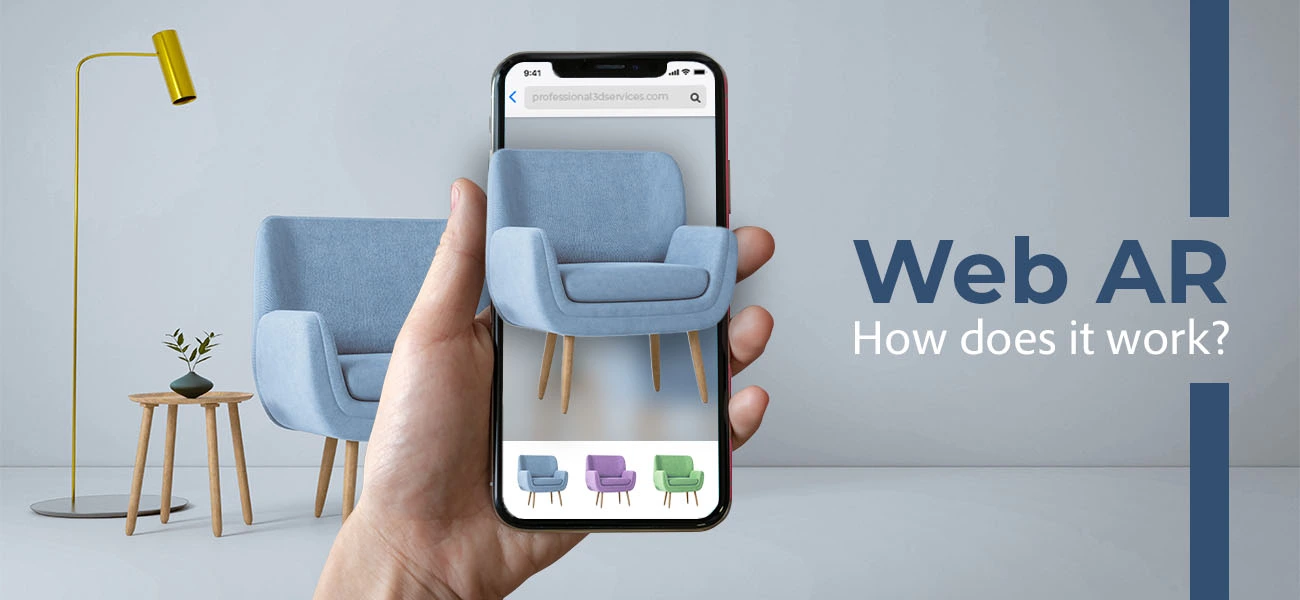 We all must have used Augmented Reality at least once and enjoyed it too. Many times, we must have had this question in mind, "How does augmented reality work?"
From the name itself, we can figure out that AR is something that actually "augments" or "adds to" the real world around us. This groundbreaking technology aims to enhance the viewing and hearing experience of the users by blending virtual objects (even music) with the real world.
AR can be used both through the browser (browser-based AR) and by downloading applications (app-based AR), and our today's topic under discussion is web-based augmented reality or AR in browser.
The easy accessibility of web augmented reality not only gives a seamless shopping experience to the users but is also a major growth contributor to the industries leveraging it. So without any further delay, let's dive into the main theme.
How does Web-based AR work?
The creation of Web AR was mainly aimed at making the technology accessible through any browser of the user's choice. So commonly, JavaScript is used in AR web development, which is compatible with major web browsers such as Google Chrome, Microsoft Edge, Mozilla, Safari, Opera, etc. Apart from this, web AR is also designed for old and dated handsets.
Using AR in the browser is easy. All you have to do is open the camera of your smartphone, and either scan a QR code or click on the link that is provided and you are all set! But the real game starts after this.
Induction of trigger to start the process

A trigger is induced as soon as you scan the QR code or click on the given URL. This trigger prompts the interaction between the AR content and the web browser and you enter the webpage.

Camera streaming

Immediately after entering the webpage, they ask for the camera access. Granting access to the camera starts preparing to blend the real scene with the virtual object. This is called "camera streaming".

3D scene and camera synchronization

When the camera turns on after granting access, the webpage activates the 3D modeled object that was previously inside it and starts adjusting it with the scene within the camera frame.

Six Degrees of Freedom (6DoF)

This is required to track the position and movement of the 3D object so as to make it fit into the real world scene of the camera frame.

The final result

After proper motion and position tracking, the 3D object (may be any object you are planning to buy, like a piece of furniture) is fit into the real scene to show you what you expected.
Note: The 3D models that are augmented in the real life scenes are stored and managed by the CMS or Content Management System of AR also called AR Cloud.
Web AR vs App AR
Web-based AR and app-based AR both have their own uses and fan-base but there is a key difference which still makes web-based AR a preferred choice.
For using an app-based AR, users have to download a dedicated application on their devices. Every software application requires a lot of hit and trial to improve and many times users have to answer questions on the features (which are for the developers to make improvements on the application) after using the app every time. Downloading an app uses a lot of space in the device's memory plus many find it "waste of time" to answer questions after using an app and skip them.
On the other hand, users don't have to go through these additional steps for using web-based AR. All they have to do is click on the link or the given QR code, allow camera access and enjoy! This enhances the user-experience and results in greater conversion rates. Users feel more connected to the brand, and even refer the name to their peers which manifests better reach as we all search for easy ways to get our job done.
Industries using web-based AR
Several industries make use of web AR in their business models for maximizing their profit margins. They are:
Fashion industry in modeling, designing and beauty products try on.
Medical Sector for research and learning.
Education sector for classroom teaching.
Manufacturing industry.
Defense training.
Entertainment industry.
To sum up
Web AR is an amazing advancement in AR technology which has helped many sectors market their products, train students and employees, make advancement in the medical field and so on.
3D modeling and 3D rendering deserve special recognition when it comes to using AR for marketing or shopping products. If you want to boost your brand name through custom made 3D product models on your website you just need to get hold of the right service providing 3D modeling for AR for you.
For giving the most engaging web AR experience to your prospects, always look for a 3D modeling company providing agency that can serve you end to end with all your web AR- based needs and will help you achieve your goals.
If you are thinking of converting your offline business to online that can use 3D models or web AR for marketing, we are just a click away!
Reach us anytime to get your quote!
Contact Us