14 Questions to Ask Before Hiring a 3D Design Firm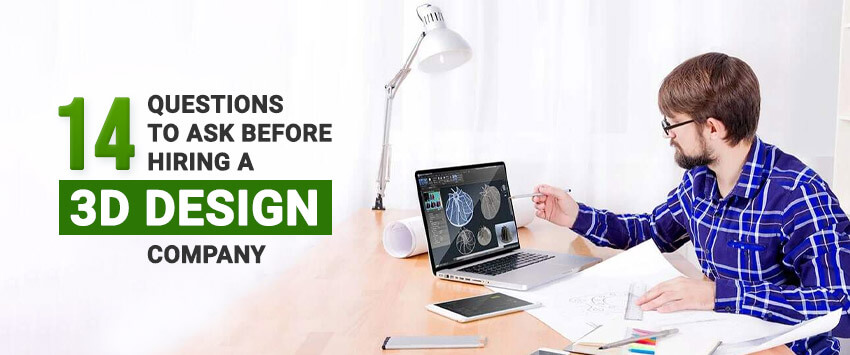 3D models are the best way to showcase your product stylishly with photo-realistic quality. 3D artists play a vital role in providing outstanding outcomes using the best software. They show all the specifications and minute details, highlighting the design and its distinctive benefits. 3D modeling can meet your expectations only if you choose the perfect 3D modeling service provider for your requirements.
You have to ensure that the provider can provide you with what is promised. Finding a dependable 3D modeling design service provider can be a daunting task. However, we will help you out with a few essential questions you could ask them and help you determine if it's suitable for your business.
Ask them if they have unhappy or unsatisfied clients

It's essential to know about their approach toward a project when something goes wrong. Understanding more about an unsatisfied client from a service provider can help you judge their problem dealing attitude.
These things will let you know whether they have learned from their previous experiences or are they going to make the same mistake in the future too.
You cannot always ensure a perfect relationship between a client and a business. Instead, you will have to understand whether problems are getting isolated or appropriately addressed.

Know more about their security policies

You need to ensure your data remains secure with the 3D design studio. Ask them if they agree to sign a non-disclosure agreement.
Are they going to keep all your proprietary materials safe following the standards of 3D modeling and other brand guidelines?

What are the 3D modeling design services provided?

Try to understand what type of custom 3D modeling services they can provide you and are they capable of bringing the best outcomes for you?
Research more about the company you are going to hire. Go through their portfolio and learn more about the case studies presented.
Don't just rely on the website details presented; instead, move ahead and start enquiring in your ways.

Ask about the specific things they did

Understand more about their approach towards each project by asking them about all the specific things they did.
Try to dig deep into their expertise by asking various questions about similar projects and their role.
Their answers will help you know more about their attitude and if they could meet all the expectations of the previous projects.

Discuss the communication process to be followed

Will there be a dedicated messaging system connected with the 3d services company? How will you discuss the changes, if any, in the project?
Know more about the channels through which the process will move on, and then decide whether to entrust your project to these people?
The ideal process is to have a single communication line to avoid miscommunication and project failure.

What's the number of people assigned to the project?

You can also confirm the number of artists required for a particular project. This will help you decide upon their capabilities to take up large-scale tasks.
Learn more about the flexibility and their idea of adding designers depending upon the project scope. This can build confidence in unexpected happenings.

Ask for work samples and references

A 3D company having years of expertise will have a robust portfolio of past projects to present their skills.
If they are ready to showcase their portfolio, they can also offer you the clients list, and you can use them as referrals. This will help you understand their level of expertise and decide whether they can meet your design expectations.

Are there any correction policies?

You need to think about the future and ask your service provider about the policies they have in place related to the design changes.
What will be their process if they need to tweak the design, and how much will it cost?

What are years of experience in the industry?

Research about how long this service provider serves the industry. Discuss all the specific techniques they are adopting to get through the competition.

What will the 3D Design model cost?

The answer to this question depends upon the scope of the project, its complexities, and the delivery time decided.
State your requirements and then ask them about the cost of the project.

How will they manage your project?

Learn more about the strategy they will be following to execute your project.
How will they manage your account? A detailed discussion about all these queries will quickly help you think about the outsourcing process.

What does your design process look like?

Designing is a creative process and varies from agency to agency.
Ask them questions related to their approach to the project. How will they move on with the project, and what will be the process they will follow?
Learn more about the previous 3D modeling project workflows and decide if the same will work for you.

Will they keep you updated on the project's progress?

To avoid misconceptions and unpleasant surprises, ask them about the workflow line.
How will the project progress be shared with you? Will it be through emails or any other means? Getting answers to all these questions will help you decide if to outsource the project or not.

What will be the turnaround time of the project?

Get an estimate of the time needed to complete the project. Are there any additional expenses for the revisions?
Find out whether you need to provide all the reference materials upfront. The turnaround time will be based on the complexities involved in the design.
However, you can get a rough idea to make a final decision and get a clearly defined time frame to avoid delays.
We can help you!
The best 3D modeling vendors who answers all these questions accurately will be reliable. Instead, they will explain all these things before you ask about them. This will give you more insights into their working system.
Get in touch now!