3D Modeling Project Process Workflow : Step-by-Step Guide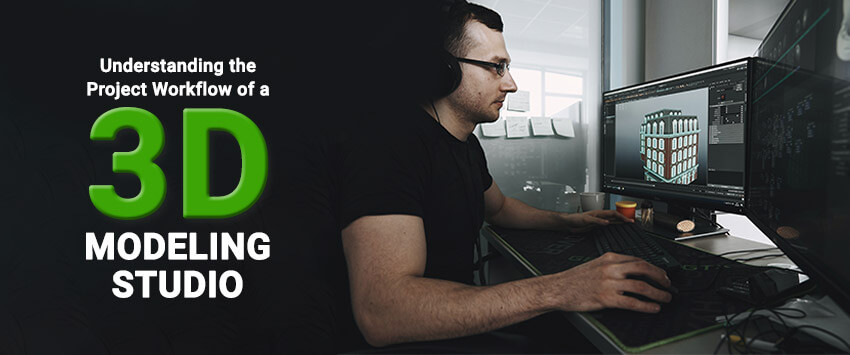 3D modeling has become an investment for most businesses today. It is a process that needs time, effort, and resources to deliver clients the best results. As a result, many businesses outsource their 3d modeling requirements for an effective solution.
The modeling studio has an in-house team that is proficient in using 3D technology. So, outsourcing to these types of studios is convenient and profitable.
3D Modeling Project Workflow: A 6-Step Process
Every company has its 3D modeling process steps organized, which works well for them. 3D design companies are no exception. Understanding workflow helps in good communication and cooperation between the client and company. It helps avoid unwanted delays due to any misunderstanding. No one wants to confront such an issue.
This article is all about how the workflow in a 3D design studio. It is a working guide that we use at the 3D modeling studio for good client communication.
Now, the company delivers the project to the client. The studio also offers visualization and product feature animations to customers. It is an area where 3D modelers excel.
Useful Link :14 Questions to Ask Before Hiring a 3D Design Firm
Which Industries Benefit From Outsourcing 3D Modeling Services?
Today, every industry has started realizing the potential of visualization with 3D modeling. We have provided a list of industries that use this modeling technique to witness growth.
Aeronautics and Aerospace

Use case: Prototyping and Visualization

Marketing and Advertising

Use case: Virtual Rendering

Automotive

Use case: Car Design

Retailers/Ecommerce

Use case: Retail Goods

Interior Design

Use case: Color, Texture

Gaming

Use case: Video games

Architects

Use case: Realistic visualizations of interiors and exteriors
Outsourcing 3D Modeling Services Checklist for Buyers
Are you planning to outsource 3D modeling services? The following checklist helps to find the best 3D modeling service providers in the market:
Portfolio check

The buyer can know about quality of the work samples and find out whether it aligns with their requirements.

Location and Working hours

Sometimes personal interaction might be necessary. So, check the time compatibility for better communication.

Experience

Here, the buyer can look at the number of years that the service provider has been operating. It is a good marker of the company's expertise.

Staff interaction

The buyer can know about the employees with whom they will be working and their skill level.

Pricing

The buyer can ask the vendor to provide a signed estimate of all the costs.

Delivery time

The vendor should provide the customer with a clear schedule of the project plan. It should also include the date of delivery.

ISO Quality Certifications

The buyer can go with a service provider who has a 9001 ISO certification. A company with this certification provides consistent services that meet international standards.

Guarantees

Make sure that the service contract encompasses guarantees for delivery, quality, and service.

Data Security

Make sure that the company takes extra measures to protect confidential data.
We hope that this comprehensive guide will help you understand the work process of a 3D design company. Are you yet to pick the right company that suits your modeling requirements? Give our 3D modeling services a try today, which will enhance your business growth.
Contact Us