An in-depth 3D Rendering Pricing Guide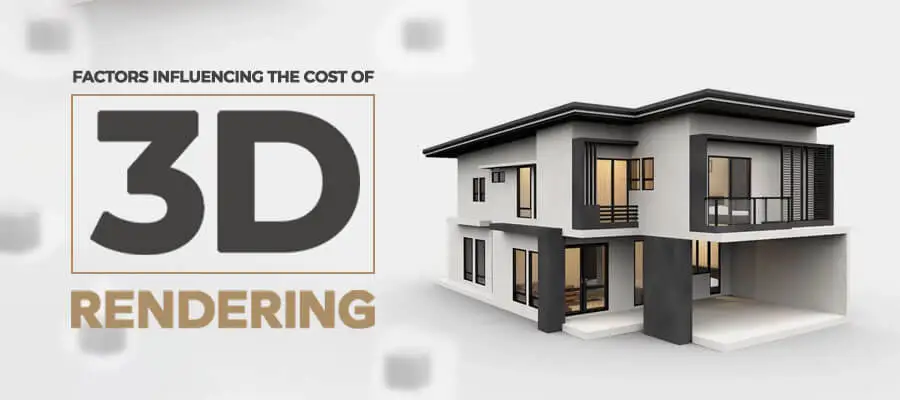 There's no doubt about the fact that 3D visualization allows companies to carry out an aggressive marketing strategy. Businesses are aware of the manifold benefits that 3D visualization brings, but what they are not aware of are the costs that are associated with 3D rendering.
Businesses do have the right to know how these rendering costs are charged. This 3D rendering prices can be charged based on the different design elements. On average, 3D rendering costs range starts around $30 to $80 USD per hour and $15 to $70 per image, based on the complexity and quality of the renders. This price might differ based on the output, whether the render is based on a white background, lifestyle background or 360 degree views.
Factors Influencing 3D Rendering Price In India
Views

3D Rendering allows a product or a space to be showcased from all angles. Each view is generated separately through a separate rendering process, which means additional efforts need to be put to generate multiple views of a subject. This, in turn, raises the cost. In other words, fewer views would mean lesser cost. So businesses need to decide on the number of views/renderings they want. If they have budget constraints, they can go for just a few renderings that would showcase the main views.

Detailing

The more the details specified by you in the design brief, the greater the 3D interior rendering price. If you want your service provider to add specific details in terms of textures or colors or if you share a lot of references, then you are more likely to be charged on the higher side. Businesses that demand more in terms of detailing will have a higher expectation and they will have to bear additional expenses. This is mainly due to the fact that 3D artists would have to give greater effort to meet their clients' expectations and to include minute details.

Revisions

The number of revisions that you would look for would also increase the price. The greater the number of corrections that your service provider will do the greater would be the price. Since corrections are an integral part of 3D rendering, you should ask your service provider about the number of revisions that they would include in your package. Any correction that goes beyond this limit would be charged separately and you should be ready to bear the expenses.

Style

Every indoor space has its own style that demands a different level of designing effort. For instance, if you need Scandinavian-styled decors to be created, then this would involve the inclusion of simple details, which, in turn, would reduce the 3D rendering cost. On the other hand, if you ask for Baroque-styled interior renders, your designer will need to include intricately-detailed components such as ornamental and luxurious décor and uniquely-designed furniture. This involves greater effort and so the cost is higher.

Resolution

What type of 3D renders are you looking for? 3D animation? Virtual tours? Or just 3D images? The first two types of 3D renders are costlier than static images because they demand more effort and involvement of 3D professionals who need to make several renders in order to create engaging virtual tours. Secondly, the image resolution also has an impact on the 3D rendering cost per hour. Full HD is the standard 3D interior resolution, but you can ask for outcomes in different resolutions for use in diverse media such as magazines, and posters as well as on different online platforms. Images with higher resolution are priced higher.

Project Size

If you agree to enter into a long-term partnership with a company providing photorealistic rendering services, you can get considerable discounts. This is possible if your project is large or if you are giving orders to the same company repeatedly.

Specialties

If you want every element of the design to be customized as per your preferences, your 3D professional would need to create everything from scratch, which, in turn, would increase the 3D rendering pricing. Alternatively, if you agree to use ready-made 3D models from a database maintained by your service provider, your costs will go down. Texture-complexity is another factor that influences 3D rendering cost. If you want interior design components to have rare textures that are not readily available in your service provider's library, then the textures would need to be created from scratch, which would increase the cost. The higher the complexity of the project, the higher would be the time needed to spend in creating them and consequently, the higher would be the price.

Deadline

Timelines have a major impact on the price of 3D rendering. You will be offered a standard price if you do not impose tight deadlines on your service provider. However, if you need to rush, 3D artists would need to spend extra time on your project, work overnight, or even work during the weekend. This would eventually contribute to a higher rendering cost.

The number of design elements

The 3D rendering cost per hour would increase as the number of design elements that need to be created. The complexity of the elements also plays a major role too. If your 3D designer needs to work on a greater number of décor and furniture items, he will charge you more.
What you need to note that every project is unique and so every project has a different price. Your project specifications would determine the price and so no service provider would be able to give you a ballpark figure.
Here are a few key things that you should remember while asking about pricing from professional 3D rendering companies :
This industry does not have standard pricing. So you should not commit to a service provider that gives you a fixed rate without learning about your project specifications.
You should give all details to a product rendering company in order to get the exact price.
You should avoid being misled by companies that offer cheaper rates. Question them if you have a doubt or check their previous records.
You should check the standard of customer service that this company provides. You should not settle down with a company that does not value customer service.
Useful Link :14 Questions to Ask Before Hiring a 3D Design Firm
We, at ThePro3DStudio, support the 3D designing needs of businesses and professionals across the world. We provide customized quotes for all 3D visualization solutions that we offer, ensuring that our clients pay for what they actually need. If you have a requirement, we are ready to give you a hand. Call us today for a quote.
Contact Us