How Amazon Product 3D Rendered Images Help to Improve Conversions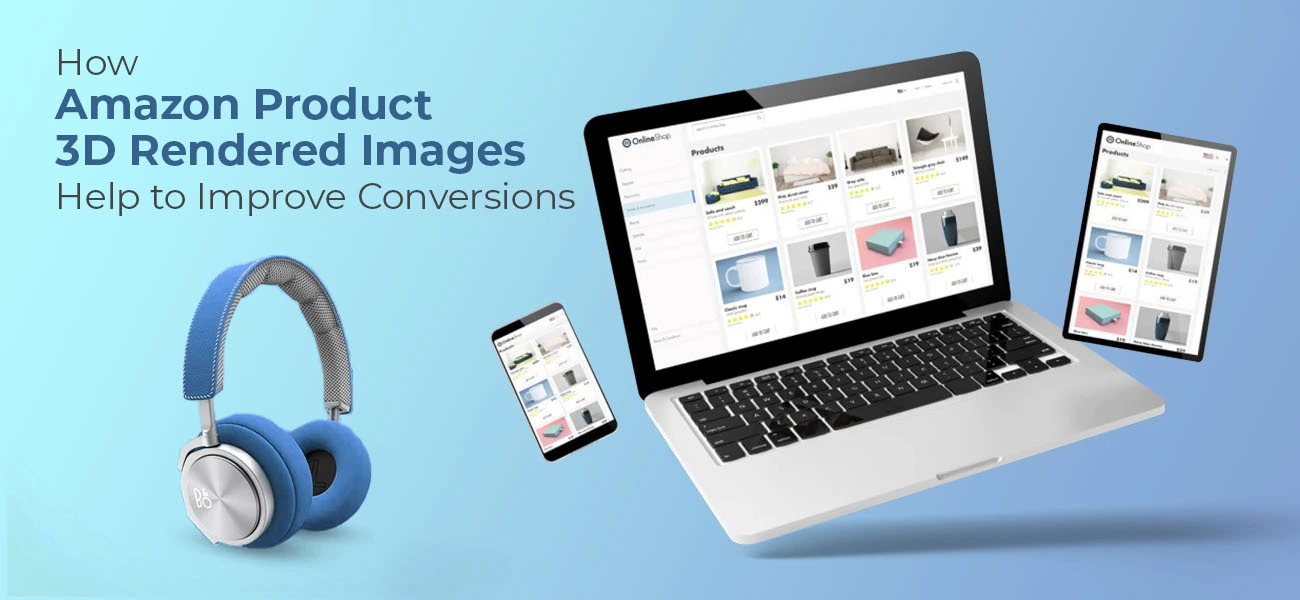 Selling products on Amazon, the giant eCommerce platform with a 37.8% global online commerce market share, has become tougher than it was a couple of years ago. Due to the tough competition from millions of eCommerce stores, making your product listings stand out can be daunting. This is probably one of the primary reasons behind the mass adoption and stupendous popularity of 3D rendering.
3D rendered product images are the latest trend among Amazon sellers owing to the high conversion rate these images yield. These are simply amazing tools that can be produced faster, draw more attention, convey the product details in a clear and precise manner, and make the product listing stand out.
In this article, let's take a look at how 3D rendered images can help improve Amazon sales and conversions. Let's start!
How do product 3D images improve Amazon conversions?
Most customers prefer to view a rendered product photo to get better clarity and make more informed choice. This is certainly because of the flawless lighting and captivating presentation of the renders, which give the products a competitive edge and are highly appealing.
Let's check out the multiple ways product 3D images help to improve Amazon conversions!
3D renderings offer interactive 360-degree views

With 360° product viewers, customers can rotate and turn 3D product images to get further clarity of the products from every possible angle and view, which is not possible with flat 2D images.

Photorealistic 3D product designs with white background

More eCommerce platforms prefer to showcase products against a white background to give the entire focus to the product itself. Product images rendered against a clean, white background look more polished and professional, showcasing the design specifics./p>

Such neutral backgrounds are ideal for products like furniture, electronic gadgets, and apparel, demonstrating all the minute details without causing any distraction to the environment.

Interaction with products using augmented reality

The advent of AR and its implementation in online commerce have drastically transformed the way businesses are done. With AR-ready 3D product models, potential customers can virtually spin, touch, and see the product within their environment, among other things. More than 60% of customers tend to buy a product after viewing it in AR.

These amazing features have already been a popular tool for most reputed brands and eCommerce platforms such as Shopify, IKEA, Nike, etc.

3D rendering showcases product design variations

Not just turning and rotating the products for a better view, online shoppers can also customize products based on certain features, such as color, materials, fabric, texture, model, and more. and see how the final product will look, and then place their order.

Usually, for furniture, apparel, and eyewear, such configurators are ideal. This helps the product design team tailor the final product based on feedback directly from the customers, eventually lowering the rate of returns.

3D Images helps to demonstrate the benefits of a product

3D rendered images can depict the benefits, key features, and USPs of a product with more clarity than traditional 2D images can. Buyers can view the depth, angles, alignments, and most importantly, precise perspectives, replicating the product with higher realism. Thus, consumers get much more detailed information to make a data-driven purchase decision.

3D models helps to improve customer online experience

With all the significant functionalities 3D product rendering entail, it is no wonder that buyers get a more immersive and interactive purchase experience, replicating in-store shopping. The more engaging their online experience is, the higher is the chances of them returning and recommending to others.

3D renders can evoke emotions

3D rendered images, especially lifestyle shots have an amazing ability to set the mood and evoke powerful emotions. Photorealistic renderings help create the desired ambience and atmosphere with flawless warm lighting, familiar home environment, aesthetic presentation of contextual details, and so on.

These artistic depictions make the online shoppers feel tempted and confident about the product and help them understand how it will make their lives better.

Showcasing of a 3D product with high-resolution details

The best part of any product images rendered with a specialized 3D software showcase the product features in high resolution owing to the high-quality renders. The more the rendering quality, higher is the resolution.

Expert 3D services and solutions providing agencies perform the utmost high-end rendering process that generates high-definition, professional product images, ideal for any eCommerce platform.

3D product packaging highlights key product features

Photorealistic 3D packaging designs are ideal for attracting customers and highlighting the product from any angle. Mainly for electronic gadgets and children's toys, such kinds of packaging embellished with 3D elements create a bigger impact. Instead of displaying multiple 2D photos of the product from various angles in the packaging design, rendering it serves the purpose to a great extent, skyrocketing the conversions.

Useful Article : A Comprehensive Guide For Cosmetics Packaging Design

Virtual elements that enhance shopping experience

There are several interactive visual elements in 3D rendered images that create a sense of realism in the audience, making them feel the products as if they are tangible. This barrier between virtuality and reality gets faded with the immersive elements the rendered product images portray, thus enhancing shopping experience and boosting conversion.
Can 3D rendered product images be used for Amazon listing?
There's no doubt about the fact that Amazon asks for an originally photographed picture of the product for the main image slot. But the additional images can be "images that are information rich and showing the exact features of the product".
You can very well photograph the product to comply with the main image slot requirements. But given the number of benefits of 3D product rendering, why not use 3D rendered product images for the additional image slots for Amazon listing?
As a seller, you would logically like to sell a variety of items. Photographing one single product from different angles and editing each of them in itself is a costly affair. Now imagine the cost you will have to bear for all the products you are trying to list and highlight on the platform. The cost of photographing each of the products will be massive!
But 3D models in that place, once created, can be rotated to any angle at any degree! You can get precise 3D rendered product images from any angle you wish, segregate them as per the categories, and display the images on the Amazon marketplace.
Why is it necessary to partner with 3D design professionals?
We have just discussed in the previous section about using 3D product images for Amazon but without misleading the buyers. You can also try it, but you must be careful when choosing the partner.
Amazon is very particular about giving its buyers the best buying experience and making it a reliant name globally. For this, they take appropriate measures too. Abiding by the exact image standards is a mandate to be one of the Amazon sellers.
An overly done 3D product model can immensely mislead the buyers as it won't represent the actual product on sale. While a poorly 3D-rendered product would not even intrigue the buyers to look at the product images, let alone buy them.
So, professional 3D product design services are unmatched to make you the most sought-after seller on Amazon! Their state-of-the-art services knows exactly what sells on eCommerce websites. They can create accurate product imageries ensuring maximum compatibility with the rules and regulations listed by the leading eCommerce marketplaces. Using high-end software, cutting-edge technologies, and of course utilizing their industry-expertise, these skilled photo editing professionals can create images truly optimized for product listings.
Bonus idea: Every Detail Page in the Amazon store requires at least one product image, and Amazon recommends sellers provide six images and one video. This one video could be a 360-degree view of the product, which can be easily achieved through 360 degree product modeling solutions.
Final words!
If you have reached until this point, hope by now you have got a fair idea about how 3D product rendered images boost sales in Amazon. Well, probably due to these reasons more and more eCommerce brands are leveraging 3D services for their promotional and product listing activities.
If you also fall in the same league of eCommerce business, contact 3D rendering service providers who can develop stunning product renders and augment your listings.
Contact Us