3D Product Renders vs. Traditional Photography: Differences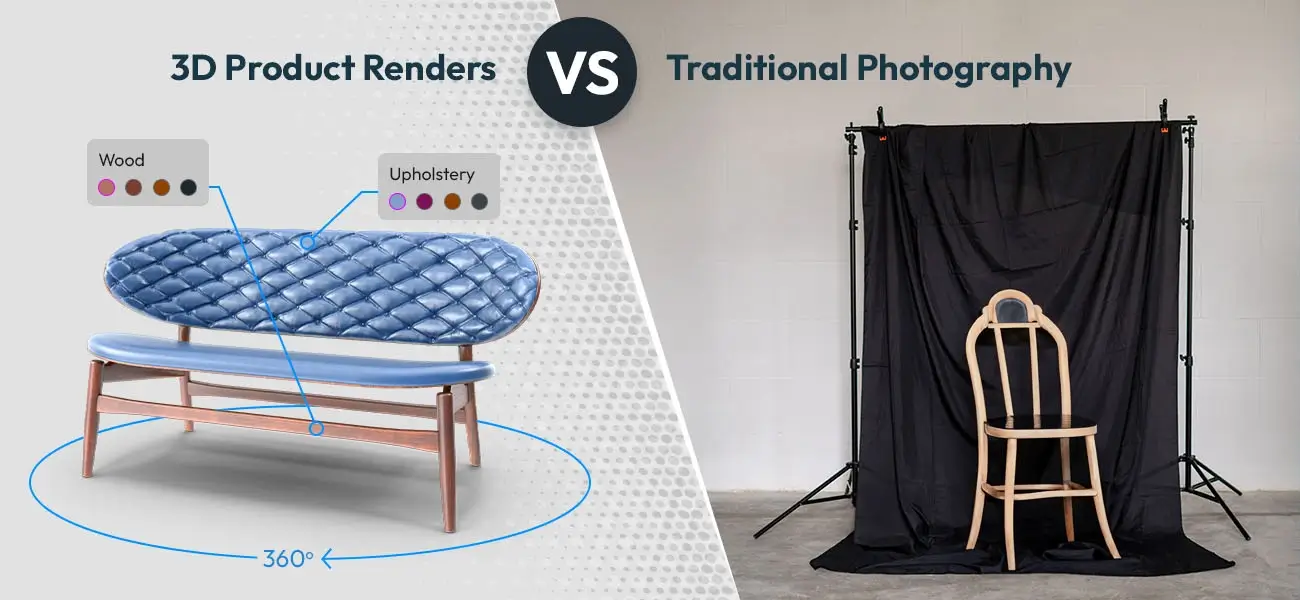 Are you an eCommerce marketer or a rookie product brand start-up owner pondering whether to continue with traditional product photography or leverage 3D rendering? Regardless of your profile, this article is for you. Keep scrolling!
High-quality visuals are a staple for eCommerce, especially for all digital marketing activities. Engaging visuals have a more profound impact on prospects than texts, given that the average online shopper reads only 20% of a website but checks 80% of the images. Also, consumers these days find high-quality visuals handier for grasping information than lengthy product copies.
Checkout this visual marketing statistics report from crowdriff to know the importance of showcasing high-quality product images.
That said, we can very well say the sales and conversion rate for any product depend upon how engaging the images are and in what way are they unique from the other brands. With the advent of 3D designs and rendering, more and more marketers are keen on utilizing technology for impactful product promotion.
So which one is your best bet? Read this blog till the end and decide for yourself. Here, we shall cover the fundamental differences between 3D product rendering and 2D photography and what benefits the former has over the latter. Let's begin!
What is the difference between product 3D renders and traditional photos?
Considering that humans can process visuals 60,000X faster than texts, graphics and images are the most potent marketing tools for any sector. That's the reason why more and more brands are investing so much in eye-catching brand visuals, collateral, product images, as well as product videos.
But, once again, the question remains how does 3D rendering differ from professional photography. Let's check some of these fundamental differences now.
Production time

The first and foremost advantage that 3D-rendered visuals have over photographs is the time taken for the 3D renders to get done. Usually, marketers have urgency in launching their products, thereby tightening the production deadline. In such cases, hiring professional 3D artists is the best idea as they can quickly create digital models on high-end software and render the files at high speed, thus saving time.

Traditional photography is not just a time-consuming process involving a lot of workforce, logistics, props, and much more, but it is also expensive.

Creative limitations

Marketers no longer have to limit their creativity while promoting products. All you need is a creative eye, aesthetic vision, and an advanced 3D rendering software to create highly detailed and photorealistic rendered images. Whether or not the lighting is proper or whether the product has been manufactured, doesn't matter in 3D designs.

Whereas conventional product photoshoots require the actual product prototype, lighting has to be flawless, geographic barriers can pose challenges, and so on.

Marketing activities

With product photos rendered in 3D, marketers can showcase and promote their indigenous products much before the manufacturing while it is still in the development phase. This is excellent for brand owners; especially luxury car manufacturers, apparel designers and so on, to create hype, communicate ideas, and raise interest among the target audience about their products.

Product features and details showcasing

2D photographs fail to capture the accurate details of a product, such as depth, alignments, measurements and proportions, etc. High-detailed rendered images created by 3D professionals give multi-angle, 360° views of a product, such as furniture or electronic gadgets, or generate virtual tours or walkthroughs for real estate that help prospective buyers make more informed purchase decisions.

That said, 3D-rendered product visuals boost Amazon listings substantially owing to the exact details the images display.

Editing Flexibility

3D renderings are quick and easy to retouch, refurbish, and make adjustments to without any major production costs. You may change the angles or views as often as you want and at any point without doing anything from scratch. 3D rendering technology can adjust, add different types of backgrounds or entirely redecorate the ambience even after the renders are done.

With photographs, however, making customizations are more challenging and time-consuming. Although several photo editing tools are available online, editing and retouching require precision and expertise. If any changes are required to be done in the development stage, the photo shoot needs to be done once again, with the final version involving extra costs.

Product showcasing with lifestyle and conceptual backgrounds

Another practical area where 3D designs and renderings win the game is unlimited lifestyle shots and conceptual presentations. Professional 3D designers are experts in generating 3D lifestyle renders that showcase products within lifestyle scenes. They are also skilled in creating white background renderings preferred by most eCommerce platforms.

Such CG images effectively display the products' features and USPs, depict how they would complement the real-life environment of the prospective buyers, and lower the rate of returns.

Doing the same thing with traditional photographs incurs a significant amount of expenditure, added workforce and resources, as well as limited scope of further customizations.
Useful Article : Different Types of Backgrounds Used for 3D Product Rendering
Which is best for eCommerce marketers: 3D rendering or traditional photography?
So if you are debating between the two, hope by now, you know the verdict quite well. While there are many ardent supporters of 2D photography for their products, the current wave is leaning towards 3D product visualization. More and more brands are hiring professional 3D rendering companies and offshoring their 3D product rendering service requirements to the experts.
Useful Article : Top Benefits of Outsourcing 3D Services
Hence, with more flexibility and convenience of iterations, faster production time, ease of customization and unlimited creative cope, 3D renders are the best solution for eCommerce marketers. For those who want to make their mark and stand out from the crowd, 3D images surely give them a competitive advantage.
Parting thoughts!
As mentioned, product photoshoots are still a standard in businesses, and many brand owners shy away from adapting 3D design visualizations. But that is primarily because of the myth that 3D rendering prices are high.
So make use of 3D rendering, AR views and 360° product showcase and virtual tours, and engage your customers on a deeper level. Allow them to configure the products in real-time with product configurators and make more informed purchases.
Contact Us