Ways to Speed Up Your 3D Furniture Design Process Workflow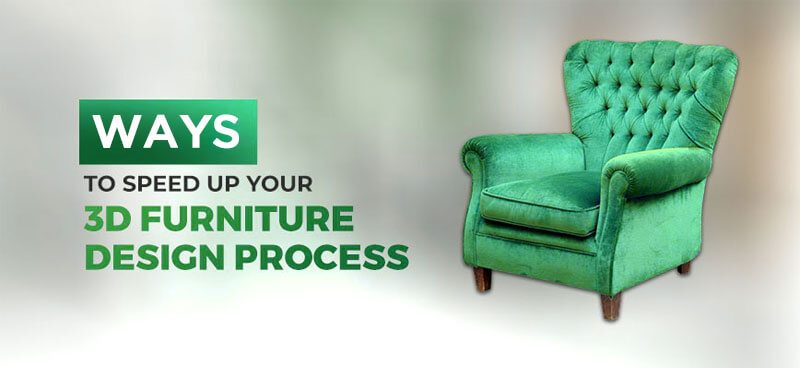 3D furniture modeling is a great tool when it comes to prototyping, brand promoting , and achieving high e-commerce sales. It keeps you one step ahead of the competition and is more efficient than the traditional photography technique. The process usually involved in virtual furniture prototyping is the creation of a virtual representation of the product with the help of a specialized 3D furniture modeling software. It will result in the development of life-like furniture 3D visuals, thereby acting as the most viable tool for attracting customers.
The stages of furniture rendering may differ depending upon the business requirements, but the general workflow remains almost the same as below.
Stage 1: Work Scope and Quotation

It is the first stage for the business where it determines how much to quote for the services based on the plan, design sketches, and average time frames.

Many factors may affect the cost of the project and may include:

100% finished output - Exact finish matches may be possible only with exact textual patterns. In some cases, this has to be developed from the available reference images.
Detailed Backgrounds - White background 3D rendering would be much more cost-effective than doing it on complicated decor.
Lookalike 3D models - Once again, it is more cost effective to render many furniture pieces from the same collection rather than from several collections.This helps in streamlining the 3D modelling process.

Stage 2: Project Details

If the customer agrees with the quotation, then the next immediate step would be to reveal the project details which may include plans, interior designs from the existing samples, or even from scratch.

Stage 3: Create 3D models

3D models act as the core of furniture rendering and are completely dependent on polygon faces. Once the skeleton is ready, the next step would be to work on the background.

Several questions to ask before the development process :

1. Are the reference files updated?
Ensure to update the latest design file from which the 3D model will be created.

2. Are the files free of junk information?
Delete all the unnecessary information from the files so that unwanted elements can be waived off and time consumption can also be reduced.

3. Are there any additional requirements that are not included in the source file?
In some cases, the project files may not have sufficient information. Ensure that it is also included in the final output.

Stage 4: Design 3D Scenes

Once the 3D furniture model is ready, improvise it with different colors, lights, patterns, etc. to make it better, and then initiate the rendering process.

3 main steps :

Import 3D models into scenes and start placing objects to proceed to final 3D rendering.
UV mapping and material creation: Through UV mapping, the furniture 3D design software uses the texture to render the final output. It is inclusive of texture scaling, grain directions, and more.
Test Rendering: With the help of digital lights and simulated cameras, test rendering will be performed for feedback collection, and low-resolution images will be developed.

Stage 5: Animation

This is a completely optional stage and is implemented only based on the project and end-user requirements.

Stage 6: Post-Production

This is the final delivery stage where the client receives the fully rendered images or videos for approval.
How to Speed up Your Project Workflow?
Usually the time taken to complete a 3D modeling project is faster than the traditional photography. However, the process of completion may stretch further due to various other factors. It will then cast a negative impression about you or your company in the minds of your potential customers. To overcome this, and make sure that the project is completed within the committed deadline, you can take certain steps to influence the turnaround time of the project.
Here are 10 tried and tested ways you can try implementing to get your 3D product renderings and models at a faster pace.
Develop a Proper Design Concept

To make sure that your 3D product rendering garners the desired response from the customers, you must have a clear idea about the type of furniture design you are working on before the project starts. Also, ensure to utilize the best CAD software for your furniture designs.

You can first start by carrying out thorough research on the different marketing segments, respective competitors and their products, and your targeted audience. Apart from this, you can also refer to the online library of CAD models and various furniture projects showcasing their product images. Based on that, you can design a concept in a fast and constructive way. You don't even have to start the whole designing process from scratch.

Clearly Understand the Technical Details

Lack of understanding of technical details can also result in extending the completion time of your 3D furniture modeling project. It is crucial to get a proper idea of the technical details, including the product dimension, material, layout, etc. for the smooth running and completion of your project.

By implementing the correct parameters in the furniture product development software, it is much easier to build CAD models without including any complexities. It will showcase the precise details and features of the object, which will eliminate the need for major corrections and can be used in the later stage of furniture virtual prototyping.

Start with Creating the 3D Furniture Prototype

After the CAD scale models are ready, the next step is to start developing the 3D prototypes of furniture. These are experimental models that can be utilized to find any overlooked imperfections and fix them before the product reaches final approval.

However, with the help of CAD modeling, you can make the validation process much faster and smoother. Later, the CAD model can be used either for virtual prototyping or 3D printing process. The former will inspect the product with the help of VR technology while cutting down the manufacturing cost. On the other hand, the latter is a 3D rapid prototyping process which will lead to faster production of models in large quantity and will also help in saving both cost and time.

Use References for Decoration and Lighting

Another method that CGI specialists use for the faster production of models is using precise references for lighting and decoration objects. The main reason for using it is because imagining and creating details for the projects would take time, and there is no guarantee that you will get the results as per your expectations. It will further result in halting the progress of your project, which will lead to extending the deadlines and dissatisfying the customers.

On the contrary, if you use relevant modular furniture, i.e., pre-made or ready-made models for the decor, lighting, and scene, then it will help in minimizing the turnaround time. Besides, it is less expensive, saves space, offers a modern look, and can be installed and dismantled within a short span of time.

Avoid Using Too Many POVs

Usually, businesses tend to take pictures of their products from all possible angles. It enables potential buyers to get the complete 3D furniture visualization. However, while creating furniture 3D models for online business, using too many POVs is not a good option as it won't be necessary. Besides, it would also take more time to create 3D models for each angle.

To avoid this, you can go with a cost and time-effective option by selecting a few shots, maybe around 3-5 that are showcasing the best angles of the product. In this way, the workload will be reduced, and CGI specialists can work on it to produce outcomes within a few days.

Use Pre-rendered 3D Models for Scenes and Décor

Using pre-rendered 3D models is one of the best strategies to save time and money for the 3D modelers. Besides, reusing the ready-made digital scenes and decors by incorporating a few tweaks can provide a new look to your interiors and exteriors.

One way to get the premade sets and props is by outsourcing 3D furniture rendering services. These companies mostly provide free access to their interior furniture design library that consists of various 3D scenes and decorations which can be chosen by the clients. So, choose the desired 3D rendered furniture according to your budget and needs and provide them with the required instructions. They will surely be of help.

Go for Standard Package Options for Premade

While hiring a 3D modeling studio, it is better to check for the different service options they provide. Also, check with them whether they can provide the premade sets within the discussed timeframe or not.

While browsing the different package options, go for the standard ones depending on the type of decor, size, image resolution, or complexity you want. Besides, it is easier and faster to redo a preset rather than creating a custom one from scratch. Once you order the packages, you will get to know how long the modeling terms will last.

Create 3D Models With Simple Backgrounds

If you are running short of time, there is no need to be fancy with the product 3D model and try to keep it plain and simple. Most of the time, these products are used for prototyping or promotional purposes. In that case, you can choose the time-effective option, i.e., going for white backgrounds instead of the complex ones. It won't even cost you more and will help in speeding up your project completion time.

Useful Article : Different types of 3D lifestyle images for furniture marketing

Go for a Quick Test Before Launching the Product

Product testing should be done if you don't want your effort to be wasted in the later stages. This quick step will help to decide which design option works best for your project and what should be upgraded.

There are two methods of conducting the test. The first one involves your production team to get a logical review of the product. The second one involves the real users, i.e., the targeted group to learn their emotional point of view about your product.
By implementing the above methods, you can effectively decrease the turnaround time of your project while improving the design quality of your product 3D models.
Why 3D Furniture Designing is Gaining Importance in the AEC Industry?
Over the last few years, the technologically sound customers wish to see the complete furniture design, look, and finish prior to placing an order. It led to an increase in demand for the 3D modeling process in the respective industry. Apart from that, the architecture, engineering, and construction domain has also reaped numerous benefits by utilizing the 3D technology to create 3D models of furniture for covering a variety of projects according to the needs of their customer.
Besides, another advantage of 3D furniture design is that it can be used for developing the prototype of any product, whether it is an ergonomic cupboard, coffee table, chair, storage compartment, luxury jacuzzi, or any other thing that you can ever imagine. You can also display your collection of furniture models in a variety of colors and styles. However, the only thing you need to learn is how to make effective use of 3D furniture design software to create outputs as per your needs. Once you master the art of carrying out the 3D design process with the right implementation of 3D modeling software, then no one can stop you from achieving outstanding results.
With the help of 3D furniture modeling and rendering, you can save both time and money by creating 3D models of your furniture as per the given instructions of customers. In that way, excessive products won't be created in the 3D design process, thereby saving you from the unnecessary expenses which might have occurred. You can provide them with a preview of how your 3D furniture products would look with their property interiors and positively influence their buying decision.
Using 3D furniture modeling will also help in reducing the efforts of rework. You can create one-time visuals and reuse it for addressing the similar project demands of the customers. Besides, offering them with a multitude of choices and options will satisfy their needs to their heart's content. The use of 3D furniture models will also aid in marketing and promotional campaigns to reach numerous clients and customers with the help of social media shares, flyer distribution, sending emails, etc.
Try using these techniques to get faster results and satisfy the needs of your customers. It will not just accelerate the speed of your furniture design process, but will also take your business to a whole new level.
Moreover, by employing the 3D furniture modeling services, you will get photorealistic 3D visualizations for your furniture. Also, while choosing the software, make sure to go through every tiny bit of information to find the best one.
And if you need any help speeding up your workflow further, feel free to let us know. We have experts on our team who can impart in-depth knowledge regarding boosting your efficiency and productivity in the 3D furniture design process.
Contact Us