How Does 3D Modeling Create an Impact on Furniture Industry?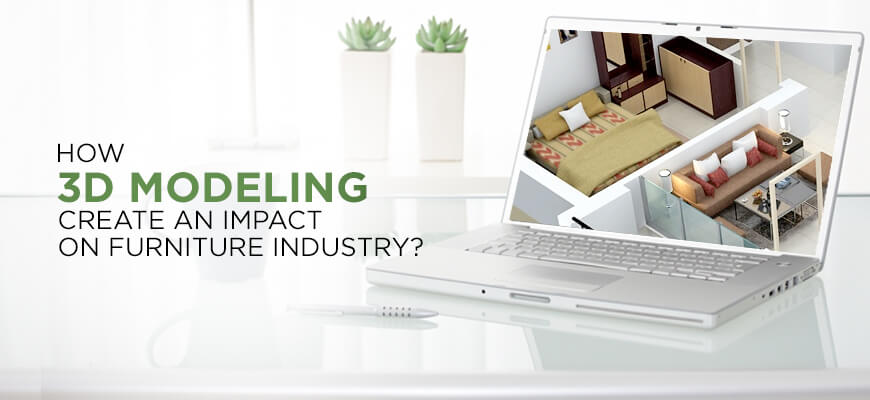 3D modeling technology is providing various benefits to the furniture industry today. It has also become a significant and inseparable part of the multi-level offering this process brings to both online and offline businesses today.
From experimenting to create new furniture designs using the fusion process to saving the manufacturing cost and streamlining the business process, using 3D modeling makes everything possible.
Why is 3D Modeling Important in the Furniture Industry?
Creates Fusion Modular Furniture

One of the reasons why 3D furniture modeling is in demand is because the software allows the creation of uncountable design options within minutes by combining parts of various pieces of furniture to create a beautiful and modular piece, for example, an ottoman base fused with a chaise's reclining feature.

You can create fusion modular furniture from literally every type like ottoman, two-seaters, chaise, daybed, reclining lounges, chairs, sofa etc.

3D furniture modeling services have enabled the production of exquisite furniture whose modularity stands out due to the amalgamation of best and classy parts from various 3D models.

Distinctive elements are culled from different products and assembled together to create striking modular furniture.

Innumerable Usage Options

Modular furniture is an amalgamation of distinct components carefully chosen from different furniture styles. 3D modeling software allows transformation of apparently simple and mundane looking pieces into attractive designs by tweaking the combinations in a classy manner.

You can get a high ottoman converted into a table by modulating the seating part, for example. Distinctive sections can be designed for couches, lounges, sofas, chaises etc. The arm, corner, left, right or extension parts of the furniture can be fine-tuned for spectacular results.

Low Maintenance Cost

Modular furniture can sustain structural abnormalities like conventional counterparts. No product can last a lifetime despite being accorded the best care. Wear and tear would inevitably surface.

But with modular furniture, the advantage is that you need not have to replace the complete structure but only the damaged parts. This brings down the replacement cost significantly.

Further, maintenance cost also becomes low for those models which have contemporary designs and removable sections.

Useful Article : 10 Factors Affecting the Price of 3D Furniture Modeling

Easy Stock Management

In the case of physical furniture, maintaining an inventory of different designs can be a cumbersome task due to space constraints.

Whereas with 3D modular designs, this is not the case as a complete portfolio can be easily maintained on computer disks. Whether it is busy or ideal seasons, customers can choose from an amazing variety of modular furniture designs and your business would also grow commendably.

3D Models Affects Buying Decision

Another major advantage of 3D modeling is that it inspires the customers to make up their mind for the furniture they are fond of and want to buy but can't decide. 3D models give a complete view and realistic feel that looks like the furniture is there in front of them physically.

Streamlines the Production Process

Using 3D modeling, you can streamline your production process. How? By using various 3d modeling software you can rework on the designs multiple times without actual production involved, only the final version is sent for the same. This is how you can streamline your production process.

Useful Article : 7 Stages of 3D Furniture Visualization Process

Keeps Your Marketing Strategies in Line

With 3D modeling you can get the most of your marketing activities no matter if you are preparing a festival or offer based emailer, or planning to go for google ads, or planning any BTL activity. These visually appealing designs can always keep you and your marketing strategies up.
Benefits of Furniture 3D Models for Various Purposes
Promotional Purpose

3D furniture design caters instantly to the demand of the sales division for high resolution pictures for printing catalogs or related promotional content. 3D modeling allows creation of different lifestyle shots with significant ease. The fastest to develop is product shot which is inexpensive but needs careful retouching to heighten the appeal of the image. The costlier lifestyles usually take some time to develop as they have to be projected in the backdrop of various interior themes to highlight the accentuating effect of the furniture. Different 3D modeling techniques  allow for the creation of exceptional and compelling images for outstanding outcomes. Normal designs can be created swiftly using polygon models and the depth of detailing depends on the number of polygons used. For comprehensive and alluring designs, 3D sculpting technique has to be used which needs due diligence on the part of qualified professionals. The detailing is immaculate but the production process is time intensive and costly.

Useful article : 7 Effective Furniture Marketing Campaign Ideas to Boost Sales

Interactive Media

Whenever a modern modular furniture design is launched, it has to be touted through media. You have to facilitate clients in viewing the design from different perspectives. This calls for the development of 3D models which can be rotated and interacted. 3D furniture models are integrated in a Virtual Reality environment for creating awesome presentations where clients can enjoy stunning, real-life experience in appraising the product. Further, through Augmented Reality mode, you can empower clients to understand how the modular product would complement their unique environmental needs.

Useful Resource : What Are the Benefits of AR in the Furniture Retail Industry?

Ecommerce

With the penetration of mobile handhelds among all demographic and socio-graphic strata of society and plummeting internet prices, e-commerce is commanding equal respect as conventional brick and mortar shops. To become successful, sites have to display high-resolution visuals for all products being sold. Here also product shots and lifestyles have a dominating role to play in advertisements. In order to live up to the expectations of well-informed and educated clients, you need to present modular furniture in various perspectives on the site. This would allow them to be viewed by zooming in and through a 360-degree rotation.

Prototype Testing

Simulated versions or prototype designing is a costly proposition where chances of returns on investment are not assured. With 3D computer graphics, you don't have to develop physical prototypes but can accomplish the task through 3D furniture modeling for marketing. Superlative 3D models can be deployed in social media and other platforms to understand the acceptability of the same among intended customers. 3D NURBS shells can be optimally deployed by a marketing division to gauge the reception quotient among prospective clients. The inexpensive models can be produced swiftly and multiple numbers of corrections can be done until perfection is achieved.
Conclusion
Now that you have a complete idea of what are the benefits of introducing 3D modeling to your furniture business, it is now easy to choose this technology as a part of your venture to give it a new level in terms of profit and brand image development.
This is why there are innumerable 3D modeling service providers available in the market to level up your manufacturing and marketing game.
Superlative 3D furniture images would be available within the lowest turnaround time. Outsource your 3D furniture modeling services now!
Contact Us