Top 8 Reasons to Use 3D Printed Furniture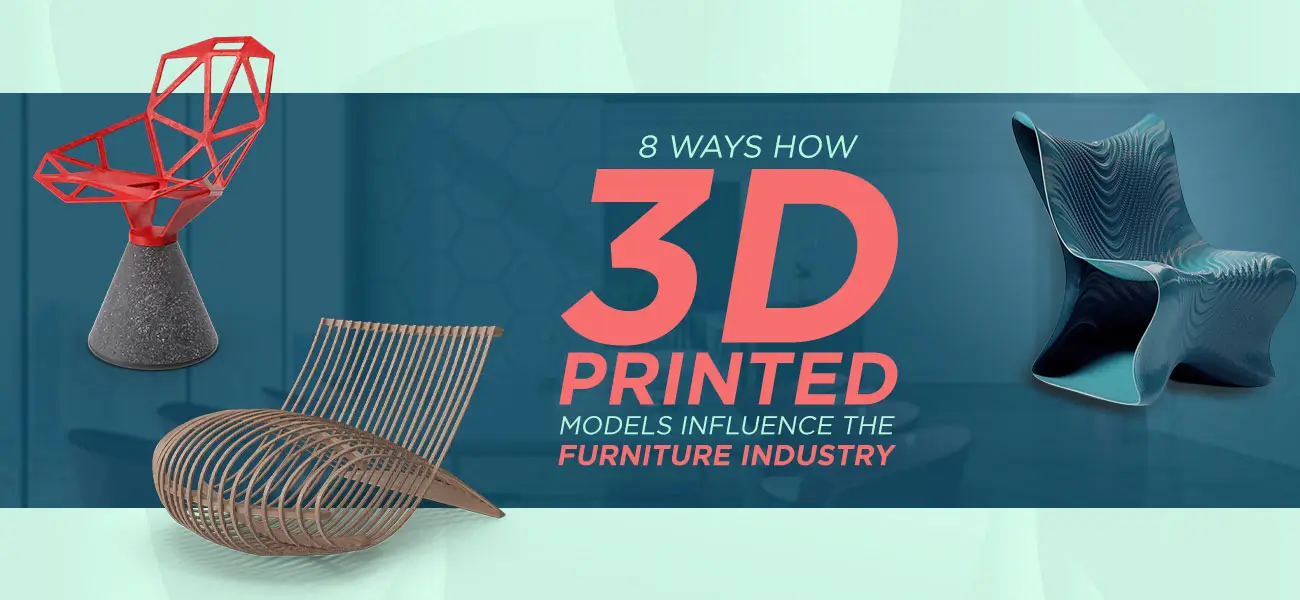 Glimpses of 3D print modeling are present in new-age ergonomic furniture and furnishing, and so on. The possibilities are also endless with 3D-printed models.
So, today let's take a plunge into the world of 3D printing and how 3D printed models have taken the furniture industry by storm. Stick with us; it's going to be a gripping ride!
What are the Benefits of 3D Printed Furniture Models?
The technology has crossed well beyond healthcare, aerospace, defense, real estate, etc., and we can see quirky furniture designers trying their hands at minimal, futuristic furniture designs by modeling them first in a 3D printer.
The utilities of these printed models are vast, keeping up with the ever-evolving tastes of modern consumers for both domestic and commercial purposes. Viewing a 3D image of furniture items is a better buying experience for them. Tables, chairs, couches, lamps, decorative lights, dressers, beds, ottomans - rough drawings and designs of many of these items are transformed into 3D printed models with utmost quality.
Check out why these models have become so integral to the furniture manufacturing market.
3D printed models give higher customization flexibility

3D print-ready models are developed on 3D printers with the help of advanced 3D printing software. The entire process is executed virtually, leaving enough room for frequent design upgrades.

This customization flexibility in the printed models makes them the best go-to choice for furniture manufacturers. Aside from chairs and tables, decorative items such as vases can also be printed as 3D models.

Furniture 3D models can be given futuristic shape

Talk about futuristic, minimalist shapes; think 3D-printed models. Whether a couch, a reading table, a wardrobe, or a mere dresser, 3D models printed in high-definition 3D furniture design software have a touch of abstractness about them.

For example, Housely, founded by Nathaniel Berman, flaunts some of the most quirky-looking, futuristic furniture 3D printed designs for the domestic realm.

Or like Drawn, the French luxury furniture-making brand that took a bent towards 3D print models for their decorative items.

Turnaround time is faster with 3D printed models

Considering additive manufacturing is a software-oriented process and not much of traditional machinery or manual interventions, the time taken to print the models are faster.

CAD program designers avail themselves of cutting-edge tools that make the process rapid. Thus, furniture brands that cater to the urban target audience, who usually have less time to spend, prefer 3D print furniture prototypes.

3D modeling furniture designs are minimal and lightweight

Anything made with 3D printers is generally lightweight and contains less amount of body-mass compared to items created out of heavy materials.

Which is why 3D printed toys for children, DIY kids chairs, amusement rides in parks, or 3D printed benches for public display, as done in one of their campaigns by The New Raw, a Rotterdam-based 3D design studio, are all real things now!

Owing to this 'less-heavy' factor, digitally printed models not just look aesthetically pleasing, but are also ergonomic, satisfying modern consumers and home buyers.

Less production wastage with 3D printed models

"Additive Manufacturing" or "Additive Layer Manufacturing" (ALM), as the name suggests, implies a specific industrial production process that adds to the layers.

Contrary to the traditional subtractive manufacturing process, where solid blocks of wood or other material are cut away or chiseled to create a furniture item, ALM builds one layer at a time. Thus, one can imagine how much waste the traditional method produces : wooden splinters, chips of raw wood, sawdust, wood shavings, other materials, are etc.

This is drastically reduced in 3D printing; even after thousands the models are created, there won't be substantial wastage.

Related Article : How does 3D printing help reduce environmental waste?

3D printed furniture prototypes can detect potential design flaws

3D prototyping of furniture goods gives the manufacturer a competitive advantage by enabling a myriad of test modes for the product. Potential design flaws or functional errors can be detected during these model test phases, which can be fixed right away without straining the production budget.

Only after thorough quality checks do the digitally generated three-dimensional models appear so detailed and intricate.

3D printed models ensure higher ROI and lower production cost

The latest CAD modeling tools can analyze the design before the printing process and accurately calculate how much material is required to build each layer or component of a furniture part.

This is a great boon for manufacturers, who can get a nearly perfect idea of the material's quantity, as well as plan their budget accordingly. The lesser the material quantity, the lower the production cost.

Furthermore, parts of a 3D furniture design can be reused or recycled whenever needed; that creates an efficient inventory too.

Furniture models printed in 3D are more sustainable

Although 3D printed models are lightweight, as mentioned above, a furniture 3D model is undoubtedly high in strength and tensility.

The materials used in the 3D printers vary from Polylactic acid, Polyvinyl Alcohol Plastic (PVA), Polycarbonate (PC), Nylon powders, high-detailed resins, metal dust, carbon fibers, etc. All these materials make the models highly tensile and sustainable.

Moreover, the implementation of "Lattice Structures" (engineering structures) also makes the models immensely strong yet surprisingly light-weight.
Top 4 other mainstream industries that utilize 3D printed models
With the phenomenal upgradations in the CAD software-generated models, these components are increasingly accepted in more technical industries, viz., defense, aerospace, education, medical and healthcare, and many other applications.
Education
Medical
Defense
Architecture
Detailed article : Applications of 3D printing technology in various industries
Wrapping everything up!
If you've reached to this part, you've done great! By now, I hope you've got a fair understanding of what kinds of benefits and positive impacts 3D printed models have on the furniture manufacturing industry and how they can further transform it. These models have become a reliable alternative to traditional marketing pitches, product catalogs, brochures, and the like.
We can just hope for many other advances in the overall 3D printing and additive manufacturing technology, or will there be something more powerful to replace it. For example, the tech realm is already seeing the implementation of the "Laser cutting" method that cuts out shapes and models by using high-powered laser beams.
Until then, let's focus on 3D print models and how expert agencies offering stellar 3D print design services can usually develop print-ready 3D models for businesses worldwide. Get yourself in touch with such a team, enquire about their furniture modeling costs today, and take your business one notch up!
Contact Us