Interior Design Trends 2022 That Have Become Obsolete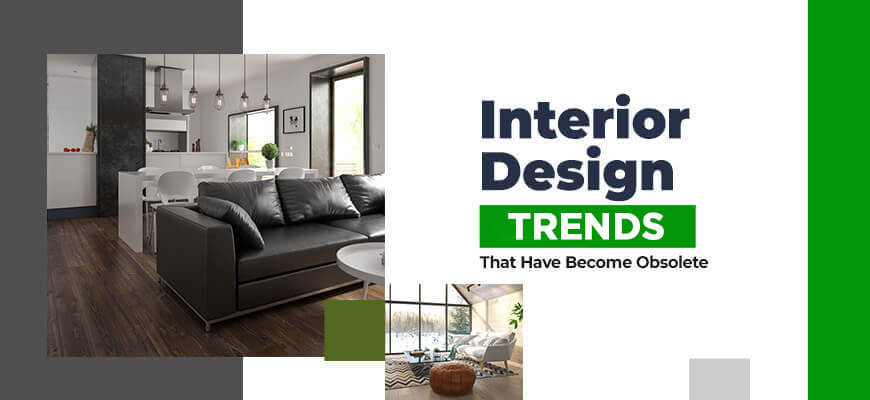 Interior design trends are assuming new makeovers every year. As a new year starts, new trends emerge and old trends perish and people set new design goals so as to get their lives refreshed in some way. A part of this initiative is people's interest in getting their homes redesigned so as to keep their homes up-to-date as per the current design trends. However, this may be a really challenging task given the fact that trends keep on changing continuously. Are you facing a similar situation?
This article covers facts on interior design trends 2022. In this article, we would guide you on how you can stay current with respect to your design trends. These guidelines are not just about understanding the latest trends, but also about identifying the styles that have become obsolete. Let's take a look at the key design trends that are dominating 2022.
Interior Design Trends That Have Become Obsolete
Grey is no longer complimented with grey

Grey colors kept on dominating the interior design concepts throughout the 2010-2019 phase. In fact, the use of grey became widely prevalent as the time passed and soon a time came when interior designers started using an entire palette of diverse grey shades and combine different shades of grey to create contrasts. When 2022, we observed a sudden rise in people's interest for warmer shades. This year, the use of rich colors is gaining popularity and gray shades are getting more and more side-tracked. While it is not possible to predict the exact color trends, but it can definitely be anticipated that warm, bright colors are here to stay. This trend is further reinforced with designers claiming that neutral colors are now outdated. This obviously includes grey and other shades that do not add to any visual appeal. So if you want to replace the grey color in your walls or eliminate the grey sofa from your living room, you are probably taking a great step.

Lesser space would now be categorized as 'single purpose'

Open floor plan ideas were very much common in 2019. New homes as well as redesigned homes included open floor spaces. This type of design was particularly seen in combined spaces that accommodated living rooms and kitchens together. This trend is expected to continue even in the near future and this would include the addition of multi-purpose spaces as well.

Gone are the days in which designers used to attach a lot of value with formality. No wonder why, back then, most homes featured single-use sections. However today, people are looking to make their indoor spaces more functional and fit for multiple uses. Back then, spaces were used to demonstrate class and richness and this often resulted in the creation of luxury yet useless spaces. Home offices can be cited as a classic example of multi-use spaces. Such spaces can be used as media rooms, guest rooms, reading rooms, and basement gyms.

Accent walls are no longer in demand

The use of wallpapers became popular since the beginning of 2010. It is quite interesting to note that Gucci and other leading design brands started creating their own wallpapers. Wallpapers are still in use to a significant extent even today and we can anticipate that wallpapers would still remain in active use in the coming days. However, wallpapers are no longer used to complement accent walls, which appeared as pieces of art on a wall. Accent walls add personal touches to every home. We forecast that homeowners would choose to cover up the walls in all their rooms with wallpapers. They may also choose to get their walls repainted with warmer shades.

The focus would be more on instilling a 100% genuine look

In the past, designers focused on creating spaces that looked perfect from all aspects. The spaces had to be clean, properly organized, and spotless. These designs demand high level of maintenance and often prove to be costly. People often avoid visiting such neatly-decorated homes where everything seems to be placed in the perfect order. Items get their own unique character due to the presence of dents and scratches in them. This makes homeowners feel relaxed as they know that they do not have precious items that may get damaged. They can even decorate their homes with used items that are still functional and they do not need to feel nervous or conscious before using any item.

Industrial design is now extinct

A decade back, multiple industrial design elements were applied in several concepts. Such elements never dominated any theme, but they actually gave birth to several things. With the passage of years, however, designers reduced the use of industrial design elements and today, homeowners are preferring interiors that appear safe and have a nurturing essence. It's all about creating a sense of warmth and so designers are choosing to instill a vintage appeal through the use of cozy objects and warm shades. The modern indoor spaces are much more functional and a bit packed compared to the designs of the past, which featured large metal components, dark shades, and big spaces that had no functionality.

The modern designs feature objects in free form shapes

In the past, designers increasingly used shapes such as circles, rectangles, and arches. In modern times, people are embracing curved shapes to a large extent. While arches were quite popular a few years back, they have been abandoned by designers of the modern times. Today, the interior design industry is making use of free form shapes to a large extent. Today, homeowners want to instill a unique appeal in their homes and they don't want to restrict their design ideas to certain shapes.

Minimalism is the new style

Previously, designers chose to pack spaces with a lot of design elements that often appeared as a heavy-duty makeover or an over-do. There was the use of too many objects of décor and fixtures, which often looked like clutters. Today, the focus is on making spaces functional and aesthetically-appealing by including minimal design elements. In fact, minimalism is the key design concept for most modern interior designers.

There's an increase in the use of natural elements

The trend to use artificial plants or finishes is over. There's an increased emphasis on quality rather than on quantity. Today, homeowners are preferring natural plants over mass manufacturing objects that ultimately add to the junk. This amounts to giving spaces a definite purpose. This also instills an authentic feel that is valued a lot. People want to feel the essence of real objects rather than simulations. The faux décor trend is extinct now, but it has still left some of its elements that are still used today. You will definitely find faux décor to a certain extent as part of a larger design concept.

Traditional dining concept is losing ground

Dining tables have been used traditionally as a vital element of home décor. However, today family members rarely dine with each other and prefer individuality above everything else. Today, low-height tables are used more compared to traditional dining tables. Such tables are placed in front of TVS so that people can enjoy their food while watching their favorite shows. Meal times are no longer characterized by their formal appeal. Today, dining is all about creating a cozy atmosphere where people can sit and enjoy the moment.

Use of neon lights is over

Neon lights were once very popular. In the past, neon lights were used in different shapes, colors, and sizes. These lights were found in apartments, offices, bars, etc. However, today, they are considered as useless and rather annoying. They look cool in images, but in real life, they disturb the senses. Today, lamps, classic chandeliers, and LED lights have replaced them.

3D visualization is used to showcase interior design styles

Today's interior designers are using professional 3D interior rendering services to create 3D virtual tours and photorealistic renders of indoor spaces so as to allow prospective homebuyers to find out if a particular home would suit their lifestyle needs and if they are satisfied with the design elements. They can even request for design and material changes and the same can be reflected through alterations in the 3D designs. The use of 3D visualization technologies has promoted the implementation of innovative interior decorative ideas, which in turn has contributed to the growth of the industry. Even architects are using 3D house plans to show case interior and exterior design of a property in a detailed and professional manner.
Bonus Read : 6 Styles of Modern Interior Design for Your Lifestyle Images
So these were some of the important interior design trends that we are observing this year. But of course, you may have your own taste and may want to create your own unique style. Let us know if you have a unique design idea. We would be happy to hear from you and share our inputs further.
Contact Us