Provided 3D Design Services to an Antique Furniture Seller Based in Chicago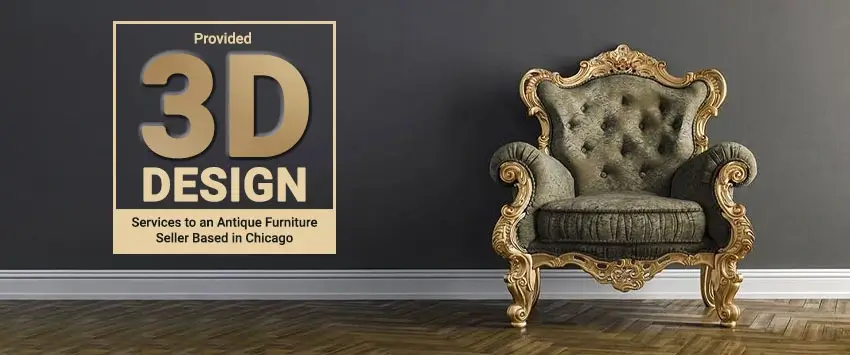 Project Brief and Client details
We were contacted by a Furniture seller based in Chicago, the USA, which deals in beautiful and antique hotel furniture. After a successful offline venture, they now wanted to grow online, and for that, they were planning to launch a website. They wanted to grow their business on the online front, and for that, they searched for professional furniture 3d modeling services provider to help showcase their furniture models online.
They reached us on a recommendation by one of our clients but with a strict timeline as they were due for the website launch. Hence they were searching for a 3D design company that could deliver uber class output quickly.
The Project Challenges
They had very little knowledge of the online business, which is why they wanted a service provider who could understand their pain points and help them boost their online presence with their product designs.
They also informed us that it was the first time they were going online, so they had no idea of the online market trends and customer preferences. We had to work on that part too.
Apart from this, they also wanted us to help them with our 3d rendering services to get the full and final design ready to be used for cataloging.
Also, they had very limited time left for the whole cataloging process along with the website launch.
Our Solution
We had a detailed discussion with the client and tried to understand their knowledge of the online platform. We had a clear idea of what grounds we had to work on and how to race against time. We provided 3D furniture rendering solutions to every pain point of our client in the most streamlined way-
We researched the types of businesses present in the market with a similar product lines and how they cater to their customers.
According to that research, we briefed our 3D designers on what grounds they have to work, keeping in mind the customer preferences.
We also focused on creating designs in such a way that matches international standards.
We also showcased every element of the furniture to make it look attractive and to lure the customer into buying it.
With a strict deadline, we designed and rendered to the best of our abilities and delivered the output in the given time.
The Process We Follow for 3D Furniture Designing
We work in the most professional way to deliver the highest quality output. We followed a step-by-step process, including-
Step 1: We formed a team of subject matter experts as per their expertise in various fields in the 3D designing and rendering process.
Step 2: One part of the team was dedicated to researching the market trends and preferences of the customers to get done the kind of design required.
Step 3: Once we had the research work in hand, we started working accordingly to get the best output that ran on the online platform.
Step 4: We worked on the design and rendering parts to get the best output.
Step 5: Our 3D design artists worked on all the client's pain points, and the result turned out to be some of the most beautiful online designs.
Step 6: Our team also ensured the colors, shades, and filters were used correctly to give the designs the most natural look.
Step 7: Once the designs were ready; multiple quality checks were done internally.
Once all the procedures were followed, we shared the first output with the client, and then after receiving a nod from them, we shared the files most securely.
The Result
Our project delivery in the given timeframe helped our client a lot as they could launch their website on time with all the cataloging and in a full-fledged manner. They also used our designs for their marketing activities, which proved fruitful for their business and boosted their online presence.
Our research on the subject was on point and was reflected in the designs and captivated many prospects. The client was fully satisfied with our work, and they called it a 'Beautiful Artwork.'
ThePro3DStudio is a well-known name on the global industry front, and we specialize in furniture 3D design services.
With years of experience and lot of successful projects, we are among the most professional 3D rendering service providers. We have earned a global clientele's trust, which is keeping us going.
Get a free Quote!