Provided Product 3D Models for an US-based Home Enhancement Product Manufacturing Company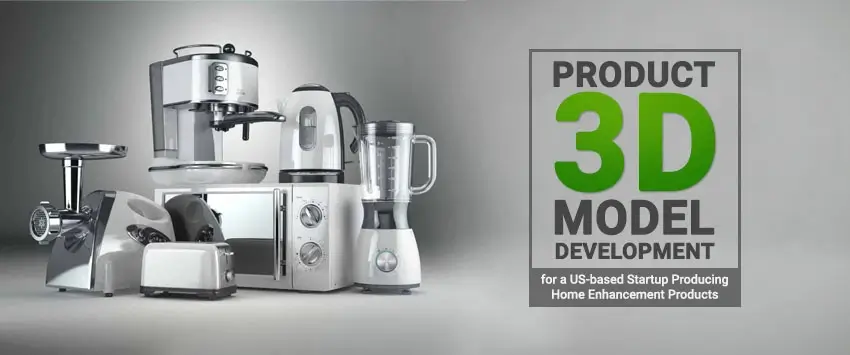 Client Requirements
A startup, based in US manufacturing various types of home enhancement products such as kitchen appliances, home décor objects, bathroom accessories, etc. approached us for 3D design support. The company hired our 3D modeling services and wanted us to design high-quality 3D models of these products with its overall objective being brand identity creation via both online and offline channels. ThePro3DStudio team was asked to focus on key specifications and to make sure that 3D model for every home product met the international standard for quality.
Challenges
The first and foremost challenge that we faced was the diversity of designs. From bathroom fittings of diverse types to kitchen accessories of various kinds to objects of décor of various genres, we were asked to develop 3D designs of so many different types of products and utilities. This initially led to confusion as to which team should handle what part of these tasks. The main dilemma centered around whether we should create different teams that would handle different group of product 3D models or we should allow every designer to work on every piece at every stage of the design workflow. The second challenge was deadline. The client had a strict deadline in place; which meant that we should quickly align our resources. Thirdly, the company, being a startup, had budget constraint because of which there were a lot of negotiations and late project sign-up.
ThePro3DStudio Approach
Even though the project got initiated after several rounds of negotiations and we missed few days from the project timeframe, we quickly formed separate teams for each individual product line. For example, one team worked on models of bathroom accessories, another team developed 3D models of kitchen appliances whereas other teams developed 3D designs of other types of products including home décor items. This led to the specialization of efforts, which ultimately contributed to the creation of high-quality designs within the shortest possible time. We sent interim updates to the client on a daily basis to ensure that we were proceeding in the right direction. This promoted the delivery of the outcomes within the promised timeline. In order to meet the deadline, we even mobilized a number of key resources from other teams, thereby creating stronger teams that can deliver projects in the most efficient manner. We offered the client the best rates in the industry, which allowed him to stick to his project budget.
Impact
Our reasonably priced home enhancement product 3D design services charges allowed the client to earn a high return on their investments. The 3D models of home products developed by our teams were of superior quality and our client could use them confidently to promote their ecommerce products as well as to create hard copies of brochures, flyers, and catalogs. The addition of 3D imagery strengthened their marketing collateral, which in turn translated into a good growth in their profits. Our on-time project delivery allowed them to enter their niche market early and gain a competitive edge over their competition. Today, they are one of our most loyal clients who has been trusting us with manifold projects.
Do you have a similar requirement? Talk to us now for a no-obligation quote.