Provided Unique 3D Product Model Designs to an UK-based Electronic Appliance Manufacturer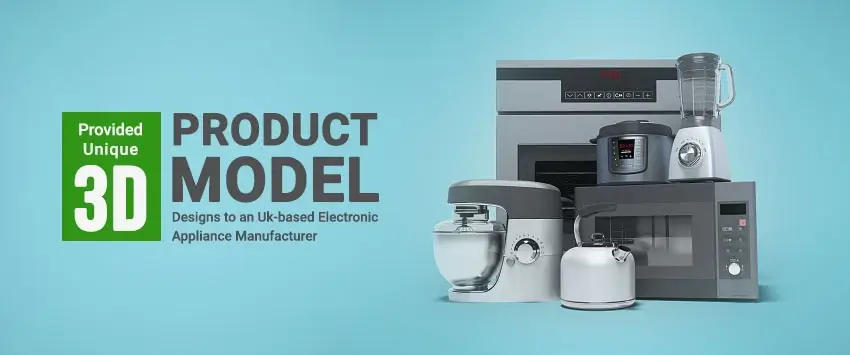 Client Profile
The patron is a large manufacturer of electronic products in the UK, and his company manufactured high-end consumer goods, such as ovens, refrigerators, electric kettles, and more. The company hired our 3D design services for their next product launch.
Project Requirements
The company sent us a few reference images that reflected their design objectives. It was their first 3D project, so they wanted us to add our 3D product design and development ideas. They requested prototypes before going real-time. Their client base consisted of affluent customers, so they expected high-standard designs.
Challenges ThePro3DStudio faced
The clients were short of time and wanted prototypes on the next day of their specification submission. After the approval of the prototype, they wanted us to deliver 150 model designs within a period of 4-5 days. Also, apart from the shortage of time, we had to face some other challenges like
Their models had intricate designs. So, we had to organize an experienced team to work round the clock with no room for errors and reworks.
They had many offline and online marketing channels. So, they want the design formats to work well on all platforms.
This client needed electronic product models to override competitors.
The client had budget constraints for this project. So, we had to choose and work on cost-effective and efficient technical resources.
Trial Phase
Normally, clients want quality assurance before the project gets started. That's why provided them with our previous work samples. Besides, we also offered a free trial to show that they don't have to worry as their project is in the good hands of a reputed 3D product modeling company. After the completion of the trial phase, the client was satisfied with our quality.
The trial work they sent us consisted of 3 product images that required the A-Z of the work process.
We had the trial work done by the best 3D experts in our company. The time provided for the trial work was 4 hours. However, we completed it much earlier.
Signing the Work Contract and Starting-off the project
The client, satisfied with our trial 3D models, hired our electronic devices 3D design services. The deadline was short, but the need was for high-quality results. So, we allotted the work only to experts. We also deployed advanced 3D modeling software to complete the product design for delivery.
We usually adhered to a 3-step proven strategy for all our 3D modeling projects. Finally, after the completion of the design and development, our QA team tested the design models. After QA, the 3D models were ready for delivery. As a reliable company offering products 3D design services, we always ensure that our design, development, and quality analysis are carried out using cutting-edge resources.
Results
As we had assigned individual teams for each process, we could finish the project on time. We also completed the work as per their specifications without compromising on quality.
The clients expressed their satisfaction as our product designs meet their expectations.
Our product models helped the clients to save on manufacturing costs. They were able to produce goods that were both elegant and efficient. With these models, they were able to market their products better than before.
As a result, they saw increased sales at their online and retail showrooms. It helped them establish themselves as a reputed manufacturer in the country. Now, they are a regular client who outsource 3D visualization services to us.
Partner With ThePro3DStudio to Get Reliable 3D Product Visualization Services.
For decades, we have adopted a client-centric approach that kept our clients satisfied. We don't compromise on quality and customer service for any of our projects. In turn, it has made us the most preferred partner for many to date.
We committed ourselves to deliver the best for our clients, which is why our patrons believe us and partner with us for our reliable 3D product rendering services. We promise them to provide the best results for trusting us as their partner.
Need product models for your eCommerce or retail store? Call our 24*7 customer service or fill in the form on our website to get a no-obligation quote today.