Offered Bathroom Fixtures 3D Textured Models for a Manufacturing Firm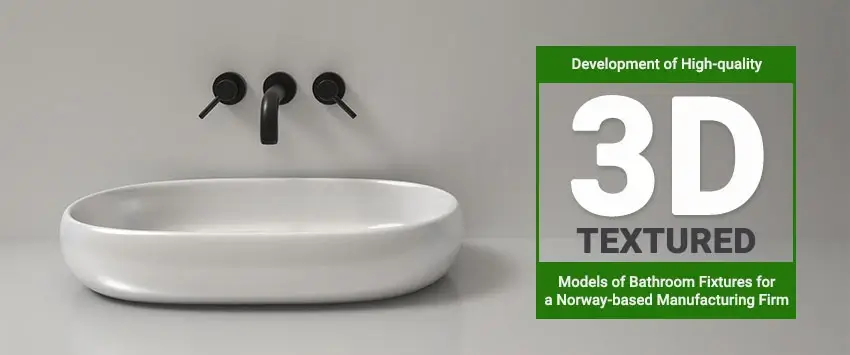 About the client
The client is a reputed Norway-based manufacturer of bathroom fixtures such as taps, shower systems, and thermostatic taps. The company is noted for producing products that are not just durable, cost-effective, and energy-efficient, but are also aesthetically-appealing.
The client asked ThePro3DStudio team to create silo renders having appropriate backgrounds, lifestyle imageries showcasing diverse concepts, and product 3D models that can be used on AR apps. The objective of the client was to create an awe-inspiring product catalog for its brand new product-line. The client wanted the product rendering solutions to be suitable for use in flashy product magazines.
Challenges
The client demanded total accuracy and extraordinary quality and wanted 300 product 3D models to be delivered within a span of 20 days. By the time this project was signed up, all of our 3D product modelers were engaged in a long-term project assigned to us by one of our long-term clients.
The demand for high-end models and delivery within a shorter turnaround time made things difficult for the team to meet project objectives. The client restricted the 3D modeling budget too with an attempt to check the quality and the speed of service delivery before committing to a larger scope of work. The client wanted unique 3D product images that had no common features. For silo renders, the client asked for minimalistic backgrounds and even white backgrounds.
The solution
We kick started the project after the scope was finalized. We created a team of senior and relatively less-experienced 3D artists. We have asked some of our senior managers to involve themselves in the delivery. The client sent us images of the products for which they want 3D models to be created in order to give us a reference material.
The CG imageries were created on the basis of the mood boards that the client shared with us. Our 3D artists created 3D renderings of the company's products by using advanced 3D rendering software. They applied appropriate textures and created product renders that looked as realistic as the original products. The 3D assets created by the team were then combined with photorealistic backgrounds so as to create different 3D lifestyle imageries and detailed product visualizations.
The 3D designers made sure to create 3D interior scenes as per the bathroom designs featured in the references. The 3D artists carefully placed the models against the backdrops while ensuring the use of natural lighting and the best possible camera angles. We created product renders with a single object at the center as well as images that featured several objects. The purpose was to support the client's cross-selling objectives. All images were created in 4Kimage resolution.
Impact
The client was able to create an exceptionally professional, beautiful, and effective product catalog that could be used in both online and print versions. The 3D CGI that we produced perfectly complemented the texts, thereby making the catalog more aesthetically-appealing and effective enough to exert a strong influence on the target customers. The client was able to develop really functional print collateral that was used in their store displays and in various events.
They even used the 3D product images throughout their social media platforms such as Facebook, Pinterest, Instagram, and LinkedIn and on their website and other ecommerce platforms as well. Within a span of 4 months, the company was able to register a whopping 25 percent growth in their sales revenues. Following this, the client decided to engage us for a long-term project. And today, the company is one of our most loyal clients.
ThePro3DStudio Can Handle All of Your 3D Product Modeling Needs.
ThePro3DStudio is a reputed 3D design studio providing 3D modeling services. We maintain a comprehensive 3D modeling and rendering service portfolio, allowing our clients from diverse industries such as architecture, eCommerce, manufacturing, etc. to benefit from our customized packages. We have the industry's top 3D designers working with us.
They have in-depth knowledge of the industry's best practices and can deliver exceptional 3D product rendering services. They keep themselves aware of the latest trends and use the most advanced tools to produce 3D models that meet project goals. We, at ThePro3DStudio, do not adopt a one-shoe-fits-all strategy and make sure to offer personalized packages and pricing so that our clients pay for what they want and are able to overcome their budget constraints. With us, your data is always safe.
We have stringent data security policies and measures in place. We deploy advanced scalable infrastructure, which ensures that we are always ready to handle projects of varied sizes. If you have a project, we can discuss.
Contact Us