How Real Estate Sector Benefits From Architectural Visualization?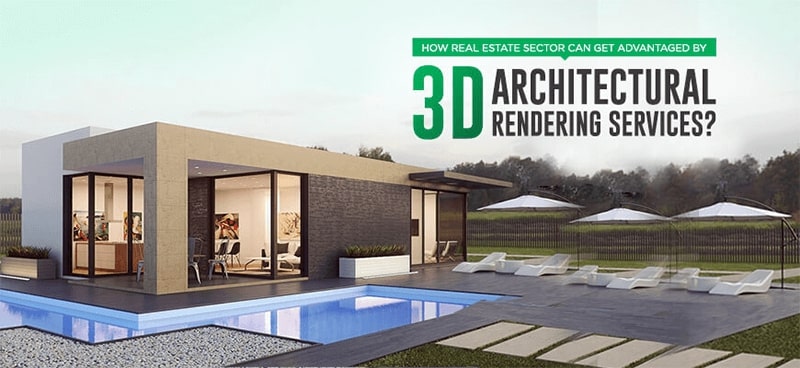 Architectural visualization is a digital technique for creating realistic renders of interiors, exteriors, and other environmental elements using advanced 3D design software and tools.
This method is widely used by architects to showcase the proposed property designs in the form of 3D designs with realistic elements and details to end users.
Real estate dynamics tend to get significantly benefited by harnessing the potential of 3D architectural rendering and visualization. The property or apartment being marketed would appeal to prospective buyers in a better manner through optimized usage of 3D visualization and interventions.
The ROI on promotional campaigns is also said to have multiplied with the strategic use of 3D rendering services over time. Besides, with the penetration of smart handheld devices in all societal strata with different economic per capita income, it is common knowledge that every informed and conscious buying decision would be made by the potential buyer after examining the offering from various angles. It would also help the buyers to judge the suitability of the offering to his/her exact needs.
Gone are the days when static 2D pictures formed the basis of sales. Compelling visual depictions and 3D walkthroughs certainly have superseded traditional 2-dimensional blueprints. Buyers are looking for ads that can offer a 360-degree perception of the apartments being put up for sale from the comforts of their home.
So, if you have not started utilizing the potential of 3D property visualization for marketing your real estate listings, then there is a high probability that you will be remaining behind in the competition. So, keep reading the article to learn a few more reasons why you should use high-quality 3D rendering solutions and how it has become a complete necessity in the respective sector.
3D Architectural Visualization Advantages in the Real Estate Domain
There are, in fact, innumerable benefits of implementing 3D architectural rendering for your architectural projects. However, if you are still not convinced about the rapidly growing potential of 3D visualization for the real estate domain, then you need to take a look into reasons that make 3D renderings so strategic. Some of the important ones are mentioned below.
Clients feel more drawn towards 3D depictions

Complex human psychology powered by intricate neurons in our brain inspires our predilection for shapes with curves rather than flat lines. The addition of depth to an image with the help of three-dimensional tools elicits a better response from buyers. With the help of real estate 3D renderings, you can surmount the shortcomings of flat and lifeless shapes by creating models and simulations that are strikingly similar to objects in real life. It becomes relatable to the buyers, and they can visualize the appropriateness of the offerings by juxtaposing their mental projections against the 3D renders and make faster decisions.

Clients get to see the exact simulation of the real estate offerings

3D rendering of an apartment, for example, would be dimensionally accurate as the real property but on a small scale. This is not the case with 2D presentations wherein the diagrams drawn to illustrate the span of the rooms may not tally with actual measurements at the site. The buyer would never feel satisfied unless he/she conducts a site visit and test the veracity of the claims. 3D models for architectural visualization replicate the property with all its inherent characteristics on a smaller scale which convinces clients better than 2D.

Identification of problems in proactive manner becomes easier

With 3D rendering and visualization, you can understand the perception of clients to your offerings and make needful tweaks accordingly. This is one of the most prominent benefits of 3D visualization. Further, a closer analysis of the 3d model can help you identify other construction bottlenecks that need to be set right before actual construction commences. You can judge the appeal of the design among prospective buyers, structural vulnerabilities, suitability of design to lifestyle quotient of targets, and the availability of sufficient space for ease of navigation. You need not make last minute changes and this would save your time and revenues.

Editing can be carried out in real time

Suppose, you have gotten a 2D blueprint designed for presenting to clients. The designer has to take lots of efforts to plot the plan as per actual measurements. If the client suggests minor changes to the plan, you have to get the entire plan re-plotted as changes to sketches cannot be accommodated in real time. This would be time- consuming and you have to pay the designer again. With 3D rendering for real estate business, you can easily get past this problem. The 3D models are crafted with state of the art software like AutoCAD. If any change has to be incorporated in the original design, this can be done in real time just by modulating the polygons or 3D shapes that make up the design. You can win the trust of clients as the modified design can be presented for his consideration almost instantly. If the fresh changes don't appeal to the client, the original model can be reverted to by just pressing the 'Undo' tool several times.

3D renderings save money and time

Editing a 2D blueprint can be really costly. This is because everything has to be done from scratch. The time and efforts put in by the designer plotting the plan have to be compensated monetarily every time a change is made. With 3D rendering software, creating 3D walkthrough animation is just a matter of few clicks. The money thus saved can be diverted for promotional campaigns.

All potential obstructions to construction can be eliminated beforehand

Once the actual construction starts, making changes can prove to be very expensive considering the exorbitant material and labor costs. This problem is alleviated through 3D architectural visualization wherein the developed virtual model can be placed in various perspectives to understand if anything vital is getting compromised. This can be addressed expeditiously.

Promotional campaigns get a competitive edge with 3D renditions

Your advertisement would yield better response if 3D renderings of the property are accompanied with rates. 3D engages whereas 2D distracts because prospects find blueprints unappealing and nerve straining. Besides, professional real estate renderings are more attractive as the property can be presented in aerial or bird's eye perspective to showcase all the architectural property spaces at once in different angles and perspectives along with atmospheric lighting, furniture, etc. You can incorporate 3D renderings into slideshows and video ads easily. Videos that are gripping promote better sales. It is a proven fact that videos offer unparalleled user experience and drive sales easily.

Photorealism in 3D renderings can seamlessly complement Virtual reality platforms

Traditional marketing is swiftly giving way to advanced and sophisticated promotional methodologies. Millions of people across the globe would be embracing VR or Virtual reality by the end of this year. The potential of VR has been exhibited by numerous products already available. The way media is perceived by masses is getting metamorphosed with the advent of contemporary devices like HTC Vive. The popularity of VR is surging and capitalizing on its acceptance among people would help you better market real estate offerings. Presently VR is increasingly used for cinemas and virtual games. The immersive experience that you can offer to clients by exploiting this media is far better than traditional media. By harnessing the power of VR, you can literally take your audiences on a virtual tour of the 3D simulation created for promotion. This is even better than attractive video presentations. So, even before your construction starts, clients would get the feel of the apartment or shop they are going to invest in. Investing in 3D and VR would allow you to steal the march over your niche contemporaries and allure clients better than competitors.
Useful Article : 3D Architectural Rendering: Top 7 Popular Trends and Advancements
Many architectural visualization companies are available in the market that can help you optimize the potential of 3D architectural renderings for promoting your real estate projects and driving unprecedented sales with compelling presentations. Professional artists make the best use of advanced 3D software to develop accurate 3D simulations and prototypes of projects before they are for sale. By utilizing 3D architectural rendering services for real estate projects, the property sellers or agents can materialize their ambitions and convey their visions in a strategically potent manner to the target audience. Overall, we can say that it would be beneficial to both the buyers and the sellers.
Moreover, getting the architectural designs done by an experienced team can give a further boost to your real estate business. For any such assistance, reach out to a professional agency.
Contact Us