How Does the Construction Industry Benefit From 3D Walkthrough Animations?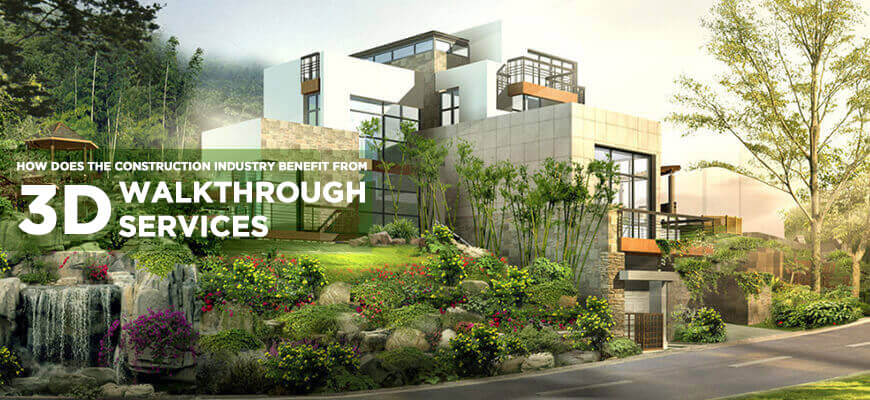 A 3D Walkthrough is a visual representation of architectural designs in the form of animated videos that can allow users to view the building's interior and exterior. This technology has already made its mark in the construction and designing industries. Technological advancements have been shaping methodologies over the years.
By integrating 3D walkthrough video, real estate companies can enable potential customers to visualize proposed designs of buildings before developing them. This technology is also used to interpret the changes in architecture while remodeling homes. This computer aided design services helps to get a seamless understanding of the designs and architecture of homes to clients.
Today, most of the real estate firms are collaborating with reputed companies for 3D walkthrough services. These renderings have leveraged their marketing tactics to a new dimension.
Traditional blueprints are now a part of the past. Clear and appealing visual walkthrough designs carry the message more effectively to the clients.
In this article, you will get a proper idea of a 3D house walkthrough and why it is popular in the real estate domain. In addition to that, you will also come across the various benefits it can offer to the respective industry. So, now let us begin with a proper introduction to the real estate walkthrough technology.
What is a 3D Walkthrough?
A 3D walkthrough is a technology that encompasses a movable video showcasing every detail of a location or setting. It allows the viewers to visualize the interiors of the building structure while controlling their movement.
The homebuyers can get a vivid interpretation of the construction along with all the details with a virtual house walkthrough. In addition to this, they can also view the objects from different angles according to their choice.
The 3D walkthrough presentations are simulated with the help of specialized 3D software. When it comes to visualizing, it can be viewed on a variety of platforms like smartphones, PCs, laptops, etc. However, the devices need to have a good processing power for running the simulation.
One of the key benefits of this technology is that the virtual tour enables the designers to edit architecture and make the necessary changes until the client is satisfied. It is a cost-effective solution for marketing these constructions to potential homeowners.
Key Benefits of 3D Architectural Walkthrough for the Construction Industry
Real estate firms all over the world are partnering with established companies for 3D walkthrough design services. This technology comes with a number of benefits for the construction firms:
Business tool

3D models are being used by real estate companies as an effective tool in business. They can interpret proposed designs and plans of buildings to clients through three-dimensional visualizations.

This enables their clients to make informed decisions in business. Integrating this technology in business fosters the much-needed company-client relationship. It enhances the degree of interpretation for the clients.

Sophisticated technology

The advanced technology used for creating 3D models enhances the visual appeal of the 3D walkthrough presentation. Then, designers add intricate details of the construction using photo-realistic features and complex lighting in the walkthroughs.

Using 3D walkthrough for real estate enhances the brand image of the company as clients find the visualizations impressive. It carries the realistic feel of the sculpture and architecture of the building.

Cost-effective solution

3D architectural modeling services brings one of the most cost-effective solutions to real estate companies for their marketing strategies.

When you collaborate with an established service provider, they will develop the 3D architectural visualization for your upcoming projects at a reasonable cost. No external labor or other expenses are involved in the process.

Provides better interpretation than 2D plans

The 2D floor plans that had been traditionally used in showcasing construction plans were difficult to understand.

Using three-dimensional walkthroughs can eliminate confusion between real estate companies and their clients. Besides, the 2D plans had no scope of correction. The 3D models can convey the messages in a more effective way than the traditional plans.

Clear interpretation of the surroundings

One of the most important benefits of the 3D building walkthrough is their ability to visualize the overall looks of the properties.

The homebuyers would like to know how the surrounding environment would look like. Hence, the designers integrate all the necessary components like cars, trees, hedges, and human figures to create a realistic view of the scene.

Simplified process

Well, you would like to interpret innovative 3D floor plan design services to potential home-buyers in a simplified manner. With sophisticated models, customers can vividly interpret the proposed designs of the construction.

You can deliver customized solutions to your clients with these visualizations. Today, homeowners recommend specific features to be integrated into the interiors.

Using 3D interior design services, you can develop a picture-perfect 3D interior designs for your building plan. Evidently, this is an effective way to build your reputation and brand image.
Various Applications of the 3D Walkthrough in the Real Estate Industry
You can disseminate your creative ideas to a reputed architectural animation company for 3D architectural rendering services and remain competitive in the industry. Receiving walkthrough video animation from the experts will ensure that they are of high-quality and can be used to impress your prospects.
Construction firms are using this technology in both residential and commercial projects to share their concepts and ideas with the customers. They collaborate with the leading 3D design service providers to create 3D walkthrough models for their building projects. Besides boosting up the sales strategies, it saves a good amount of time in the process of video creations.
It brings more business to these firms and helps them to expand their services in the market.
Engineers, architects, and designers can gain advantages from these 3D visualization services. These high-quality visualizations enable them to get across to their customers with their marketing messages.
You can also showcase the architectural features of your interiors as well as exteriors to the homebuyers using this technology. To enjoy maximum benefits of walkthrough, you can partner with a reputed company using 3D modeling software for completing real estate projects or constructions.
Since 3D walkthroughs are capable of providing numerous benefits, it has now become an effective marketing strategy for the real estate and construction domain.
Starting from improving the value of your property to persuading customers, the 3D construction walkthroughs can do it all. So, without further ado, make sure you include them in your projects so that you do not stay behind your competitors.
With the increasing competition in the respective industry, it would be really beneficial to use these architectural 3D videos to gain a competitive edge for your brand in the market.
Best Software to Create Architectural Walkthroughs
If you are looking to create 3D architectural walkthroughs through the DIY way, then you may consider trying out any of these top 3D architectural walkthrough creation software:
Related Article : List of Top 3D Rendering Software in 2023
Just like we have mentioned above, you can ask for assistance from a reputed 3D walkthrough company to help you with the job. Besides, investing in these services will cost you less and assure the best outcomes for your needs.
Contact Us