Top 10 Advantages of Virtual Staging for Real Estate Business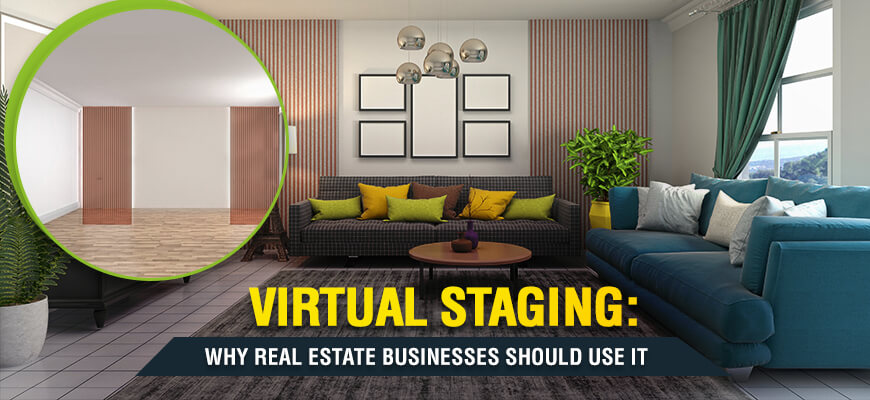 Traditional home staging is a costly business and it involves huge commitments both in terms of time and effort. No wonder why, the real estate industry has shifted to virtual staging, thereby rendering traditional home staging obsolete. If you are a real estate agent who doesn't have adequate budget to stage multiple properties, then virtual staging is a cost-effective option for you to maximize the value of vacant properties and to optimize their marketing strategies.
Virtual staging brings a property into the limelight, allowing prospects to visualize how their future homes would look like. In this article, we would discuss about the different types of virtual staging and how it benefits real estate entities and homeowners alike.
What is Virtual Staging?
Virtual staging is the process of staging vacant buildings with all decorative items, furniture, and more with the help of a professional virtual stager. Photos of the empty property are taken from different angles and then virtually transformed into a stunning interior design.
How Realtors Benefit from Virtual Staging
No Shifting Concerns

Realtors no longer need to go through the hassle of hiring movers and packers to shift furniture and other items from one property to the other, especially if they need to move them to a high-rise building.

Everything happens virtually in a virtual property staging, so there is no involvement of real-life heavy furniture and decorations, which otherwise is a cumbersome task for a real estate owner who has other priorities.

Saves a Significant Amount of Time

Realtors usually have several property showing appointments lined up in their everyday schedule. Staging up a property with actual furniture means hours of work for that single house.

Virtual staging can be done virtually with a few clicks, which saves lengthy hours, and helps the real estate owner complete multiple property displays in a single day.

Fewer Security Worries

It is said that burglars often check for "open houses" where real estate brokers hold open hours during which the property is available to view. Such vacant homes are ideal for thieves, robbers, and burglars.

In virtual staging, one can be rest assured of their property because no actual items or products are involved in the whole process. Everything happens virtually and the prospective buyer can view the property over a computer monitor.

No More Worries about Item Damage

Often, furnishing a house with expensive items, while it still has occupants living there becomes an anxiety for the realtor, as there's a high chance of the furniture items getting damaged by the occupants inadvertently. Virtual staging saves a property owner from that.

Freedom of Preferences

Virtual room images can be compared with their respective real images, which eventually helps the prospect to clearly understand the functionality of that specific room.

The virtual paint feature helps the buyer to configure the image with their own choice of wall color; virtual twilight enables prospects to view the exterior of the property at dusk, etc. All these help the realtor quickly close the deal without any delay.

More Efficient Communication

Virtual staging improves communication between realtors and prospects because the latter can see the rooms as they will appear in the future. By just tweaking the virtual image, the interested buyer can literally view how their living room, bedroom, kitchen, or kids' room will look like actually. They can even suggest add-ons as per their liking and see how those add-ons work.

This aspect highly supports the claims of the realtor and enhances the customer experience.

Fast deal closure

Many companies have a tight schedule of property dealings, which keeps their agents on their toes. Fast deal closure is imperative for them. In cases like these, virtual staging speeds up the entire process and helps the agents put their listings up ASAP!

Professional 3D rendering companies offer a fast TAT, which helps you quickly showcase your deal, get the communication going, impress the buyers, and close the deal at a fair price.

Cost-Effective

Who can deny the greatest benefit of virtual staging - its incredible cost effectiveness? A lot can be saved with this technique: mover's costs, cost of buying expensive furniture, hiring fees for professional photographers, cost of dusting, cleaning, and polishing, transit and logistics costs!

Realtors can practically save thousands of bucks compared to physical or traditional staging of a property. Just share the high resolution real images of the vacant rooms with a professional agency and get the work done in 24-48 hours. And compared to ALL the costs mentioned above, working with a fixed agency is way cheaper.

De-Clutter Space and Redecorate Swiftly

Who likes a cluttered and congested property to buy? None. However, de-cluttering and tidying up a space involves a lot of back and forth. Also, since realtors usually work on a tight schedule, at the end of the day, the work turns out to be sloppy.

The best way to solve this is to showcase the property by leveraging virtual staging. The interior decorations can be shifted, removed, and redesigned as per the buyer's preferences. This way, you can display a neat, clean, stylish, and decorative property.
4 Best Virtual Staging Software
The list of virtual staging software mentioned here is evaluated with several factors. A few to name are their ability to create faster and spotless virtual staging, quality, affordability, customer service, and so on. So, check them out and choose the one as per your requirement.
Pros and Cons of Traditional Staging
Traditional home staging is one way to show off the property's physical furnishing and decoration in photos and real life to potential buyers. Here are the pros and cons of traditional staging:
Pros
Staging a property will help the buyers visualize how they could live in the space.
It helps to sell the property faster and for a higher price.
It highlights the home's spaces, making them more appealing to buyers.
Furnished and decorated properties give an adequate perception of the space.
It allows the buyers to connect with the properties emotionally.
Cons
Sometimes it can be inconvenient for the buyers to visit if some of the furniture and personal belongings are not removed.
As a realtor, placing properly furnished items in the space might be expensive.
It requires a high level of investment and a longer turnaround time.
Creating an atmosphere and demonstrating it to the buyers requires a little time.
It requires labour to move and assemble all the staged furniture.
Wrapping Up!
After the pandemic, the virtual staging landscape has increased at a rapid pace. Virtual tours of homes and other properties are becoming the trend among real estate agents. With virtual staging, the realtors can showcase their properties to the buyers without moving from place to place.
If you are a professional stager, realtor, or broker, then virtual staging will be the way of the future.
Most real estate businesses are using virtual staging as a modern method to stay ahead in the market. It helps to create a realistic view of the property, making it attractive for buyers. I hope you gained better in-depth knowledge of virtual staging and its benefits compared to traditional staging. Therefore, it is recommended to choose virtual staging to reach a larger target audience and save money.
Contact Us
---
Frequently Asked Questions (FAQ)
The cost of our virtual staging service depends on the scope of work and the efforts to be put in. We keep our pricing extremely cost-effective and flexible to suit all types of businesses and budgets.
Virtual staging can save up to thousands of dollars you would otherwise spend on hiring professional photographers, arranging actual furniture items, paying logistical charges, and more.
Real staging or traditional staging has become old-school with the advent of virtual or digital staging. The latter gives you more control and saves you a lot of time, investment, and effort. Virtual staging also ensures numerous iterations with negligible production costs.