7 Reasons Why Floor Plans Are Essential For Improving Property Sales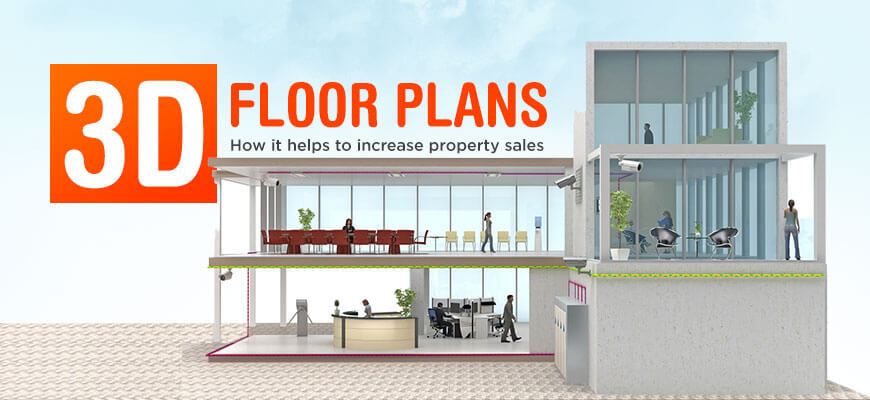 Table of content
Introduction
In the older times, realtors used to experience significant problems in generating the appeal of saleable properties among prospects. But with the introduction of 3D floor plan technique the renderings taking driver's seats in real estate promotional campaigns, it is no longer a tough task to take your potential leads on a walkthrough of the virtual property and help them visualize the optimum use of available space.
A Floor plan in 3D is a horizontal projection of property, residential or commercial, through computer graphics and specialized software. And in this article we have jotted down the most crucial reasons why you must rely on floor plans to boost your property sales, best software to use and much more.
So Keep Scrolling!
What is a 3D Floor Plan?
A 3D floor plan is a three-dimensional drawing showcasing the basic layout of a building structure from an aerial or bird's eye view. It's a horizontal projection of property, either residential or commercial, developed with the help of computer graphics and specialized software. It is more efficient than traditional or 2D floor plans in conveying how design elements will look in the space and identifying potential issues in the design.
Types of Floor Plans to Design
There are 3 main types of house layout plans to choose from while designing your dream home. They are traditional, contemporary, and custom floor plans. Every floor plan type has its own set of pros and cons. So, let's check out what they are so that you can select the one suiting your needs.
Traditional/ Closed Floor Plan Design

This type has a wall that separates each space/room. It has an equal amount of space, but the partition is greater than the open floor type. This conventional floor plans drawings style has the following benefits:

Rooms that deliver a cozy feel

Spacious rooms give a feel of warmth and coziness when you sit alone in the room.

Many Design Choices

It is possible to add a style dash with unique wall colors, textures, and materials.

Sound-proof

When there are more objects in these closed rooms, the increased time travel of sound produces a reduced sound effect.

Privacy ensured

There are more rooms where you can find your 'me-time'.

Lower power consumption

Walls are the best insulators, which help to keep the temperature at its optimal level.

Contemporary/ Open-House Floor Design

This style provides a staying-together feel even when they are in different rooms. It is possible because of the large openings that connect each room.

They offer the following benefits when you choose them to design your own house floor plans.

More natural light inflows

When there are no walls to cover up each room, the natural light source can pass through each room. As a result, it eliminates the need for switching on lights for each area.

Easy walk

Walk and move between each room space with much ease than ever before.

Eye on kids

When you are cooking, you watch your kids who are playing in the living room.

Modern elegance

Many are opting for this trending open-house concept for its elegance and practicality.

Resale at better rates

It is a trend that has popularity today, so reselling at higher prices is possible.

Custom Floor Plan Design

This design will let you customize the building floor plans with your choice of room colors and furniture style. It can sound exciting for the new prospects, to be more specific.

If you're going to make your own house plan, here are some custom floor plans that are on-trend today.

Split level home
Tall and Narrow home
U-shaped home
Circular home
One-story horizontal home
Hopefully, with all the information available in this article, you may have now decided to go for 3D floor plans and their respective type for your project. In case you have experience working on home design projects or using 3D software, you can probably create your own house plans without any help.
Top 7 Reasons Why Floor Plans Are Important
Helps in Getting Earnest Attention On Your Property Listing

The 3D layout of rooms with clear demarcations allows prospects to visualize the dimensions, orientations, spaces, and compatibility of the same with their needs. This would motivate 1 among 4 leads to take a decision without visiting the site.

Further, 20% of leads won't even consider your listing if it doesn't carry a 3D plan. 3D visualization for the real estate industry spells tremendous promise as leads can get a holistic and realistic perspective of your property and can become aware of space orientation and availability from the comforts of home.

You can integrate a 3D plan with virtual staging to populate the space with furniture, refrigerator, and other items of use which will send across the clear message of the dimensional propriety. The 3D plan needs no interpretation and appears more appealing which would bring your listing more qualified views.

Adds Firepower to Your Online Promotional Campaigns

Real estate 3D renderings underscore your online marketing endeavors which would offer you the competitive edge over adversaries. Leads on social platforms or those who check out your listing on the go can get a clear picture of what to expect.

Your site's landing page as well as your email or WhatsApp promotion would carry captivating images that would capture the attention of leads and prevent them from checking out your competitors.

Your leads can figure out how to optimize available space as dimensions and orientations are clearly depicted. Leads who are already running short of time often avoid appointments with agents; 3D floor plan drawing can offer them clear insights without requiring any explanation.

This goes down well with offshore investors also. The visually informative plans generate interest, offer panoramic views in 3600, can be animated, virtually staged, powered by Virtual Reality for interactive insights, and facilitate the creation of great marketing material.

Renders Your Print Media Promotion Top-Notch and Engrossing

Want to give your print media ad a killer look? Just render the building plans from blueprints and publish them. Whether put up on billboards, posters or distributed as newspaper/ magazine/ journal ads or promoted through brochures, handbills, postcards; the advertisement would make heads turn and grab eager eyeballs.

Interest in your property would be kindled among apathetic leads also and it would also trigger word of mouth promotion. Meticulously done 3D interior house rendering would transport the viewer to the realm of virtual reality and s/he would yearn to be in that setup. Consequently, a new lead with high conversion potential would be created.

Fetches Your Genuine Price for Property by Bridging Spatial Gaps

3D architectural rendering demonstrates the real potential of your property by highlighting its stellar points and projected space optimization in the right sense to ignite passion among buyers. Suppose: you are selling your old house. If the lead has to visit your site, the sight of discolored and outdated furniture, wallpapers peeling off, running tap, and other visual distortions can distract him/ her permanently.

To avoid such a daunting prospect, you just have to put up your 3D house floor plan design and populate it with virtually staged furniture and embellishments. The hearts of the onlookers would be won with one such masterstroke.

The prospects would be able to visualize the way furniture would be arranged and the décor's appeal accentuated after due renovation. Such a realistic portrayal of the future potential of the property brings about sales at the prices quoted by you with minimum haggling by the prospective buyer.

Brings More Clients To Your Real Estate Agency

If you are working as a real estate agent, your credibility as a seller would be judged prominently by clients by browsing through your marketing material. Clients want to sell their properties faster and seek optimum prices.

Naturally, they want to strategically ally with someone who knows the tricks of the trade and can give their properties the best and choicest exposure. 3D rendering of house floor plan design would convince clients about your marketing acumen and your capability of leveraging contemporary technologies to penetrate uncharted business territories.

Even the most prudish and technologically inclined client would come to pose his trust in your agency. This would translate into higher sales and consequent commissions for you.

Improves the Prospects of Problematic Properties

There are certain types of properties that are very difficult to get rid of due to the poor location, lack of proper amenities, old buildings or interior designs and so on. But with 3D floor plans you can showcase the plus points your property has instead of the negatives and using this you can improve the prospects of your property at ease.

Saves Time By Generating Interest of Serious Buyers

One of the major benefits of having a floor plan for your property is that you can segregate the serious buyers and the rest as only the serious ones understand the floor plan and move further in the marketing funnel. Thus having a floor plan can also boost your sales prospects by getting more and more serious buyers on your listing.
What Are the Best Software for Floor Plan in 2023
EdrawMax (Recommended)

Important Features:

Easy-to-use features
Contains a stock of symbols and quick-start templates that helps in creating a perfect floor layout.
It has built-in scale tools for correct dimensions.
It is a cross-platform software that supports all the operating systems including Windows, macOS, Linux, and online use.

RoomSketcher

Important Features:

It can create floor plans in 2D & 3D
Cloud synchronization available
Short time taken to create professional floor plans

HomeByMe

Important Features:

It helps you create a floor plan and can be viewed in three-dimensional view.
Various light options available to showcase the property.
Unlimited layout and furnishing options.
Intuitive and learning material available.

Planner 5D

Important Features:

Ease of integration with various other platforms.
You can create 2D or 3D floor plans at ease.
Huge products library available for stock content.
Cloud synchronization feature available.

Floorplanner

Important Features:

3D models provide a 360° look of the property from every angle.
Over 1.5 Lacs 3D items available in the stock library.
Create 2D and 3D images in various formats including jpeg, png, pdf and more.
Cloud sync available.

Floor Plan Creator

Important Features:

High compatibility with all the gadgets.
Supports metric and imperial units.
Automatically synchronizes your projects.

Autodesk Civil 3D

Important Features:

It includes civil engineering features like corridor, bridge, site designing and more.
It compiles all the complex Complex bridge designing tools that makes the designing efficient.
Cloud synchronization available
Creates 3D photorealistic plans.
Bonus Read : How 3D Floor Plans Help in Increasing Property Sales?
Conclusion
Hopefully, with all the information available in this article, you may have now decided to go for 3D floor plans and their respective type for your project. If you need assistance, you can reach us. We, at ThePro3DStudio, are a professional 3D floor plan design company having a team of experienced 3D artists and designers. We can develop high-quality 3D floor plans from scratch as well as convert your 2D floor drawings into 3D floor plans.
By associating with us, you can reap maximum benefits for your business since we offer a wide range of premium services that can be helpful. It includes 3D modeling services, 3D architectural walkthrough services, 3D floor plan conversion services, etc. Our success rate is unbelievable and all our clients have reported an exponential surge in sales after using our services. So, contact us if you also wish to experience the same.
Contact Us