How Can 3D Modeling Enhance Architectural Design?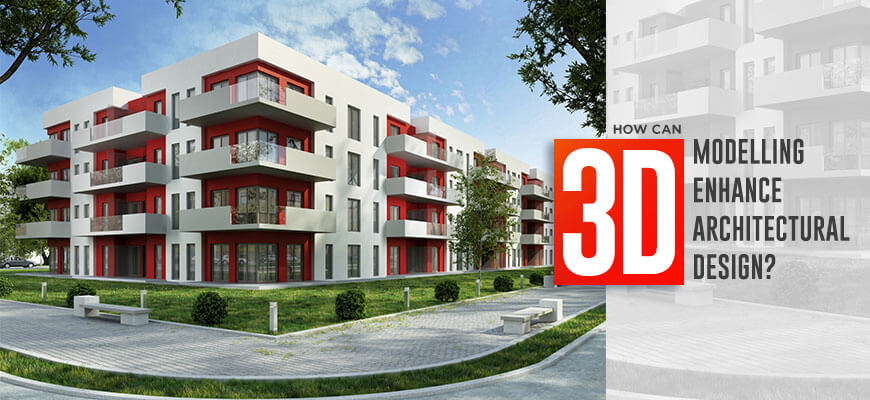 3D modeling has continually kept evolving over time and proved very helpful in the field of architectural design. Apart from the architectural domain, its capabilities are also explored in other industries like gaming, film, product development, advertising, healthcare, and more.
Coming to architecture and construction, the 3D modeling technology is widely implemented for 3D visualization, simulation, and rendering of the building structures. It helps architects and engineers to seamlessly convey the proposed design ideas to the prospects.
In this article, you will learn how 3D modeling plays an important role in improving architectural designs and the different software dedicated to architecture 3D modeling in the year 20233, both paid and free.
Reasons Why 3D Modeling is Used to Present Architectural Plans
Here are the different ways in which 3D modeling helps in architectural presentations .
Visualizing the scenario

The architects can easily manipulate the models using 3D modeling software. This enables us to examine various scenarios and pick the one that suits the best purpose. You can change the design if any flaw shows up in the plan. It becomes easier to make changes in the design if needed, and eliminate cost drainages. The reputed service providers use the best 3D modeling software to ensure accurate designs for the proposed plans.

Speed

Competition in the market is high, so established 3D visualization companies need to come up with the proposed designs quickly for the clients. It will help their business to stand out from the competitors. The experts use advanced software that is capable of interpreting data much faster. This also enhances the level of accuracy and eliminates the errors from the process.

Better control

The sophisticated software used for 3D modeling enables the designers to have better control of the elements in the rendering. For instance, the 3D laser scanning tool gathers the necessary data, enabling the designers to use them in creating a model of the actual space.

Enhancing marketing strategy

A crisp and clear presentation of the proposed plan enhances the marketing mechanism to a great extent. The developers can reach out to the potential buyers with a clearer image of the finished project.

Lowering lead times

One of the key advantages of 3D modeling in architecture is the ability of technology to lower the lead time. Using advanced architecture 3D design software, the designers can create the 3D models in a short time and approach prospective clients. Swiftness matters a lot in this domain and being able to save time by leveraging 3D modeling is a real boon.

Fewer instructions

Clients find it easier to interpret a clearer picture when compared to a hand drawing. People working on any project can collaborate in a better way when they have a clear image of the plan. This eliminates the possibility of confusion and errors that can arise from the process.
Related Article : Different Types of 3D Visualization for Architectural Designs
Top 7 3D Architecture Design Software in 2022
Now, we've reached the part where we discuss the List of CAD software software that can be used for creating 3D architectural designs and models. Kindly go through each of them and determine the one you'll be using for your next project.
SketchUp 2023

This software is considered as one of the best when it comes to architecture designing and Building Information Modeling (BIM) programs. This software comes with a vast marketplace extension that makes it one of its kind software and this is the reason why it is used by all the architectural marvels in the industry.

Talking about the features, this tool has some newly introduced ones like improved modeling tools, enhancement layouts that saves time, additional search functionality and more. And as mentioned above, it has a vast marketplace extension that gives it an upper hand.

Revit 2023

Revit software is widely used for BIM or Building Information Modeling. This powerful tool was created by AutoDesk with the aim of supporting architects. It contains a lot of features that can be used for creating perfect architectural designs for any building or infrastructure. Another useful feature of this 3D modeling software is that it can allow coordinators to work with centrally shared models.

2023 Addition:

Revamped analytical modeling tools.
DWGs, PDFs, or Revit models can help in linking the preliminary buildings with the Revit environment.
Enhanced user-experience of Generative Design and Dynamo Player 

Blender

Another one in the list of best architectural 3D modeling software is Blender that is also an open source 3D creation suite that is used for 360-degree 3D creation work be it moeling animation, rendering, video editing and what not!

Talking solely about the architectural work, this software is the master as it produces the most accurate models and helps in taking the modeling work forward.

AutoCAD 2023

AutoCAD Architecture is developed by AutoDesk and allows the creation of both 3D and 2D designs. It has good rendering capabilities, which makes it an excellent program for 3D modeling and visualization. It comes with different modeling tools like solid, mesh, and surface, which can be combined to create realistic three-dimensional models.

2023 Addition-

Markup Import and Markup Assist for converting PDFs or printed docs to designs.
My Insights provides helpful tips when needed.
AutoCAD LISP API, enabling you to create your own customizations with LISP.
Enhanced Sheet Set Manager.

ArchiCAD 26

ArchiCAD is another open BIM (Building Information Modeling) tool that can be helpful to architects. It was developed by Graphisoft and can enable architects to handle varied aspects of engineering and design work. It supports 2D and 3D drafting, building modeling, visualization, and more. This architectural CAD software will help you to create exceptional photorealistic architectural renderings.

2023 Addition:

Newly structured hierarchy & easier navigation system
Newly added navigator search option
New content addition in surface catalog

AutoCAD Civil 3D

This is another AutoDesk product that can be used for architecture design creation. Its features are similar to AutoCAD Architecture but are more suited to civil engineering and construction design projects. Besides, you can also connect AutoCAD Civil 3D to Revit, for developing designs with additional structural modeling.

Chief Architect

Chief Architect is an excellent choice for those who don't have any 3D modeling skills. It is intuitive, easy to use, and has plenty of smart building tools. This CAD software is mainly used by architecture professionals to develop 2D and 3D renders. Moreover, you can create 3D structures and 360-degree panorama renderings which can be easily shared to clients.

Cedreo

If you're looking for software that lets you create 3D floor plan renders in a few minutes, then Cedreo is the one. With this web-based 3D home design software, drawing 2D and 3D floor plans will be easier. Aside from that, the software consists of more than 7000 3D objects that can be used to customize your home interiors or exteriors. A range of time-saving features is also available that can aid you in faster creation, rendering, and sharing of project visualizations.

All Plan

All Plan is one of the best 3D construction design software for creating architectural patterns. Aside from that, it can also help in quickly developing 3D and 2D designs with simple or complex geometries. It offers many design tools that can enable you to work on drawing, topography, or conception. However, the only drawback of this software is that it runs on Windows and no other operating system.

Edificius

In the affordable price range, this software is considered an impressive set of tools. This IFC certified software is best in providing the BIM architectural design solutions. It easily integrates with other software including construction management, architectural visualization, construction management, etc.

Related Article :List of Top 3D Rendering Software
Role of 3D Modeling Service Providers in Architecture
Architects and interior designers often collaborate with companies offering architectural 3D modeling services to produce high-quality renderings and visualizations of the properties. In this way, it is easier to convince the buyers about the plan.
Traditionally, blueprints can serve the purpose, but the process involves a lot of ambiguity. That is why contemporary developers tie-up with the leading 3D modeling service providers for some quality 3D architectural plans.
With their help, architects can provide a complete view of the finished project to the clients. If required, the clients can also come up with new suggestions. This won't cause any problem as making modifications is easier with 3D modeling. Besides, the 3D architecture building models will enable developers to detect possible errors in the design even before the construction process starts.
So, seeking assistance from a professional 3D visualization company can be quite beneficial. The expert designers working with these companies can help in producing the needed visualization for your business.
Conclusion
Finally, it's your call whether to select a software program and carry out the work yourself or rely on companies that professionally offer 3D modeling services. No matter what you choose, you need to ensure that your designs must stand out from the crowd.
Related Article :A Guide to Hiring the Best Architectural Visualization Firm
Since technology is advancing and competition is increasing, you need to keep up with it so that you don't lag behind. Do it yourself or outsource to professional studios to make the best use of 3D modeling technology for your architectural designs.
Want to have a 3D Modeling Support for Architectural Purposes?
Get in Touch With Us Today!