Significance and Benefits of 3D House Rendering in Construction Industry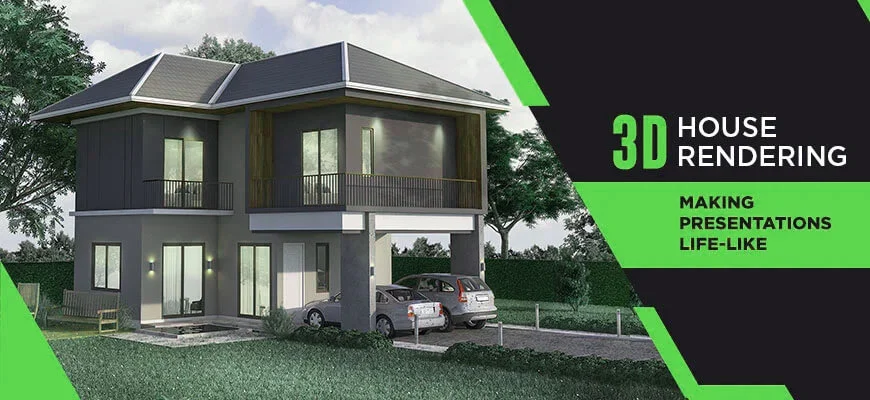 3D house rendering technique can bring important differences in your real estate project by boosting visibility and increasing the effectiveness of your marketing campaigns.
Both interior and exterior rendering can benefit real estate stakeholders such as real estate agents, architects, real estate businesses, and homeowners with perfect visualization and presentation support.
The house rendering process leads to the creation of photorealistic images that highlight the key architectural design features. In this article, we have highlighted the benefits of 3D house design services and have described how architectural visualization can bring real value for different real estate entities.
So let's begin our journey of explaining 3D house rendering and how you can create real to life designs using this technique.
Keep Scrolling!
Importance of 3D Home Rendering Before Building Construction
3D house rendering has its own importance and here we will discuss how this technology is providing multiple benefits to the various industry verticals today.
Better Presentation

Using 3D rendering helps in promoting presentations making them look top-notch, thereby facilitating better collaboration and communication.

Useful Article : Top 10 Best Camera Angles for Real Estate 3D Renderings

Provides Comfort to Choose

Prospective homeowners can see 3D architectural renders to check if a property would meet their lifestyle needs that too sitting right on their couch and thus it gives a comfort to choose what they are looking for without even visiting the property in person.

An Effective Marketing Tool

Apart from other benefits, 3D home rendering is also an effective marketing tool and realtors can use 3D renders quite effectively for promoting their property to the potential buyers. In simple terms, 3D renders give a complete idea of how the property will look even before the construction is done.

Eases the Demonstration

With 3D house designs, it is possible to demonstrate the space, size, and proportions of your project in a precise manner.

Curbs Heavy Investment

House rendering allows real estate developers to skip the idea of creating a model home, which entails heavy investments. This leads to significant savings in terms of money, effort, and time.
Various Stages of 3D Home Rendering
Home rendering consists of three major stages namely:
The First Stage

A skeleton is created using a 2D plan. Professionals delivering professional rendering services should share an initial draft so as to allow clients to advise them on the camera angle.

The Second Stage

In this stage, colors, textures, and material finishes are added to enliven images. Architects can send these drawings to their clients for design approval.

The Third Stage

This is the final phase of the rendering process. During this stage, clients receive the finalized digital 3D imagery.
Conclusion
You should ideally outsource 3D architectural visualization services to a reputed company. Such companies employ experienced 3D artists who can deliver dedicated support, thereby helping in the fast and efficient accomplishment of project objectives
These companies offer customized packages and reasonable rates, allowing real estate stakeholders to get higher returns on their investments.
As designing is the forte of an architect, the 3D rendering is the forte of a 3D rendering artist. The technical expertise that comes with executing various such 3D renderings is the prime reason you must consider outsourcing your 3D house design services.
Contact Us