Top 6 Benefits of Using 3D Interior Renderings to Improve your Property Sales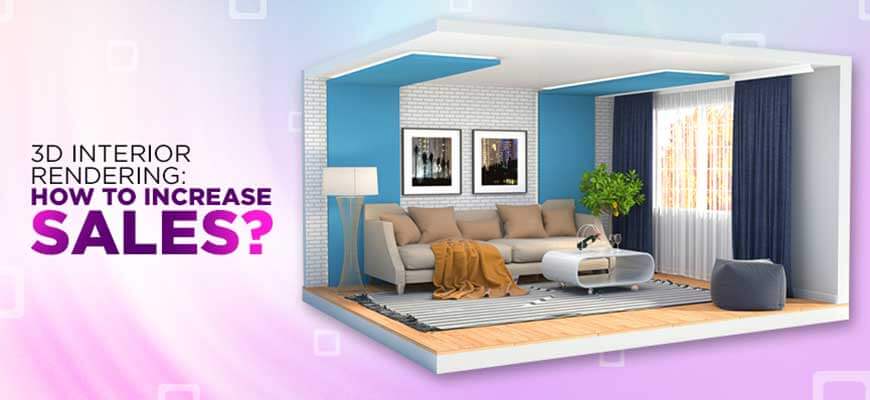 3D interior rendering has shaped the real estate and architecture industries to a great extent over the last couple of decades. Integrating 3D interior design concepts in your marketing tactics can boost up the sales. With clear and crispy renderings of architecture and interior design, you can seamlessly convey these ideas to potential clients.
3D renderings and animations foster better customer relationships, besides bolstering your marketing strategy. Have a look at the benefits integrating 3D animated videos for your business.
Efficient time management

Time management is really crucial these days. Real estate developers need to engage with the construction, development and remodeling processes, all of which consume substantial amounts of time. Using 3D rendered models to convey your marketing messages cuts down this time requirement to a large extent which is a great boon.

These renderings lucidly carry the designing ideas to your customers. You can get these models developed quickly when you collaborate with a reputed 3D rendering company. This enables the developers to stay more focused on the projects and develop the marketing mechanisms within a shorter time span.

More control and flexibility

One of the key advantages of 3D walkthrough animation is that these visuals bring more flexibility and control to your business. When you deal with a physical model, it is difficult to make any changes even in case the customer wants additional features or alter certain designs.

However, you can make changes in the design when you get a 3D rendering of your project. This enables real estate companies to customize the designs according to the needs of their customers. Besides, they can modify faulty designs and finalize the architecture before the actual construction process commences.

As compared to the 3D models, these renderings provide a greater depth to the details in architecture. This is why most of the real estate developers seek 3D interior rendering services from the established companies.

Control over technical aspects

With 3D rendering technology, the developers can have greater control over the technical details of the projects. They can work on accurate numbers, creating customized designs for their clients. Besides, our advanced 3D rendering process is effective in detecting technical faults in the construction and they can work on these areas before finalizing the plan.

This prevents unnecessary drainage of resources in the future. The engineers can also integrate additional data into the designs as necessary.

Better customer relationship

A personalized approach on your part can strengthen the bonds with your customers. Using 3D renderings, you can deliver custom-built designs for your customers, catering to their specific requirements. Based on the feedback of your clients, the designers can make the necessary edits in the design. This nurtures the company-client relationship which is a key to the success of every business.

It is wise to partner with a best 3D architectural rendering studio. The experienced designers develop interactive models, enabling the clients to view the finer details of the architecture. They can recommend the necessary changes in the design and get them customized as per their requirements.

Money Savings

3D visualizations come at cheaper rates and so interior designers and architects can create effective demonstrations at a fraction of costs that they might otherwise spend if they opt for promotions by using real furniture or by building it partially.

In case, your client asks you to change the design in certain areas, you can easily get the visuals changed by asking your professional renderer to do the required reworks at very low prices. When you use Computer Generated Imagery (CGI), you can skip the hassles and costs of rebuilding the designs from scratch.

Multi-purpose Use

3D interior renderings serve as handbooks for real estate businesses that are working on new designs. CGI functions as reference guides that are designed to provide step-by-step recommendations for successful project execution. They also function as effective and detailed presentations for prospective homebuyers.

Emotional Response

Three dimensional graphics tells stories and storytelling is an effective method of generating your clients' emotional response. 3D visuals are created to generate immersive experiences and to create an emotional bond between a property and its prospects. Interior designers can use 3D renderings to make indoor spaces appear captivating and gorgeous.

With 3D imagery, designers can give a cozy and warm look to a suburban house, thereby enhancing its appeal and boosting its sales value. Designers can use three-dimensional visualization to create awe-inspiring indoor spaces of commercial properties as well. For example, they can make office spaces look brighter and professional and restaurants to appear warm and inviting.

In other words, renders can be used to describe a place vividly and to tell a tale that cannot be described in words. This can influence the decisions of the prospective buyers to a significant extent and can promote sales. As a matter of fact, customers who get emotionally connected to a property are most likely to make a positive purchase decision.

Improvement in Experience

There is no doubt about the fact that customers are the key stakeholders of a business. So businesses should do their best to build a strong and stable relationship with their customers. When it comes to interior designing, customers are more likely to feel happy when they are provided with personalized experience.

Customers want to feel that the designer is taking deep interest to make them dreams come true and that he/she is doing his/her best to deliver the best possible outcomes. With interactive models of designs, interior designers can allow their customers to gain greater control over the design process. Clients can see real-time changes to the design and can comment if they like the designs. They can even understand what they actually need by getting an actual picture or a holistic view of the design.

Customers would no longer have to wait for a long time for scheduled appointments and so they would be getting rich support-experience. This way, the designer will be promoting transparent communication, eliminate the chances of misunderstandings, and increase the level of trust that the designer shares with his/her clients.

In return, the designer can expect to get lucrative deals as the customers would feel more confident to invest their hard-earned money in something that they truly appreciate and dream about. These customers are most likely to stick with the same service provider and would refer their services as well to their acquaintances.

Better Displaying of Individual Elements

Architectural renderings provide a holistic view of the entire property whereas 3D interior renders are used to show details of specific rooms and spaces. Renders can clearly show details with regard to colors, textures, materials, cabinetry, windows, doors, finishes, interior trim, and types of roofing.

Such detailed scenes can properly demonstrate how natural light would impact the degree of illumination in the rooms. All this idea can help customers make better decisions with regard to material and help them identify the best options depending on the design and their budgets. They can also ask the designer to make appropriate modifications to the lighting so that they can make the most optimal use of the spaces depending on their lifestyle.

Detailed Updates to All Stakeholders

Creating designs for indoor or outdoor spaces is not the sole responsibility of the architect. Engineers and interior designers are also equally responsible in creating awe-inspiring designs. It is also the responsibility of 3D renderers or software professionals to create accurate CGI based on the architect's design vision. It is the duty of professionals delivering 3D design services to ensure design accuracy.

With 3D renderings, it is possible for multiple stakeholders to work on the same design at the same time and meet the deadline requirements.

Better View of the final design: Interior designers and architects need to get a clearer view of the final design so that they are able to detect faults in advance before the design is practically implemented in the construction process.

The main aim of the 3D interior rendering process is to allow designers to give a solid shape to their ideas. With this technology, people working in the construction and architecture industry can create accurate 3D renders of exterior and interior spaces and can evaluate if there are design flaws and can rectify them before they implement the actual project.
3D rendering has immense possibilities for designers. It helps create a virtual world that they can tweak and modify as per their taste, preferences, and project requirements. This eliminates the need for investing in pricey physical models that are commonly associated with material wastage and consequent damage to the environment.
No wonder why architects outsource 3D rendering services to professionals who have the expertise to develop detailed 3D interior designs based on the specifications provided to them. Reputed 3D rendering companies can guarantee the delivery of projects within the specified timelines. Such companies have established procedures in place and they can assure data security at all costs.
Competition in the industry is tough. You can come to us with your 3D rendering requirements. These models will give your clients a better understanding of the proposed designs. Reach us for a seamless support in 3D architectural design services.
Contact Us