Different Types of 3D Modeling Methods Used in Architectural Designs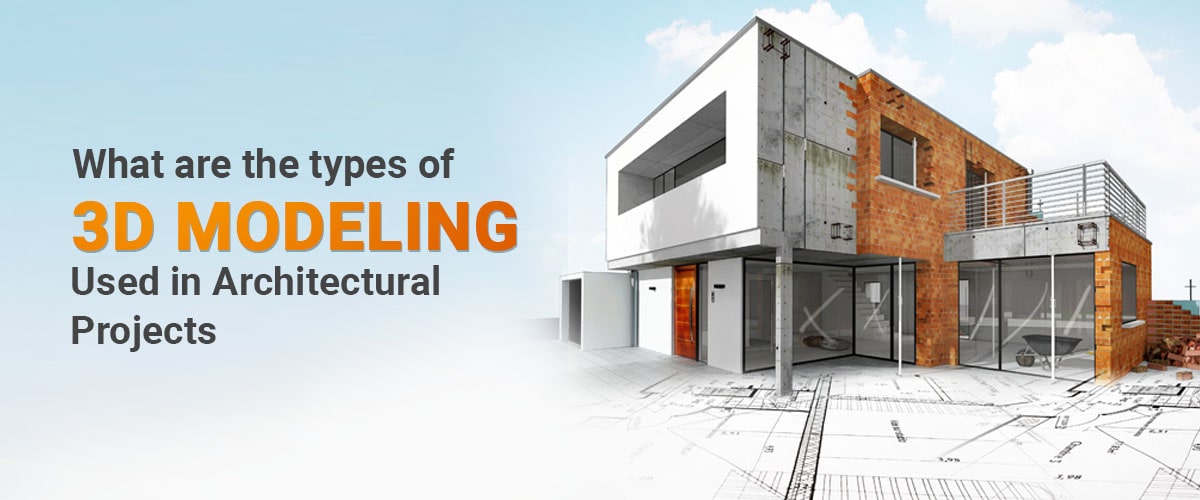 3D modeling is defined as the procedure of creating a mathematical representation of a three-dimensional object using advanced software. 3D models are widely used in different industries, including architecture, product development, gaming, movies, etc. As it's said, an image speaks a thousand words. 3D architectural models are getting popular in the architectural sector and are a buzzing topic as it helps us in getting the perfect idea of any structure before the construction.
What are the Different Types of 3D Modeling Plans Used for Architectural Designs
To create a 3D building design, there are major types of 3D modeling techniques like BIM, Wirframe, 3D CAD, etc. that help you at different stages of your project. Let's have a look at the major types used for architectural 3D design projects.
Building Information Modeling (BIM)

BIM, also referred to as building information modeling, is a leading technology useful for management and construction purposes in architectural visualization.
It allows the creation of intelligent models and counting the necessary amount of materials, the time needed for construction, and the project's entire cost.
This technology helps design iterations to make more sustainable buildings and use every space smartly.
This type is also helpful in the surface performance to ensure that your building complies with the regulations.
Takes place in a cloud-based environment and is highly collaborative
Construction teams can be in the loop with the developments happening.

3D CAD

Complicated algorithms are vital in CAD designs and are used in the conversion of 2D pictures into 3D models.
Useful in constructing houses to skyscrapers
Exact and most suitable for visualization of the exterior design of the structures.

Wireframe Modeling

Wireframe modeling is also referred to as edge modeling.
Creation of skeletal depiction of an abstract edge of the real world item
The basic and the quickest way of creating 3D visuals

Primitive Modeling

Mostly uses cubes, spheres and other variations of these two shapes to bring the desired shapes.
Known as primitive because it's the most rudimentary form
It uses the basic boolean processors and gets the outlines and shapes.

Parametric Modeling

Creating an editing model is possible just by introducing a set of parameters.
Features and the relationships between the elements can be determined.
Objects can be altered and created when adding new parameters, and that's the reason every change can affect the entire design.
Parametric designing is the process where generating an architectural concept gets easier with a set of goals.
Visually unique solutions can be produced exceptionally.

Point Cloud Modeling

It's a collection of numerous small data points which exists within three dimensions
Helpful for deductive and inductive landscape design
Get a world of data within your reach.
It is an existing three-dimensional representation using 3D scanning.
Helpful when you are working on some renovations or reconstruction
Workflow gets smoother as the necessary information for design planning and documentation is gathered easily.

Direct CG Modeling

Creating complex three-dimensional objects by manipulating different simpler shapes
Adding, modifying or reducing will not impact the overall geometry.
Great to use in rendering photorealistic images.
Make different changes quickly without sticking to any parameters.
Let's understand more about the two major types of direct modeling.
Spline Modeling

Creation of three-dimensional objects with more complex shapes using splines, the 2D elements including circles and lines.
Helps in quickly building different types of 3D models with numerous curves.
This is the most popular method of getting a 2D outline of the item.
You cannot create UV maps to add realistic textures.

Polygonal Modeling

Polygonal Modeling is the most versatile way of creating 3D models. Building an object in this kind of modeling is possible by shaping a mesh made of polygons. The detailing level in this kind of modeling is based upon the polygon count, and as higher as it is, you get a more detailed model. Polygonal models are of two types:

High-poly

Takes hours to render
Generally used for creating still photorealistic imagery

Low-poly

Quick rendering is possible
Less detailed
Used in making three-dimensional assets
Bonus Read: High Poly and Low Poly 3D models Difference
The only disadvantage of this polygonal modeling is that the edge of the polygons are always leading to straight lines, and due to this, it cannot be used for models with smooth curves. You will have to use smoothening tools to get a smooth look for curved surfaces.
These were the different types of 3D modeling techniques used for architectural projects. They all serve different purposes and help in getting better project results. Digitization has brought several developments, and including all these types and techniques will help you perform all the tasks more smoothly.
Related Article : Different Types of 3D Visualization for Architectural Designs
Are you in search of a three-dimensional modeling partner for your architectural requirements? The Pro3DStudio will help you get the best results with the latest tools and technologies. Our team of experts will provide high-quality architectural 3D modeling services  for all your indoor and outdoor spaces.
Connect to know more