Provided Product Package 3D Rendering Support to a Reputed Manufacturing Company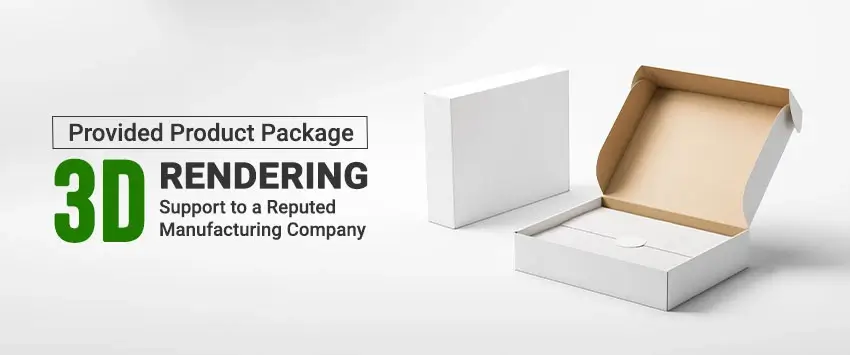 Project
The client was reputed manufacturer of women's apparel and fashion accessories. The client approached our team to create a wide range of product packaging that would convey his brand's personality in the most appropriate manner. We were asked to create product package renderings for cartons, envelope-styled packaging, boxes, and bags. The client had a stringent outlook on quality and wanted 5 versions of photorealistic rendering for each of the packaging design that he was looking for.
Constraint
Creating 5 versions of each type of packaging itself was a challenge because the client wanted all designs to be unique and distinctly prominent from competitor-brands' packaging. The deadline was also too tight; we were asked to deliver the mockups within 1 day.
Solution
We quickly created a team that consisted of senior professionals who had expertise in product renderings and had prior experience of delivering 3D product package rendering services. They also had hands-on experience in combining animation with 3D product renderings. After a brief consultation, the team got segregated into 4 groups with each group focusing on each type of packaging design category. This step ensured design diversity. We were able to create 5 types of 3D designs for each of the packaging categories including boxes, envelopes, bags, and cartons within the predetermined time. We even used appropriate graphics including illustrations and the brand's logo to give the packaging a more personalized appearance.
Outcome
The client was extremely happy to see the results. He not only appreciated the outcome quality and the on-time delivery, but he was also amazed to see the diversity of the product package renderings. Our professionals demonstrated the designs using product animation, which further fascinated the client. The client was able to witness a 30 percent growth in retail sales that year. Today, he is among our most loyal clients who have been working with us regularly on varied projects.
Looking for 3D product package rendering services? Call us now for a free quote.